Recipes
Maple Mustard Spinach Salad Dressing (Tangy and To Die For)
You need to try this maple mustard spinach salad dressing for that perfect tangy, savory flavor profile. The salad dressing itself is made with a delectable blend of ingredients including maple syrup, shallots, Dijon mustard and garlic. It's definitely a can't miss dressing for anyone who loves salads!
How to Make Maple Mustard Spinach Salad Dressing
Here's how to make the maple mustard salad dressing from scratch, along with the best mix of fruit and veggies to pair it with for making the perfect spinach salad:
Prepare the salad dressing. Add the maple syrup, minced shallots, red wine vinegar, vegetable oil, Dijon mustard and minced garlic cloves to a small bowl and mix to combine.
Season. Season with salt and black pepper to taste.
Prepare the salad. Add the fresh baby spinach, red onion slices, apple slices and the homemade salad dressing to a large bowl.
Toss the salad. Toss the salad to combine.
Add the topping. Top the salad with chopped walnuts.
Serve. Serve the salad immediately.
3 Reasons Why Homemade Salad Dressings Are Healthier
As healthy as salads are, many commercially available salad dressing options are unfortunately slightly lacking in the nutrition department.
That's exactly why making your own homemade salad dressings is such a great idea – it's super easy to make a wide variety of delicious and nutritious dressings to add to all of your salad recipes. With that in mind, here are 3 reasons why homemade salad dressings are healthier:
No unwanted preservatives or additives. Many commercially available salad dressings are made with low quality ingredients and cheap oils. They can also contain flat out unhealthy additives like high fructose corn syrup and other unwanted ingredients intended to extend the shelf life of the product.
Lower calorie option. Due to the unhealthy ingredients that go into making them, a lot of commercial salad dressings tend to be quite high in calories – and the 'low calorie' options tend to be made with an even worse mixture of Frankenstein ingredients. Making your own dressing from scratch with healthy ingredients is a great way to keep the calories down.
Healthier ingredients. You can make flavorful salad dressings completely from scratch with fresh, whole food ingredients quite easily. Thanks to using higher quality ingredients, homemade salad dressings often taste much better (and way fresher).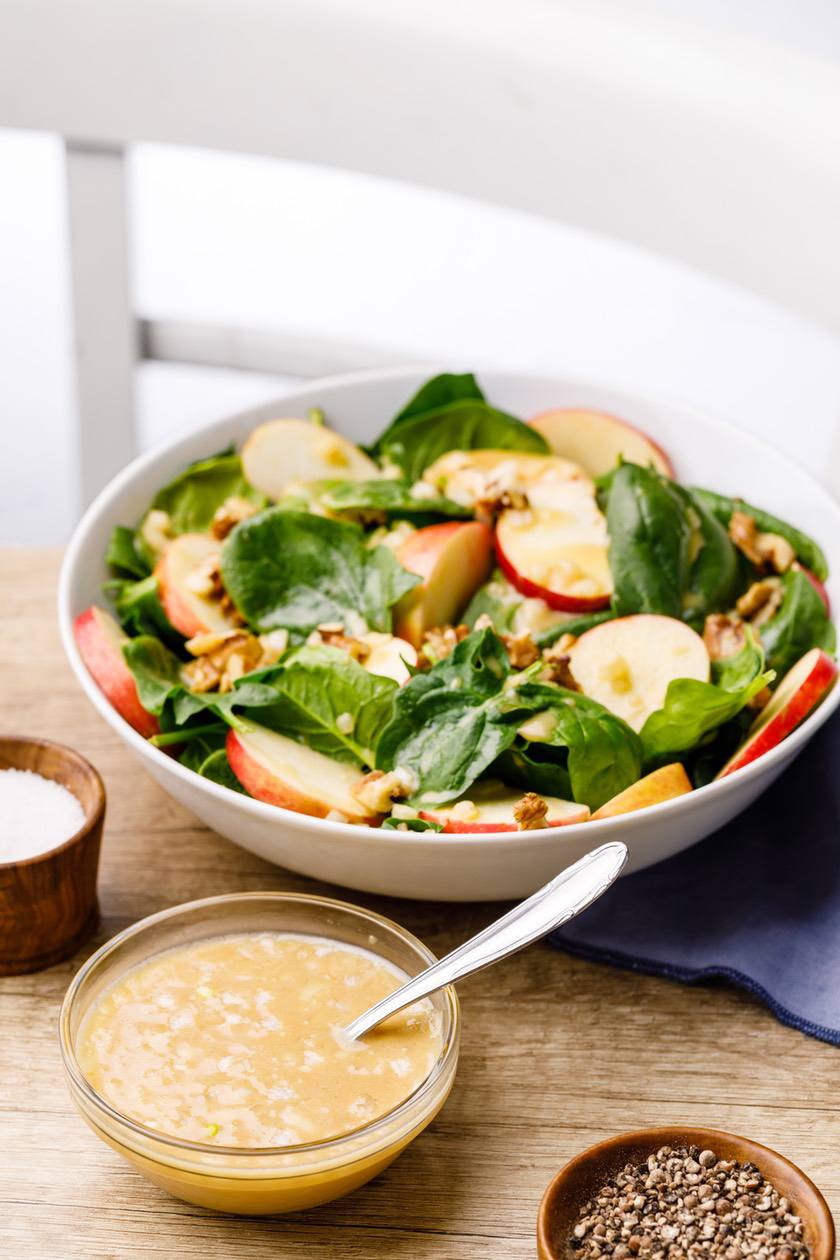 How to Store Maple Mustard Spinach Salad Dressing
The best way to store this maple mustard spinach salad dressing is to transfer it into a glass jar with an airtight lid and seal it up tightly. You can keep the salad dressing stored in the fridge like this for up to one week.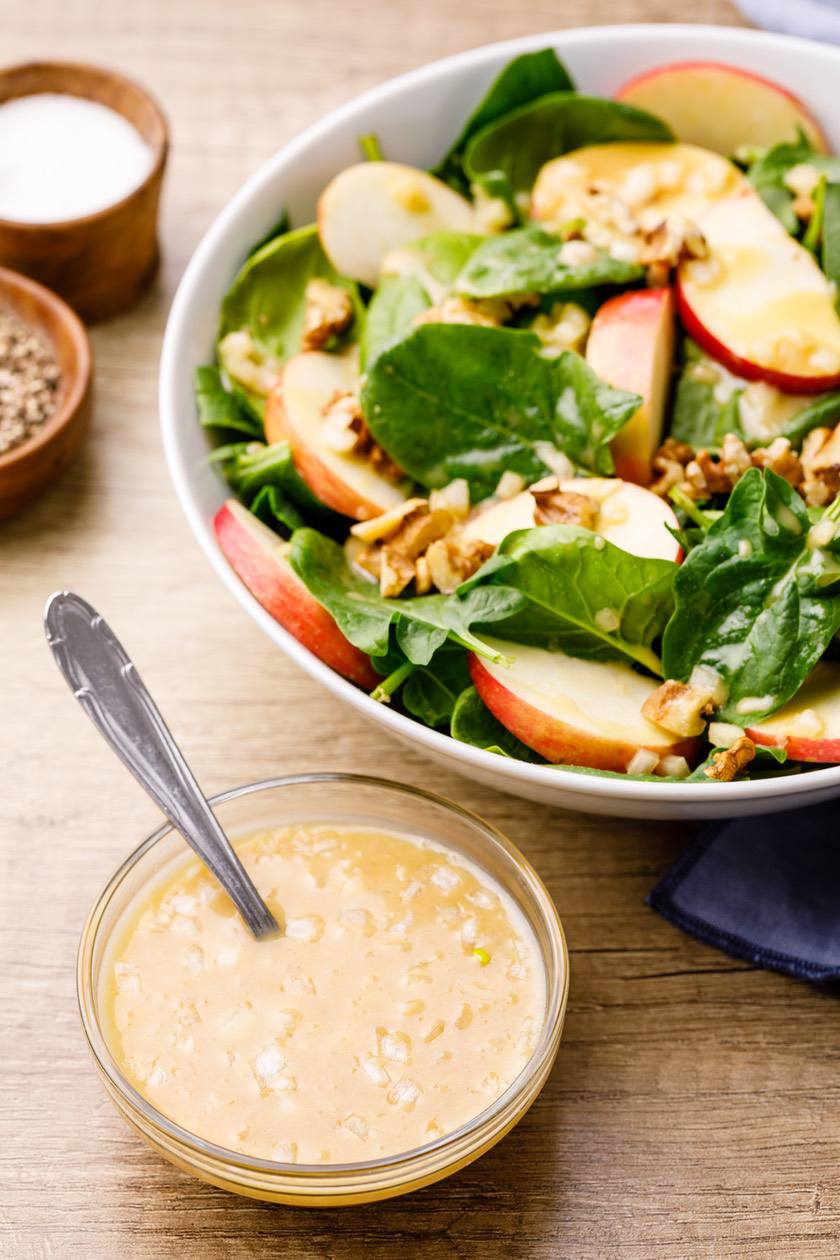 (Also try: Strawberry Spinach Salad with Feta and Poppy Seed Dressing)
Print
Maple Mustard Spinach Salad Dressing (Tangy and To Die For)
Scale
For the dressing: 
¼ cup

maple syrup

3 tbsp

minced shallots 

2 tbsp

red wine vinegar 

1 tbsp

vegetable oil 

1 tbsp

Dijon mustard 

1

garlic cloves, minced 

salt and black pepper to taste 
For the salad: 
½

pound fresh baby spinach 

½

small red onion, sliced 

2

small apples, cored and sliced 

½ cup

chopped walnuts
To make the dressing, in a small bowl combine all the ingredients. 

Season to taste with salt and black pepper. 

Add the baby spinach, apples, red onion and dressing to a large bowl and toss to combine. 

Top with chopped walnuts and serve.