Recipes
Turkey Spinach Wrap (Easy and Healthy Lunch)
This recipe for making an OMG-good turkey spinach wrap is a great option for making a quick, easy and healthy lunch. It's a perfect option for making ahead as well so that you can have a delicious and nutritious lunch option ready to go anytime.
How to Make Turkey Spinach Wraps
This is how easy it is to make these delicious and nutritious turkey spinach wraps in only 5 minutes:
Prep the tortilla. Spread the mayonnaise and mustard evenly over the tortillas.
Add the toppings. Top the tortillas with the sliced turkey breast, bacon slices, avocado slices, tomato slices and baby spinach.
Roll. Roll the tortilla up tightly.
Cut. Cut the tortilla into halves.
Serve. Serve the spinach wrap immediately.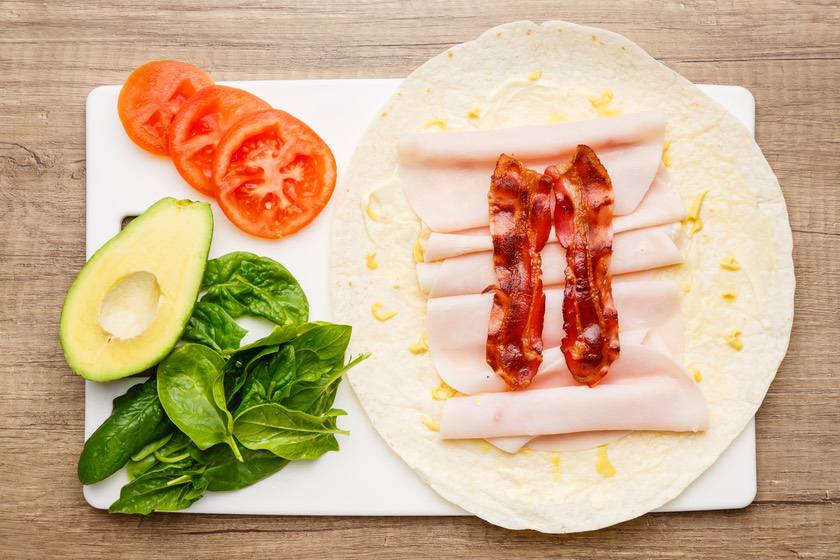 Are Homemade Turkey Spinach Wraps Healthy?
The right kind of wrap can indeed be healthy. Unfortunately, a lot of commercially available wraps are usually made with processed ingredients and tend to be much higher in calories.
However, making your own homemade wraps can be a great way to make a highly nutritious meal from scratch. Here are a couple of reasons why:
Tortillas. It all starts with choosing a healthy tortilla wrap – you'll typically be better off going with whole wheat options as they're more nutrient-dense compared to tortilla wraps made from plain flour. You should also be looking for wraps that are made without any trans fats or unhealthy oils.
Healthy ingredient choices. You have complete control over all of the ingredients that go into your wraps when you're making them yourself. This means that you can load them up with healthy options like turkey, avocado, tomato, spinach and more.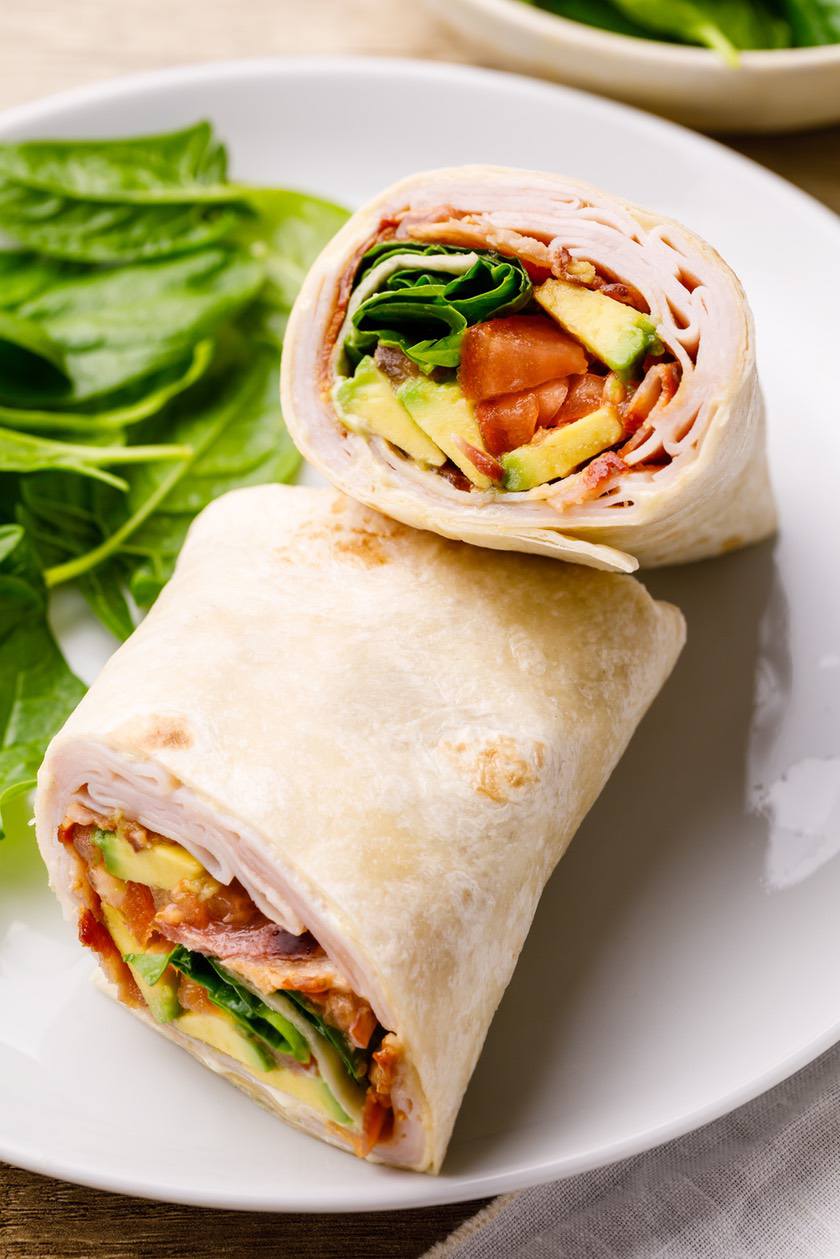 How to Make Turkey Spinach Wraps Ahead (for meal prep, quick meals)
This turkey spinach wrap recipe is a great option for making ahead of time. Just make the recipe as per the instructions above and then wrap the spinach wrap in aluminum foil. You can store the wrap in the fridge like this for up to 3 days.
If you're making the wraps further in advance, just seal them up in a freezer-safe ziploc bag after wrapping in aluminum foil. The wraps can be frozen for up to 6 months.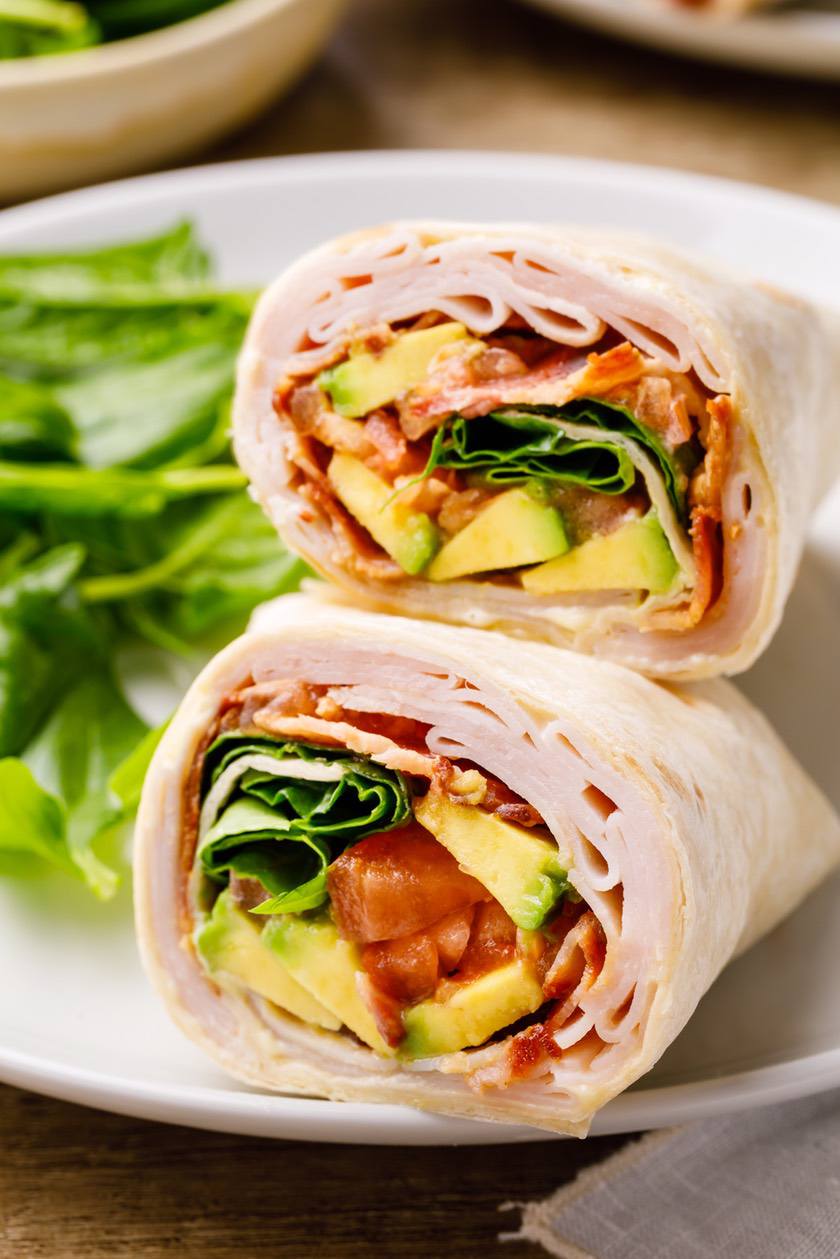 (Also try: Craveable Cucumber Sandwich)
Print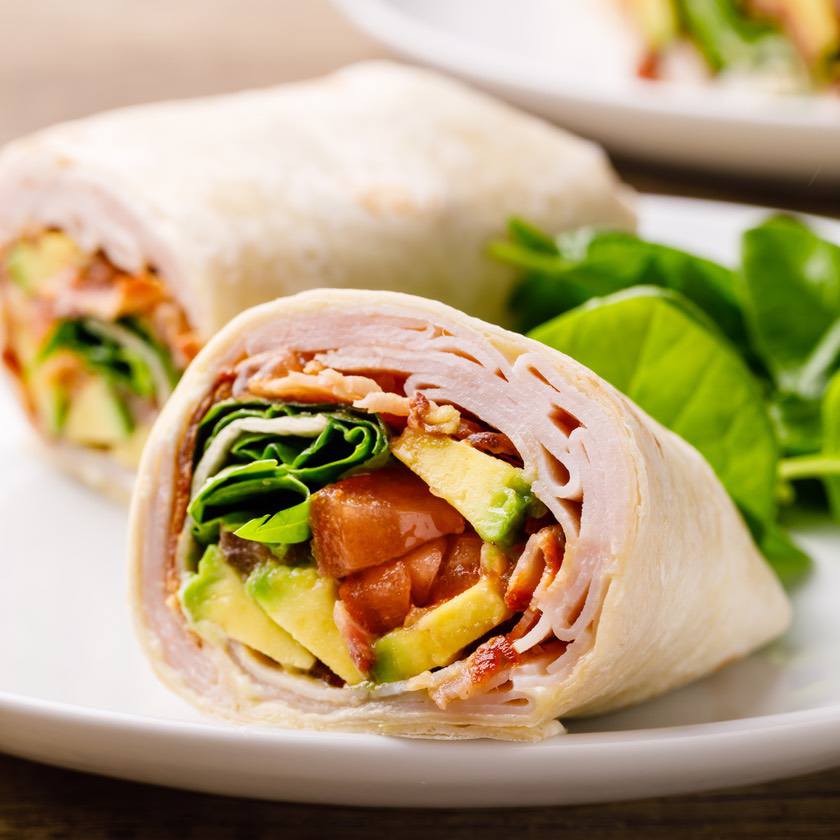 Turkey Spinach Wrap (Easy and Healthy Lunch)
Scale
1

tortilla wraps

1 tbsp

mayonnaise

1 tsp

mustard

2 oz

sliced turkey breast 

2

bacon slices, cooked 

¼

avocado, sliced 

¼

tomato, sliced 

½ cup

baby spinach
Spread the mayonnaise and mustard evenly over tortilla. 

Top with turkey breast, bacon, avocado, tomato and baby spinach.  

Roll up tightly.

Cut into halves and serve.