Recipes
7-Ingredient Sun Dried Tomato Pesto (Makes the Best Easy Pasta)
Making your own homemade tomato pesto is a great way to be able to enjoy healthy (and tasty) dips and sauces. This particular recipe makes use of my homemade sun dried tomatoes, which you can find here. But if you have some extra sun dried tomatoes lying around, they'll work great too. Here's how to make sun dried tomato pesto.
How to Make Sun Dried Tomato Pesto
Prepare the ingredients.
Blend ingredients. Add in the sun dried tomatoes, walnuts, garlic cloves, Parmesan cheese, chili flakes, roasted red pepper, and olive oil into a food processor. Process until smooth.
Season. Season to taste with salt and pepper and then either use immediately or store in a jar for later use.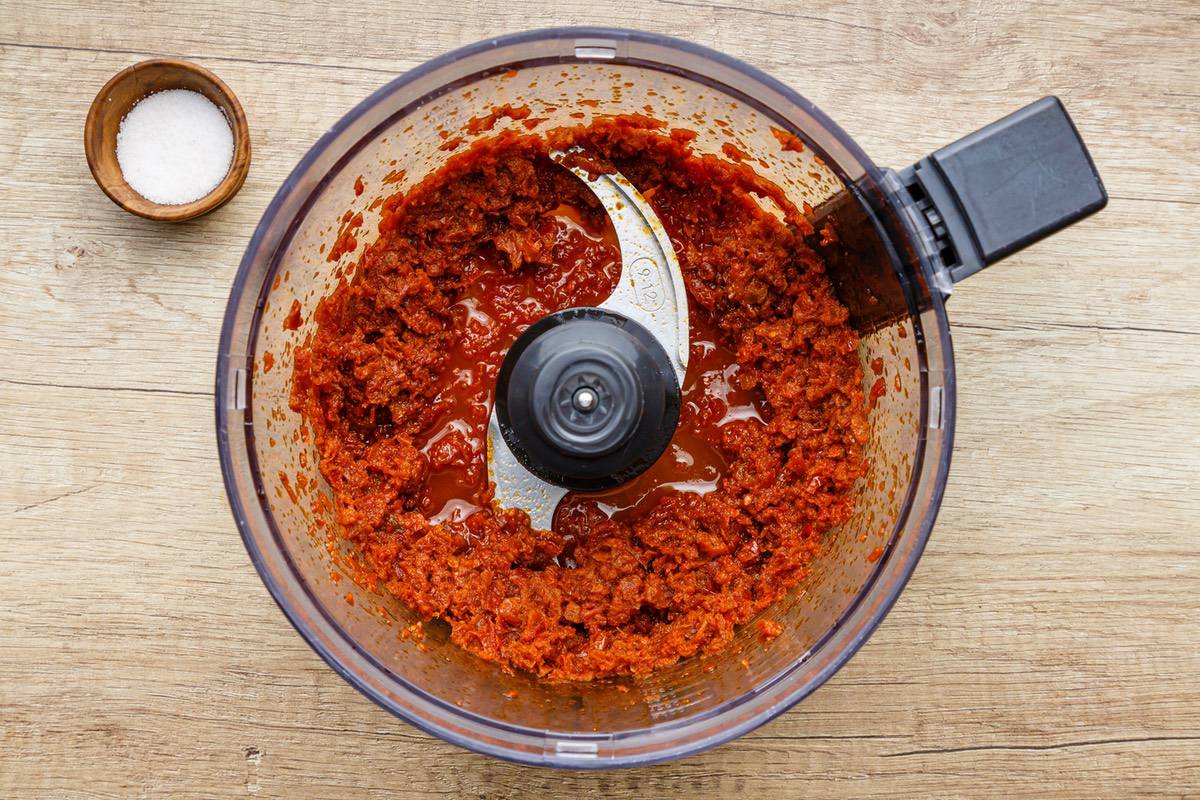 Sun Dried Pesto vs. Green Pesto – What's the Difference?
Green pesto is traditionally made using basil leaves, garlic, pine nuts, cheese, salt and olive oil. On the other hand, sun dried pesto is similar but with ripe tomatoes or sun dried tomatoes.
Both types of pesto are terrific and I regularly make them both, it all depends on the mood I'm in. I've been making sun dried tomatoes quite a bit lately though so I've been rather partial to red pesto mixtures like this one.
The Best Way to Store Sun Dried Tomato Pesto
The best way to store this homemade pesto recipe is to place it in a mason jar or something similar with an airtight sea in the refrigerator. Fill the jar and then drizzle a little olive oil over the top of it so that it doesn't dry out.
Keep the pesto in the fridge and it will last for up to two weeks as long as you periodically add more olive oil to it in order to keep it from drying out.
Can I Freeze Sun Dried Tomato Pesto?
You can also freeze this tomato pesto for later use if you don't plan on using it within the next week.
Just keep it in a freezer safe container and it will last for a few months when frozen. When you're ready to thaw the pesto out, you can either keep it in the fridge overnight or heat it up in the microwave or stovetop.
Tip: You can also divide your pesto up in an ice cube tray and freeze them. Then take your frozen pesto cubes and store them in a freezer safe bag. Now you can thaw out individual pesto cubes as you need them.
Check Out These Other Fantastic Tomato Recipes
Sun Dried Tomato Pasta with Chicken – This recipe is such a treat whenever I make it! The tomatoes really add that rustic feel, and the flavors come together perfectly.
Tomato Basil Soup – Trust me when I say that this tomato basil soup will quickly become a staple in your household. I like to pair it with homemade garlic croutons for some added crunch on top.
Fried Green Tomatoes – I'm a huge fan of fried green tomatoes when prepared this way. It's juicy, full of flavor, and really highlights the main ingredient.
(You may also like: OMG-worthy Homemade Ketchup Using Fresh Tomatoes)
Print
7-Ingredient Sun Dried Tomato Pesto (Makes the Best Easy Pasta)
Scale
½ cup

walnuts 

1 cup

sun-dried tomatoes, drained 

3

garlic cloves

3/4 cup

grated Parmesan cheese

¼ tsp

chili flakes 

1

roasted red pepper, from a jar

½ cup

extra virgin olive oil

 salt and black pepper to taste
Add all the ingredients to a food processor and process until smooth. 

Season to taste with salt and black pepper. 

Use immediately or transfer into a jar and cover with a little oil so it doesn't dry up.