Recipes
How to Make Sun Dried Tomatoes (In The Oven!)
This homemade sun dried tomato recipe will show you how to make the best sun dried tomatoes using an oven instead of leaving them out to dry in the sun. While both methods work well, I find that using an oven gives me that much more control, and it's ready much sooner.
I love to preserve garden-fresh veggies with methods like these oil packed sun dried tomatoes. If you're looking for a quick, easy and satisfying meal to make with them, try this easy sun dried tomato pesto.
How to Make Sun Dried Tomatoes Using an Oven
Preheat the oven. Preheat your oven and line a baking sheet with parchment paper.
Prepare the tomatoes. Cut each of your cherry tomatoes in half.
Arrange on the baking sheet. Arrange the tomatoes on the pan with the cut sides up.
Season. Sprinkle some sea salt on top.
Bake. Bake the tomatoes for 2 ½ to 3 ½ hours or until you can see that the tomatoes are dried out and shriveled up.
Serve or store. Serve immediately or store them for later.
(Also try: Homemade Tomato Juice)
Can I Use Other Types of Tomatoes to Make this Recipe?
I love using cherry tomatoes when making sun dried tomatoes because I find that they're the tastiest option. I've used a few other tomato varieties before for making them, and they ended up being quite tasty as well.
Here are a few other great options you can use to make homemade sun dried tomatoes.
Roma tomatoes
Plum tomatoes
San Marzano tomatoes
How Do Sun Dried Tomatoes Taste? How Do They Compare to Raw Tomatoes?
If you've never tried sun dried tomatoes before then you're really in for a treat! Sun dried tomatoes have a deliciously chewy texture with a hint of salt. It can be tart or sweet depending on the type of tomatoes you used.
The flavor is much more intense than raw tomatoes as well.
Do Sun Dried Tomatoes Keep Longer than Raw Tomatoes?
If properly stored, you can expect homemade sun dried tomatoes to last for about six to nine months. We'll talk about the best way to store them in order for them to last that long in just a few moments.
When compared to raw tomatoes, they obviously last for a significantly longer amount of time. Most fresh tomatoes only last for about a week or so before they begin to spoil.
Best Ways to Store Sun Dried Tomatoes
Pack them in olive oil and refrigerate them. The best way to to store sun dried tomatoes is to pack them in olive oil.
Simply transfer your tomatoes into a jar and cover them with extra virgin olive oil. Store the tomatoes in the fridge when packed in oil like this. Oil packed sun dried tomatoes are actually fantastic when used to make salads, so they're versatile as well.
(You may also like: The Best Homemade Ketchup)
Print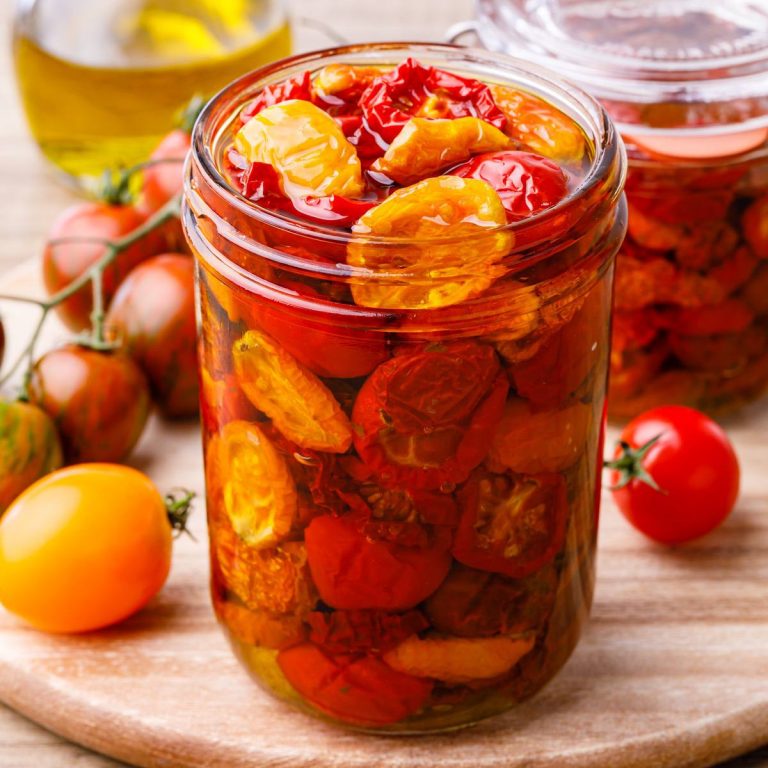 Oven Sun Dried Cherry Tomatoes
Author: Emma - NurturedHomes.com
Prep Time:

5 minutes

Cook Time:

3 hours

Total Time:

3 hours, 5 minutes

Yield:

1.5 cups

1

x
Scale
1

pound cherry tomatoes, halved 

2 tsp

sea salt
Preheat the oven to 250°F. 

Line a baking sheet with parchment paper or aluminum foil.

Arrange the tomatoes on a sheet pan, cut sides up, in a single layer.

Sprinkle with sea salt. 

Bake in preheated oven for 2 ½ to 3 ½ hours, or until the tomatoes are dried out. 

Serve immediately.

Or to store, transfer to a jar and cover with olive oil until the tomatoes are completely covered.
Really Good Ways to Use Sun Dried Tomatoes