Recipes
Bread and Butter Refrigerator Pickles (Sweet and Tangy)
Bread and butter pickles are an incredibly delicious take on the standard method of making pickles. By adding in a bit of sweet onion, you end up with pickles that are a perfect blend of sweet, tangy, and crunchy. Here's my go-to refrigerator bread and butter pickle recipe.
How to Make Bread and Butter Refrigerator Pickles
Prep your ingredients. Cut the Kirby cucumbers into thin slices. About ¼ cm to ⅛ cm should be fine depending on how you like your pickles.
Cut the sweet onion into thin slices as well.
Remove excess moisture from the cucumber. Combine the cucumber slices and salt in a large bowl. The salt will help to draw moisture out.
Wait for about 90 minutes. Cover the cucumber and let it chill.
Rinse and drain. Rinse the cucumber slices under cold water and then drain well.
Combine the cucumber and onion. Toss together.
Prepare the brine mixture. Add the white vinegar, apple cider vinegar, and brown sugar to a saucepan. Bring to a simmer until the brown sugar has dissolved. Be sure not to use high heat or to leave it too long, otherwise it will burn.
Pack. Pack the cucumber and onion slices into a jar.
Pour. Pour the hot vinegar mixture over top of the cucumbers and then put the lid on the jar.
Refrigerate. Refrigerate the pickles for a minimum of 2 days before eating.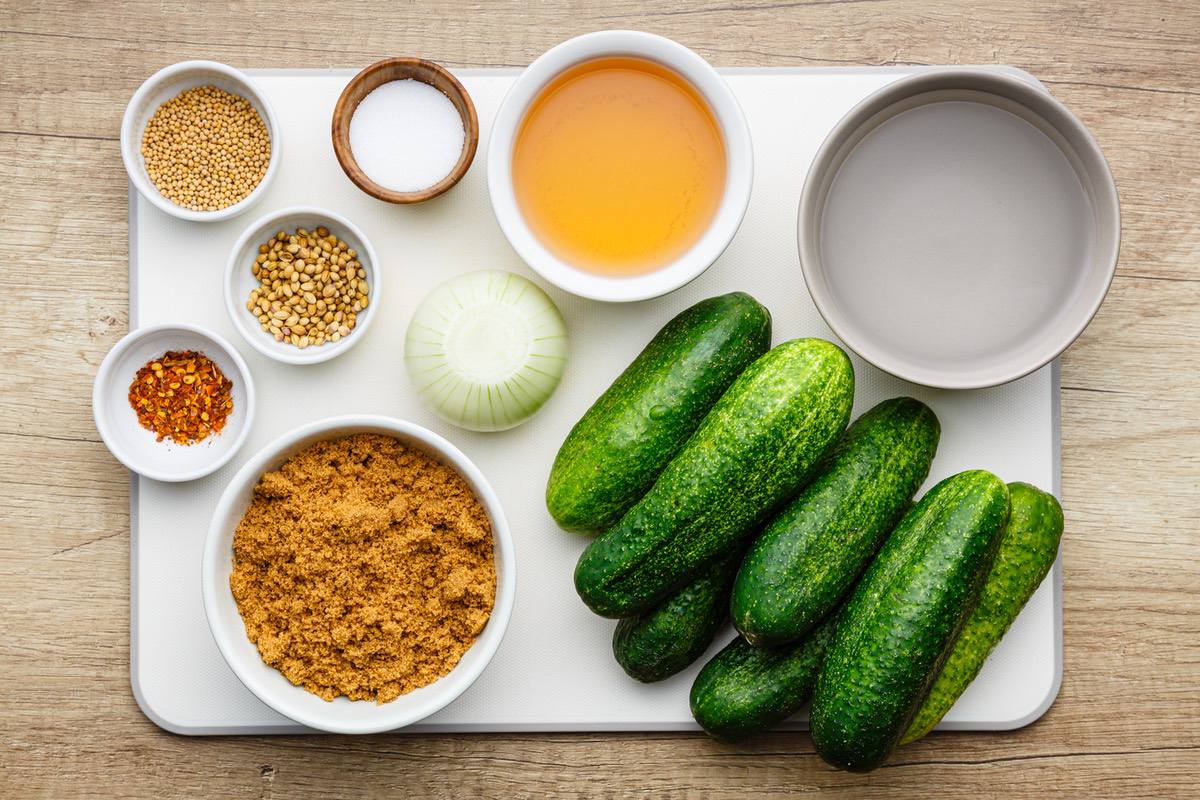 How are Bread and Butter Pickles Different from Regular Pickles?
If you've never heard of bread and butter pickles before, you may be wondering how they differ from regular pickles.
As legend goes, the term 'bread and butter pickles' originated in the Great Depression era. These sweet pickles were a cheap staple that were all that could be afforded by many; as a result they would make sandwiches with bread, butter, and pickles.
As for how they actually differ from normal pickles, the main difference is in the ingredients used in the pickling process. Bread and butter pickles are made by pickling cucumber slices with items like sweet onion, celery seeds, and (sometimes) cilantro that give them a slightly sweet taste that meshes perfectly with their inherent tartness.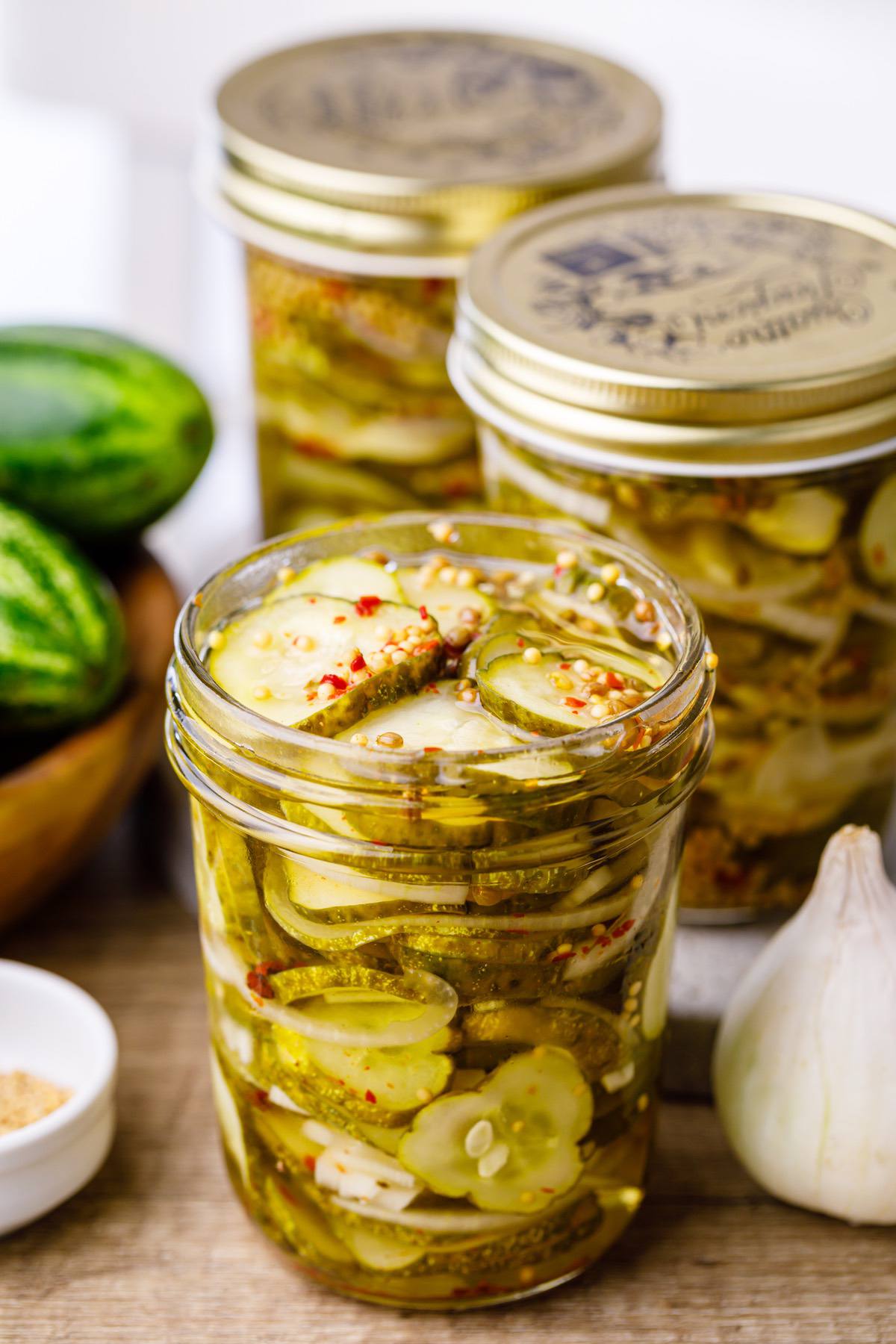 What Can I Pair with These Refrigerator Pickles?
Wondering what kind of foods to pair with your bread and butter pickles? Well, you could always try making a bread and butter pickle sandwich…
If that doesn't sound overly appealing to you, here are a few suggestions for some tasty alternatives:
Use them as a condiment for making hamburgers.
Fry them to make beer-battered pickles.
Use them to make salads and coleslaws.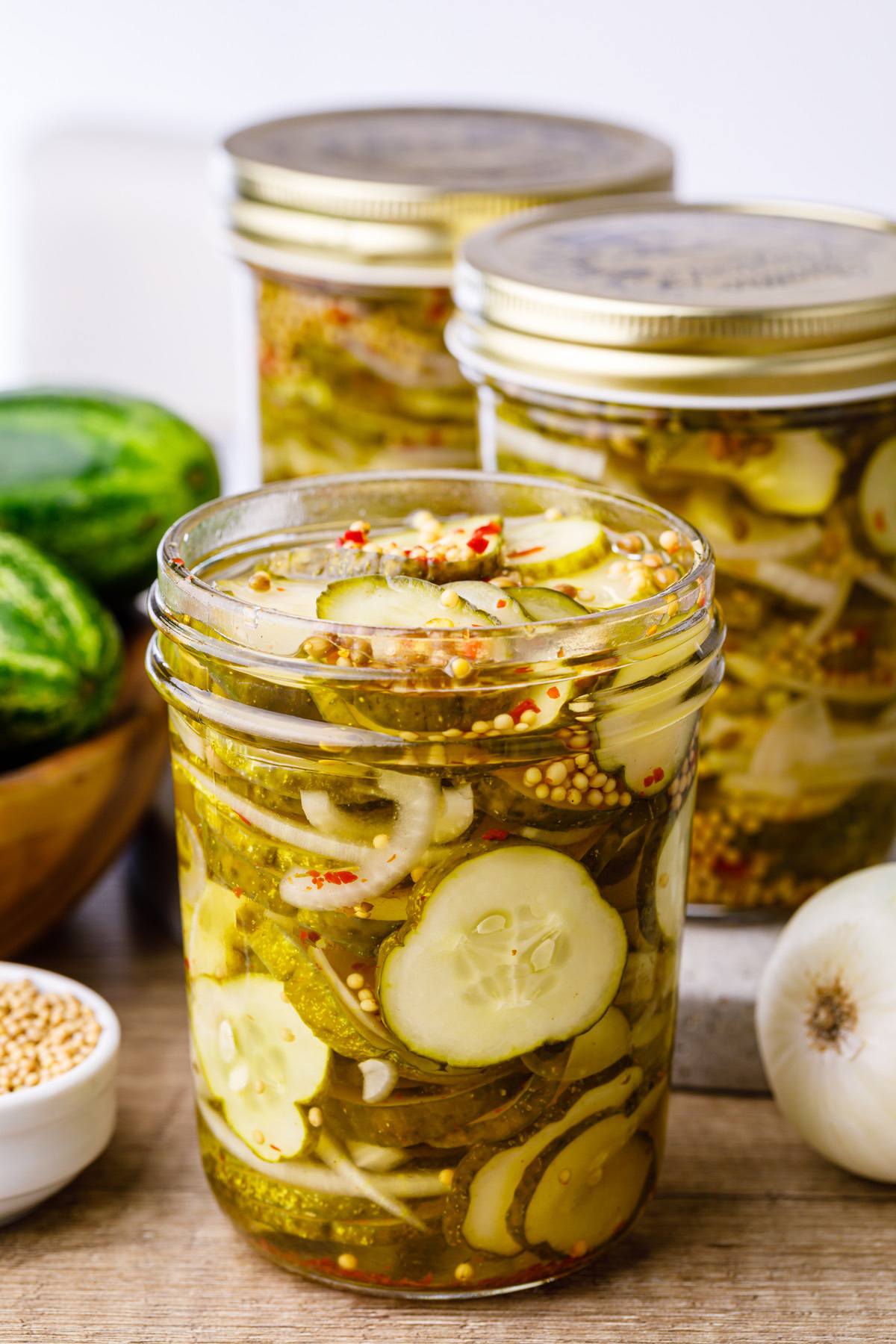 Are Pickles Really Healthy?
Yes, pickles are actually quite a healthy snacking option. This is especially true when you make your own from scratch, as is the case with this bread and butter pickle recipe.
As a matter of fact, here are 3 of the top health benefits you can gain by eating pickles:
Improved digestion. The process of pickling cucumbers in a brine mixture encourages the growth of beneficial bacteria and probiotics; both of which help with maintaining gut health and assisting with digestion. (1)
May help protect against disease. This particular recipe is made with several antioxidant-rich ingredients, like cucumber and sweet onion. Studies have found that antioxidant-rich foods are essential to include in your diet thanks to their ability to protect against diseases like cancer. (2)
Helps with staying hydrated. Pickles can be especially beneficial for anyone following low carb diet plans like the keto diet. Pickling brine contains quite a bit of sodium, which can help with the electrolyte imbalances that are common with the initial stages of keto adaptation. (3)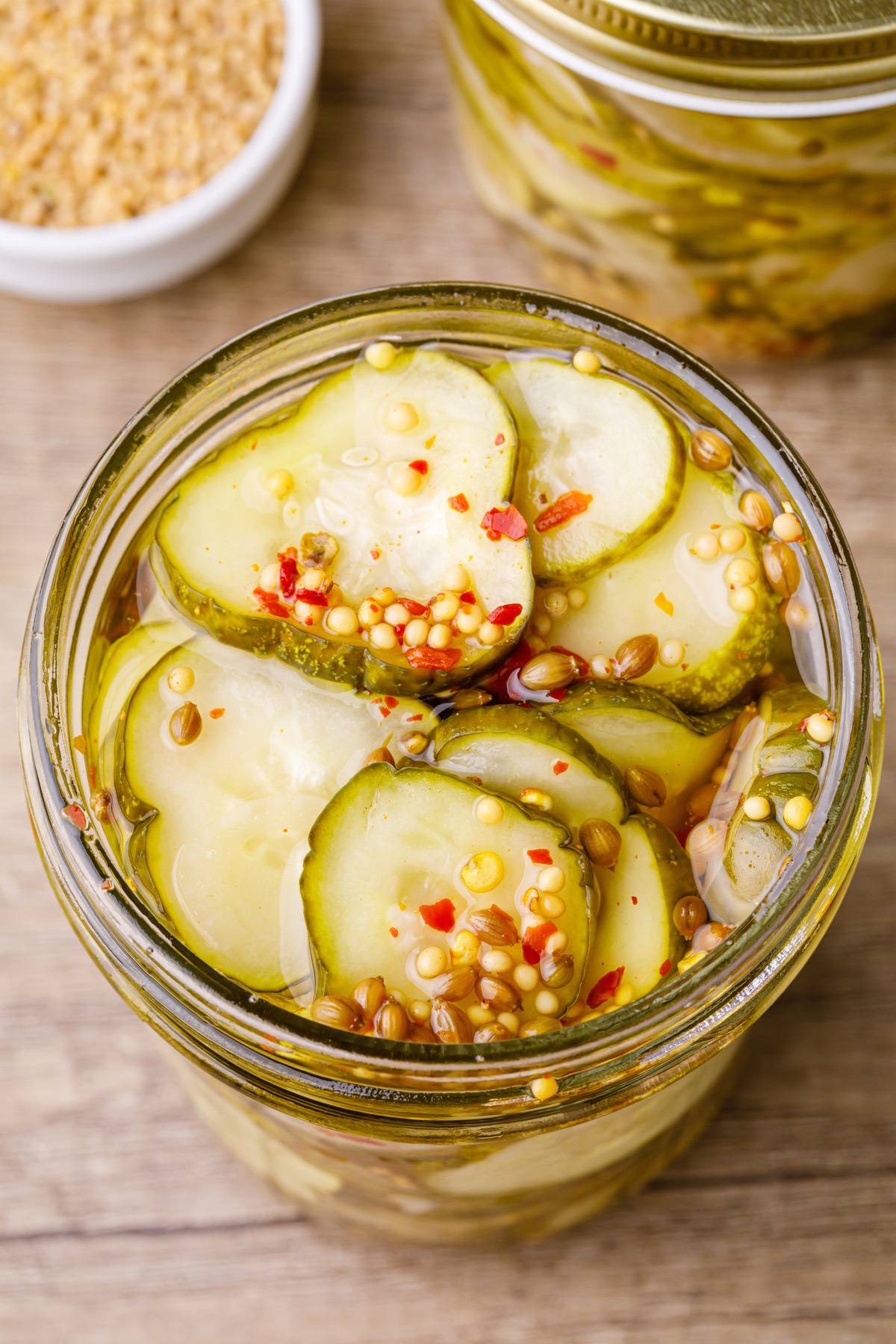 Print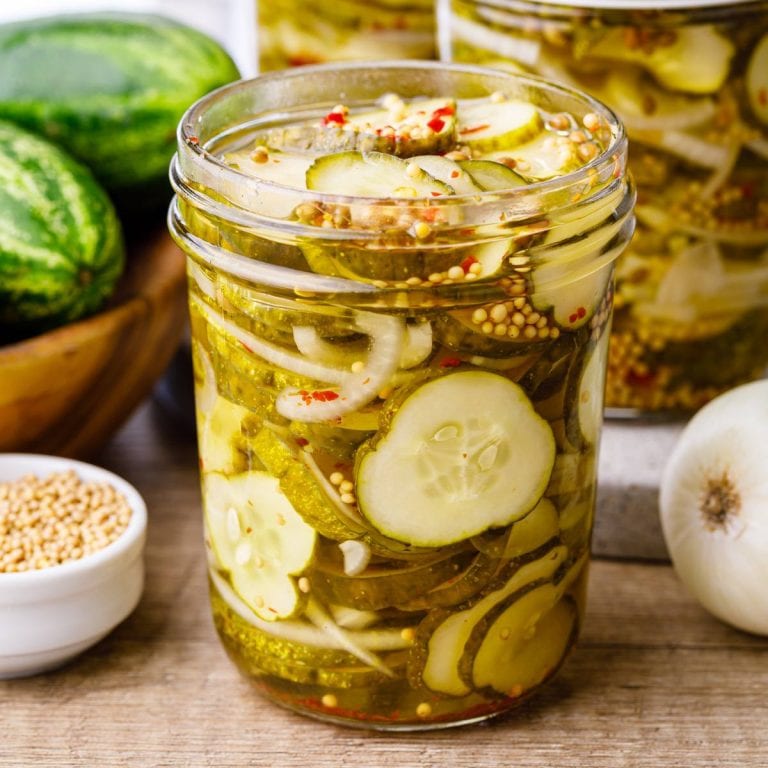 Bread and Butter Refrigerator Pickles (Sweet and Tangy)
Scale
1

pound Kirby cucumbers, sliced 

1 cup

sweet onion, sliced 

1 ½ tbsp

salt 

1 cup

brown sugar 

1 cup

white vinegar 

½ cup

apple cider vinegar 

2 tsp

mustard seeds 

2 tsp

celery seeds 

½ tsp

red pepper flakes
In a large bowl combine the cucumber and salt. 

Cover and chili for 1 ½ hours. 

Rinse under cold water and drain well. 

Toss the cucumbers with onion. 

Add the white vinegar, apple cider vinegar and brown sugar to a saucepan. 

Bring to a simmer over medium heat and cook until the sugar dissolves. 

In a jar pack the cucumber and onion. 

Pour the vinegar mixture over the cucumbers. 

Put the lid on. 

Refrigerate for at least 2 days before eating. 

Store in the fridge for up to 1 month.
More Good Homemade Refrigerator Pickle Recipes: