Recipes
Easy Pickled Carrots Recipe for Asian Food, Salads & Tacos
I've been pickling vegetables like crazy as of late because it works so great for preserving them, especially when it's harvest season. Here's my go to recipe for quick and easy pickled carrots that you can use in everything from salads to fish tacos.
Homemade pickled carrots and other refrigerator pickles are honestly one of my favorite foods to make (and eat). Some of my other favorites worth a try are my Pickled Beets (goes well with avocado toast ands eggs), Pickled Garlic (incredible in pasta salads and salads in general) and Pickled Radishes (really good on tacos!).
How to Make Pickled Carrots
Prepare the carrots. Wash the carrots thoroughly and peel them.
Slice into thin sticks.
Prepare the garlic and ginger. Peel and mince the garlic clove. Peel and slice the fresh ginger.
Pack. Pack the carrots, ginger, garlic, and red pepper flakes into a jar.
Prepare the brine mixture. Add the water, rice wine vinegar, honey, and salt into a saucepan and mix to combine. Boil over high heat.
Pour. Pour the hot vinegar mixture over top of the carrots.
Wait. Put the lid on the jar and wait for it to cool completely.
Refrigerate. Refrigerate the pickled carrots for a minimum of 3 days before eating.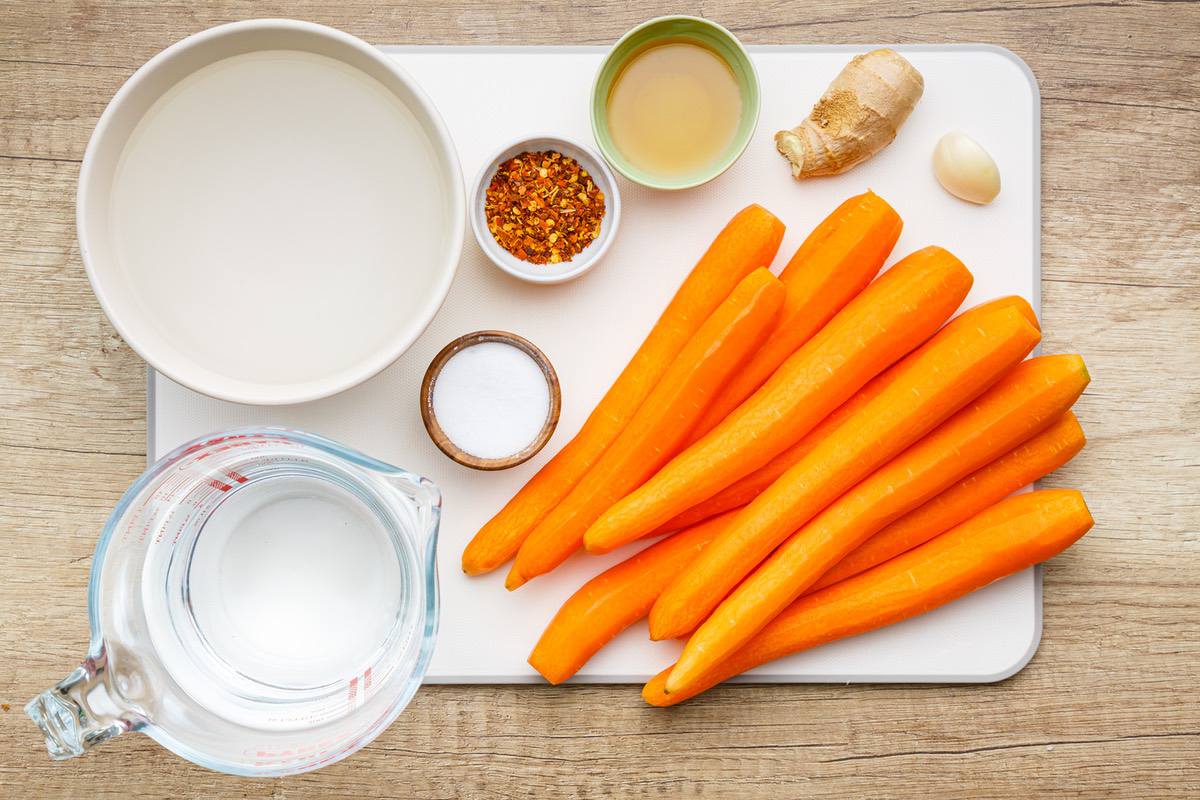 4 Tasty Dishes That You Can Add Pickled Carrots To
Pickled carrots go well with all kinds of tasty foods. Here are 4 of my favorite dishes to enjoy with these pickled carrots:
Salads (spicy pickled carrot salads are fantastic).
Tacos (especially fish tacos, as well as these pickled red onions!) .
Combine with daikon to make a sweet and sour veggie condiment
Serve them as a side with meat
They're also great for just enjoying as a snack right out of the jar.
3 Great Benefits of Pickling Your Vegetables
Pickling your vegetables offers quite a few great benefits. Here are 3 of the best ones:
Cost effective. Pickling your vegetables is hands down one of the most cost effective methods for preserving them. Most fresh veggies begin to spoil within a week or two in the fridge; pickling them can extend that shelf life by several months in some cases.
Prevents bad bacteria. Pickling your veggies can prevent the growth of 'bad' bacteria. The acidity of the vinegar used in the pickling process prevents the growth of this bacteria.
Encourage the growth of good bacteria. Alternatively, if you opt to make a salt water brine mixture over vinegar, you can actually encourage fermentation and the growth of more beneficial types of bacteria and probiotics, which can provide you with numerous gut and digestive benefits in their own right. (1)
(Also try: Pickled Okra)
How Long Do Pickled Carrots Keep?
If you keep your pickled carrots in their jar and submerged in the vinegar brine, you can expect them to keep for about one month if stored in the fridge.
You can also freeze your pickled carrots to make them last even longer.
Allow them to cool completely after pouring the vinegar over top of them before transferring the carrots into an airtight container or a heavy duty freezer-safe bag. Pour a bit of the brine in with the carrots and freeze the rest in a separate container.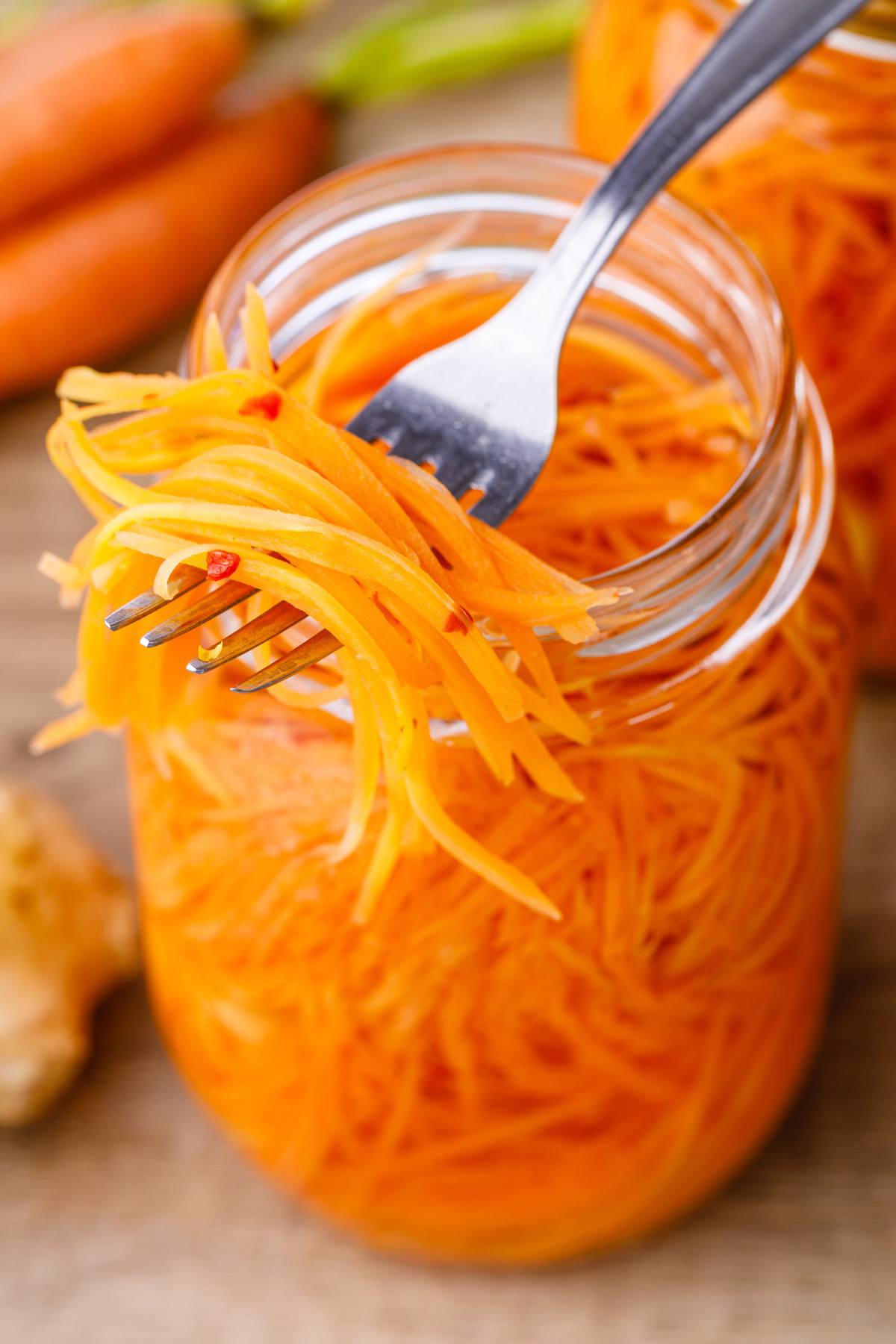 Print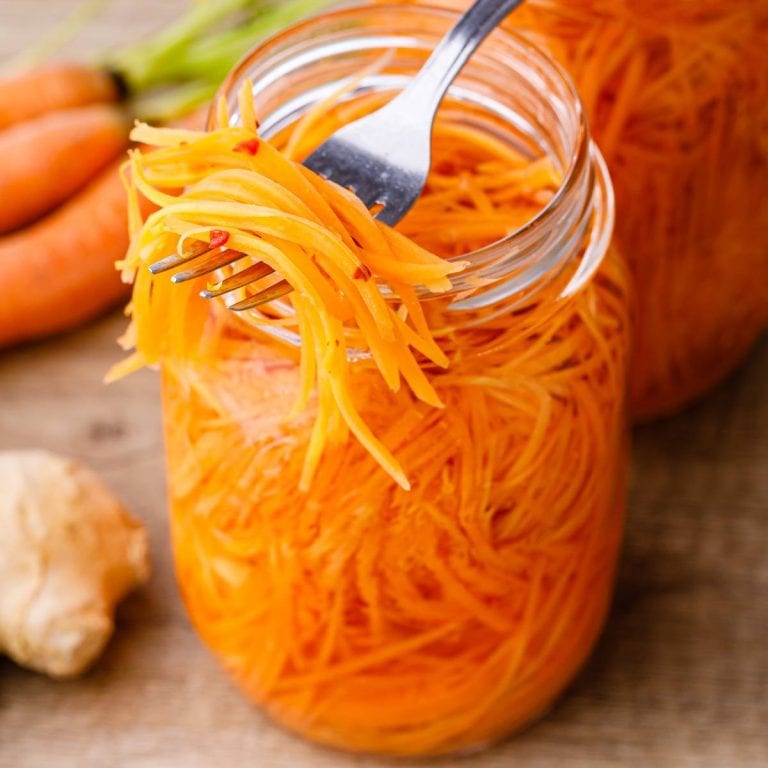 Quick and Easy Pickled Carrots Recipe
Scale
1 ½

pounds carrots, peeled 

3

inch fresh ginger, peeled and slice

2 tsp

red pepper flakes

1

clove garlic peeled and minced 

2 tbsp

honey 

1 ½ cups

rice wine vinegar 

1 ½ cups

water

1 tsp

salt
Slice the carrots using a mandoline slicer into thin sticks. 

In a jars pack the carrots, ginger, red pepper flakes and minced garlic. 

In a saucepan combine the water, vinegar, honey and salt. 

Bring to a boil over high heat. 

Pour the hot vinegar mixture over the carrots.

Put the lids on and leave to cool.

Refrigerate for at least 3 day before eating. 

Store in the fridge for up to 1 month. 
More Good Carrot Recipes: