Recipes
4-Ingredient Frozen Watermelon Margarita (The Best Summer Drink!)
This 4-ingredient watermelon frozen margarita is something that I just have to share with you because it's an absolute hit every time I make it. It's light and incredibly refreshing thanks to the sweet watermelon–what a treat!
How to Make a Frozen Watermelon Margarita
Here's everything that you'll need to know in order to make this 4-ingredient frozen watermelon margarita:
Freeze. Place the watermelon cubes on a baking sheet lined with parchment paper and freeze them for a minimum of one hour.
Blend. Add the frozen watermelon cubes, tequila, your choice of either Cointreau liqueur or Triple Sec, lime juice, and ice to a blender and blend until smooth.
Serve. Serve immediately.
(Also try: Hibiscus Margarita)
Can I Make This Frozen Watermelon Margarita to Share?
While the directions listed in this recipe are intended to make enough of this frozen watermelon margarita for 4 servings, it's pretty easy to modify the recipe in order to make this drink in bulk for party planning purposes.
It isn't quite as simple as doubling up on each specific ingredient though if you're planning on making this recipe in bulk; I would recommend first starting out with doubling the amount of watermelon that you use, followed by gradually increasing the amount of both tequila and either Cointreau or Triple Sec to taste.
More Good Margarita Recipes:
3 Quick Tips for Making Frozen Watermelon Margaritas
Here are a few handy tips to keep in mind, particularly if you're a novice when it comes to making your own frozen margaritas:
Don't be stingy with the ice. Many people make the mistake of not using enough ice when they're making their margaritas. Don't be shy about adding in an abundance of ice; I usually aim for between 1 ½ to 2 cups of ice whenever I'm making margaritas.
Use frozen ingredients immediately. Don't take your frozen watermelon cubes out of the freezer unless you're ready to immediately add them into your blender to start making your margarita.
Harder isn't always better. Your mileage may vary on this one but you don't need to make your margarita as strong as you may think, especially if you're making this watermelon margarita recipe. On the other hand, some people prefer a good strong drink as well, in which case feel free to do the exact opposite. That's the beauty of making cocktails. You're absolutely encouraged to experiment until you find the drink recipe that's just right for you!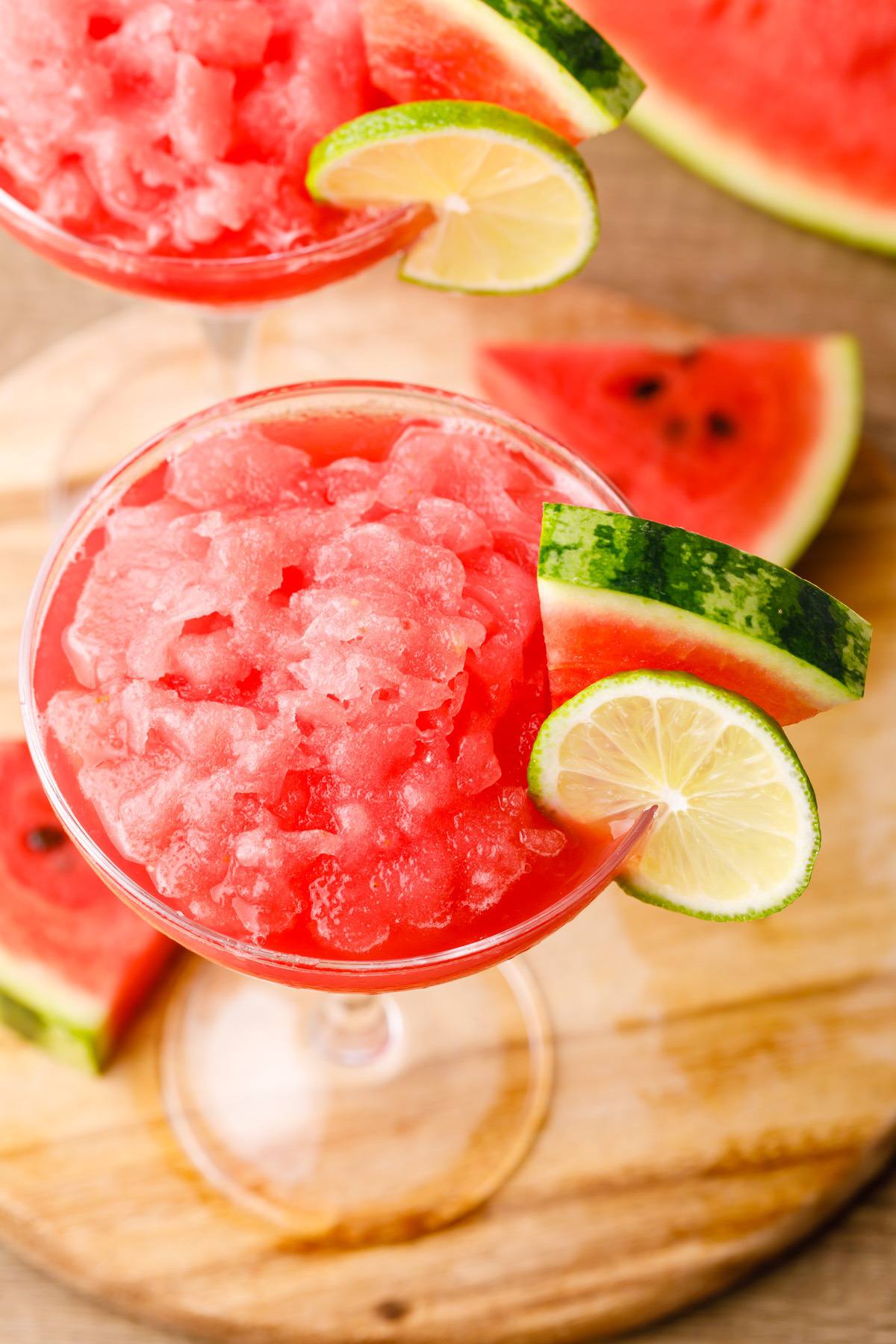 (Also try: Watermelon Mojito)
Print
4-Ingredient Frozen Watermelon Margarita (The Best Summer Drink!)
Scale
2 ½ cups

1-inch watermelon cubes, seeds and rind discarded 

¾ cup

tequila 

¼ cup

Cointreau liqueur or Triple Sec

3 tbsp

lime juice 

1 ½ cups

ice
Place the watermelon cubes on a baking sheet lined with parchment paper and freeze for minimum one hour. 

Place all the ingredients to a blender and blend until smooth. 

Serve immediately.