Recipes
Thick Cut Tomato Sandwich with Homemade Garlic Mayo
I've made a lot of fantastic sandwiches over the years, but for some reason I always come back to this ever dependable (and ridiculously good) tomato sandwich recipe. There's nothing more satisfying than plucking some ripe tomatoes off the vine and digging into a homemade tomato sandwich.
How to Make the Best Homemade Tomato Sandwich
Toast your bread. I love sour dough bread with this tomato sandwich, but you can use any type of bread you'd like.
Add the garlic mayo. Spread a generous amount of garlic mayo over the toasted bread.
Top with tomato slice/s.
Season. Season with salt and pepper.
Sprinkle with fresh herbs (optional). Fresh basil is always an excellent choice for this.
How to Make Homemade Garlic Mayo
I'm not ashamed to say that my garlic mayo is one of the best I've tried, ever. It even beats out a lot of garlic mayo types that I've tried at restaurants–it's that good! Here's how I make it:
Combine the ingredients. In a bowl or jar, combinen your egg, garlic, mustard and lemon juice.
Add the oil. Let the oil settle for about 15 seconds.
Blend with your immersion blender. Do not move the head around; just place it at the bottom of your bowl or jar until it thickens.
Tilt the head of the immersion blender. As the mayonnaise forms, you can start tilting the immersion blender head sideways until the oil has been emulsified.
Season. Season with salt and pepper.
Store. Store until you're ready to use or serve.
Do I Need An Immersion Blender to Make Mayonnaise?
While it's possible to make mayonnaise with just a whisk and a bit of elbow grease, I will say that using an immersion blender is a lot easier and saves you time. However, if you don't mind putting some muscle into your mayo, feel free to use a whisk.
How Long Does This Garlic Mayo Keep in the Refrigerator?
When stored properly in an airtight container, this garlic mayo recipe will keep for about 5 to 7 days in the refrigerator. I would say it can keep slightly longer than this, but you'll have to do a taste test to be sure.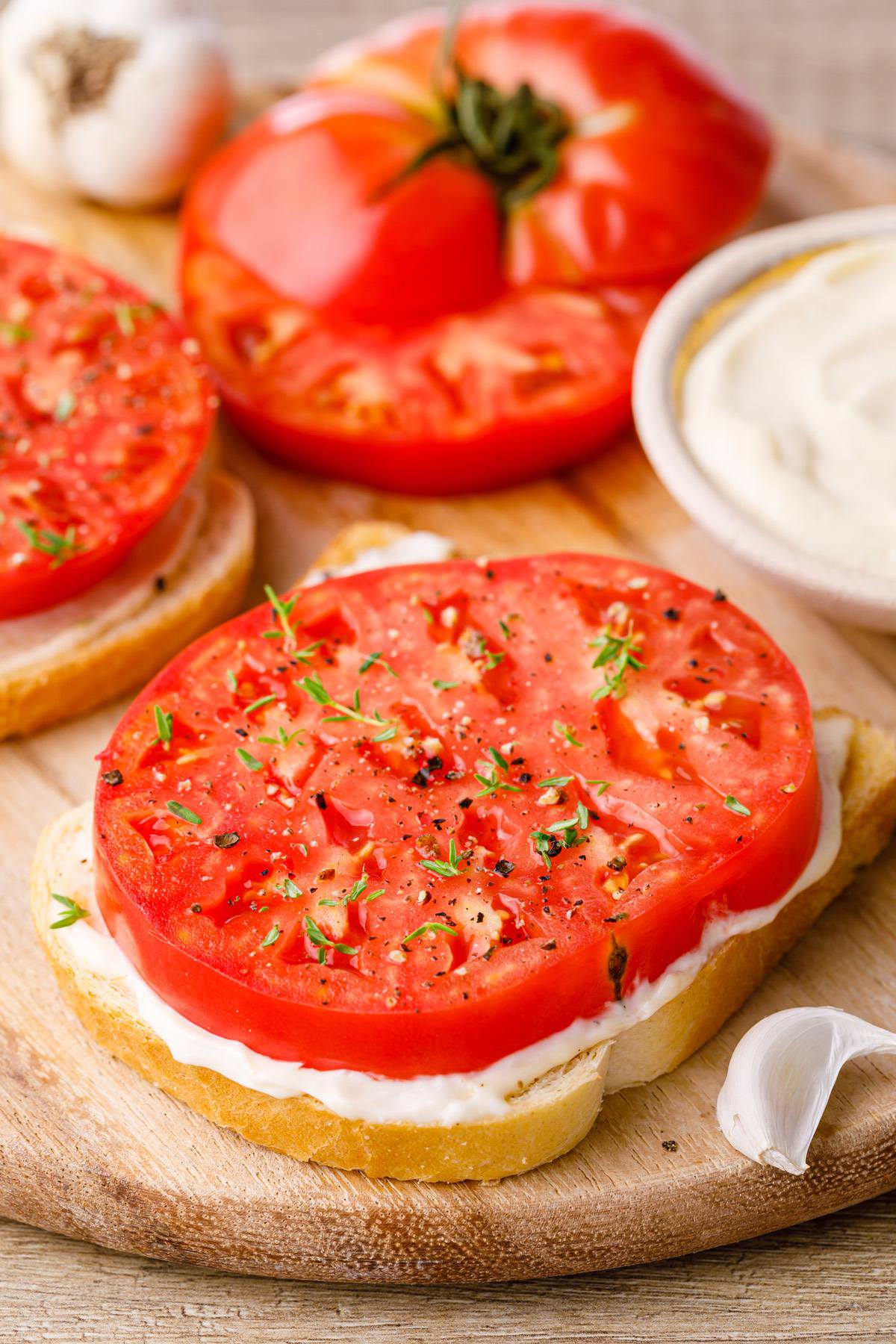 (You may also like: Quick Oven Roasted Tomato and Garlic Toast)
Print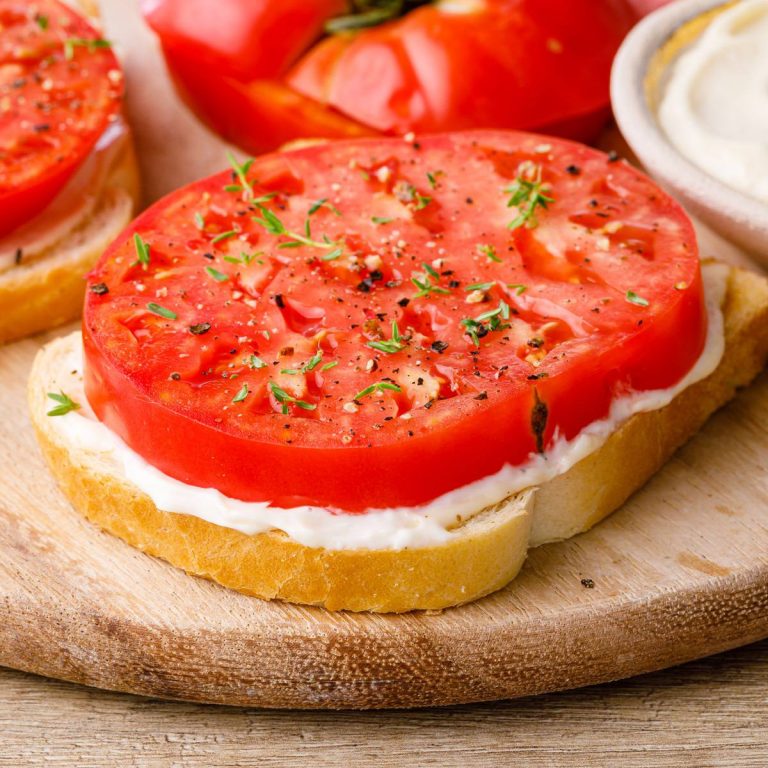 Thick Cut Tomato Sandwich with Homemade Garlic Mayo
Scale
For the sandwich: 
4

slices of your favorite bread 

1

–

2

ripe tomatoes, cut into thick slices 

fresh thyme or basil leaves (optional) 
For the garlic mayo: 
1

egg

1 tbsp

lemon juice 

1

garlic clove, minced 

½ tsp

Dijon mustard 

¾ cup

avocado oil or olive oil 

salt to taste
To make the garlic mayo, place the egg, garlic, mustard and lemon juice in the blender cup or jar that just fits the head of your immersion blender.

Add the oil and allow to settle for 15 seconds.

Place head of immersion blender at the bottom of cup and turn it on high speed. 

Do not move the head for 30 seconds or until a white, creamy, thick mayo forms at the bottom by the head. 

As mayonnaise forms, slowly tilt and lift the head of the immersion blender until all oil is emulsified.

Season to taste with salt. 

Store in an airtight container until ready to use. 

To make the sandwiches, toast a slice of bread to your liking. 

Spread the garlic mayo onto bread generously. 

Top with tomato slice. 

Season with salt and black pepper to taste. 

Sprinkle with fresh herbs (if using) and serve.
3 Mouthwatering Tomato Recipes to Try
I have plenty more recipes that I'd love to share with you, starting with these three:
Onion Tomato Chutney (Tangy, Creamy and Spicy) – Make your own chutney from scratch that provides the perfect blend of flavors thanks to the ripe tomatoes, peppers, garlic and onion.
Pickled Green Tomatoes and Fresh Mozzarella – If you have any leftover green tomatoes from the garden, you're going to want to try this pickled tomato recipe. Pickling increases the shelf life of your tomatoes, and the unique flavor certainly elevates any salad–a win-win!
More Good Tomato Sandwich Recipes