Drinks
4-Ingredient Strawberry Hibiscus Iced Tea
There's honestly nothing quite like a nice cold glass of iced tea on a hot summer day to help you cool off. It's been my go-to drink whenever the warmer weather rolls around ever since I was a little kid. I especially like to make my own homemade varieties of iced tea. One of my favorite DIY iced tea recipes is this 4-ingredient strawberry hibiscus iced tea that uses nothing but all natural ingredients.
Hibiscus tea is one of my absolute favorite iced teas to drink! Another variations you can make really easy that are just as good are my Peach Hibiscus Tea, Blueberry Hibiscus Tea and this super easy, low ingredient 3-Ingredient Hibiscus Iced Tea.
How to Make Strawberry Hibiscus Tea
There are no refined sugars or unnatural preservatives of any kind! Instead, you'll find nothing but real, whole food ingredients.
You'll need five cups of water, ½ cup of dried hibiscus flowers, 1 ½ cups of frozen strawberries, 10 fresh mint leaves, and ⅓ cup of raw honey. Follow the directions listed below for boiling, mashing, steeping, and then finally straining your tea.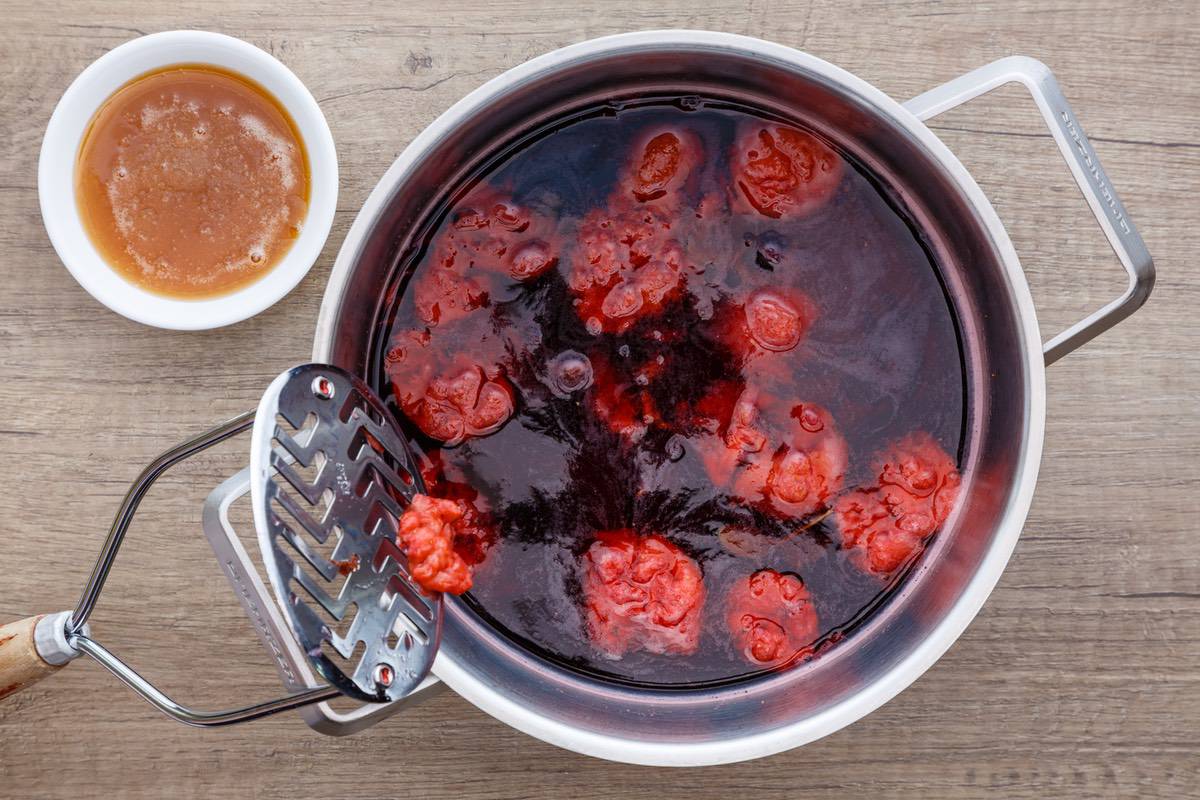 When you're ready to pour yourself a glass of this iced tea, I highly recommend adding your choice of either fresh strawberries, lime slices, or fresh mint for a bit of extra garnishing.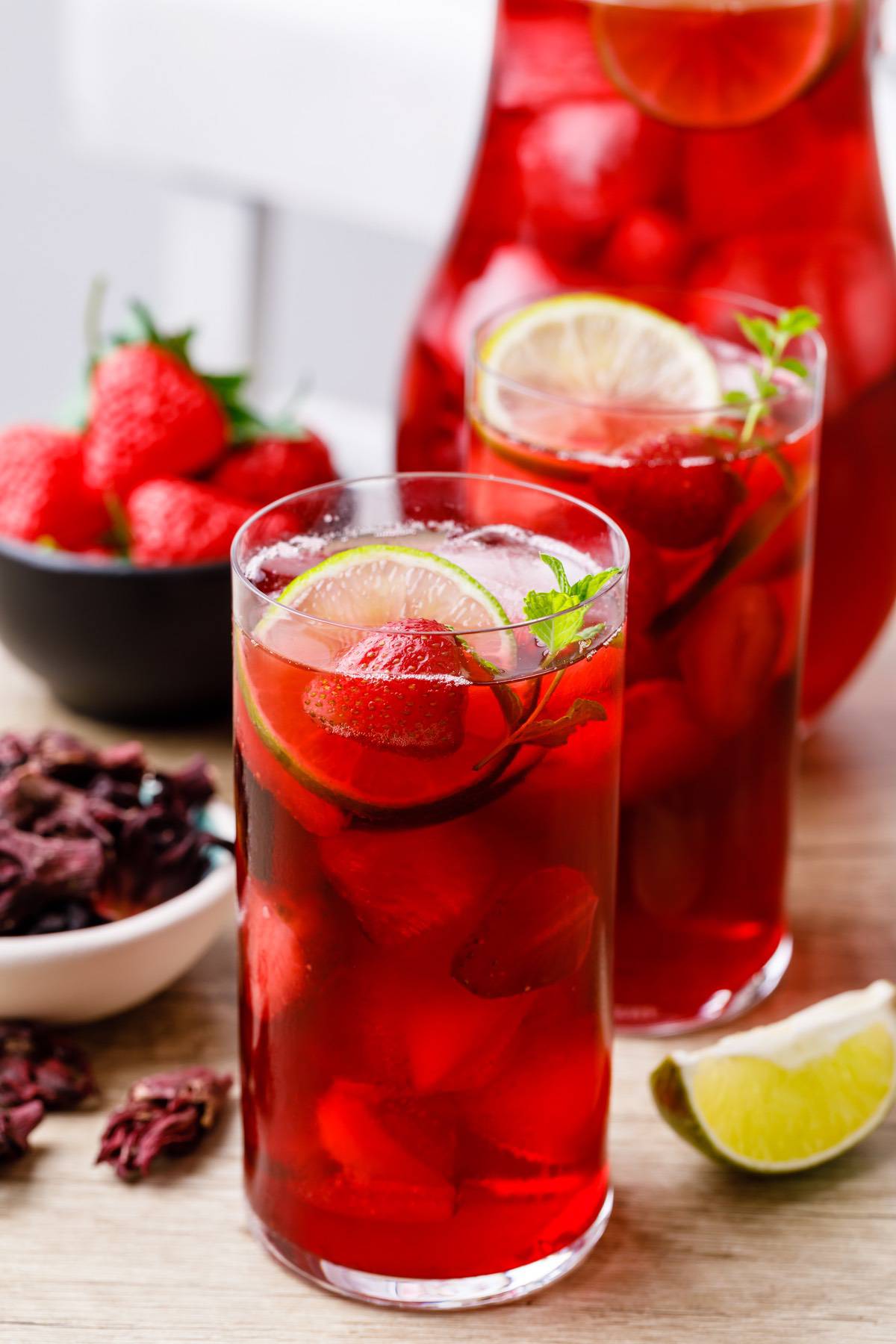 (You may also like: Plum Ginger Hibiscus Tea)
Print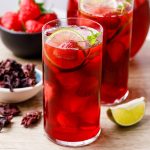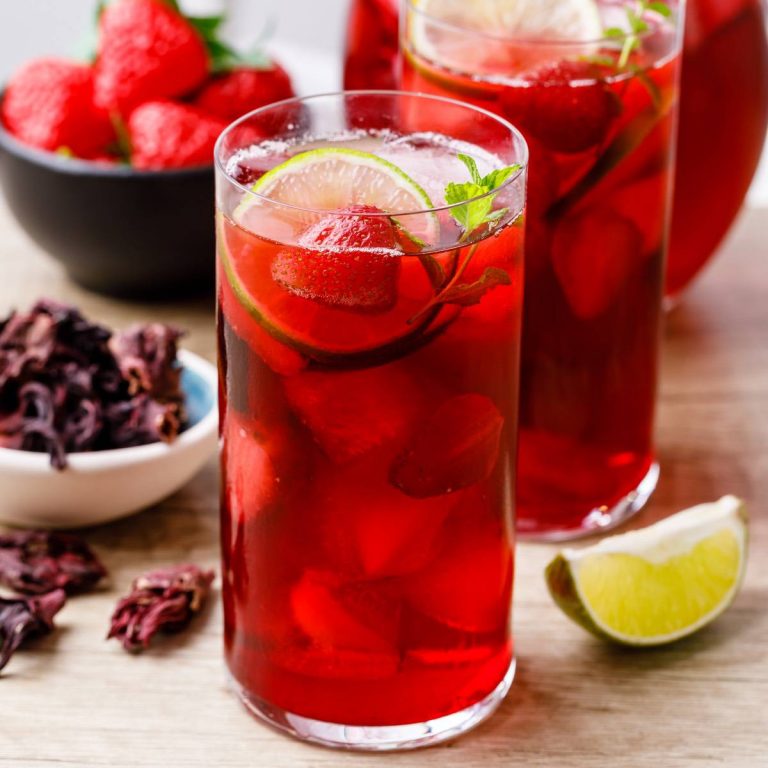 4-Ingredient Strawberry Hibiscus Iced Tea
Scale
5 cups

water

½ cup

dried hibiscus flowers 

1 ½ cup

frozen strawberries 

10

fresh mint leaves

1/3 cup

honey or to taste 
For serving (optional):
fresh strawberries

lime slices 

fresh mint
Add the water in a large pot and bring to a boil over high heat. 

Add the dried hibiscus, strawberries and mint. 

Stir to combine. 

Reduce the heat to medium and simmer for 10 minutes. 

Remove from the heat. 

Mash the strawberries. 

Steep for 15 minutes. 

Strain the tea. 

Refrigerate until ready to use. 

Pour into glasses and serve with ice garnished with fresh strawberries, lime slice and mint (if using).