Recipes
Spicy Jalapeno Pickled Eggs (These Are So Addictive!)
We've been sharing quite a few recipes for preparing pickled eggs and today we're going to be sharing another one that will surely delight spicy food lovers. This happens to be one of my all-time faves; it's highly addictive (and healthy)!
Pickled eggs are so addictive! If you love them as much as I do, also give my Beet Juice Pickled Eggs and Easy Refrigerator Pickled Eggs a go.
How to Make Spicy Jalapeno Pickled Eggs?
Prepare the eggs, garlic, and jalapeno. Boil a dozen eggs over high heat (12 minutes or so). Allow them to cool completely before peeling. While the eggs are cooling, peel the garlic cloves and slice the jalapeno peppers.
Prepare the brine. Add the water, apple cider vinegar, and salt to a saucepan. Bring to a boil.
Pack. Pack the hard boiled eggs, sliced jalapeno, black peppercorns, mustard seeds, and garlic into a jar.
Pour. Pour the hot vinegar mixture over top of the eggs.
Wait for about 30 minutes. Put the lid on the jar and wait for it to cool completely.
Refrigerate. Refrigerate the pickled eggs for a minimum of 7 days before serving.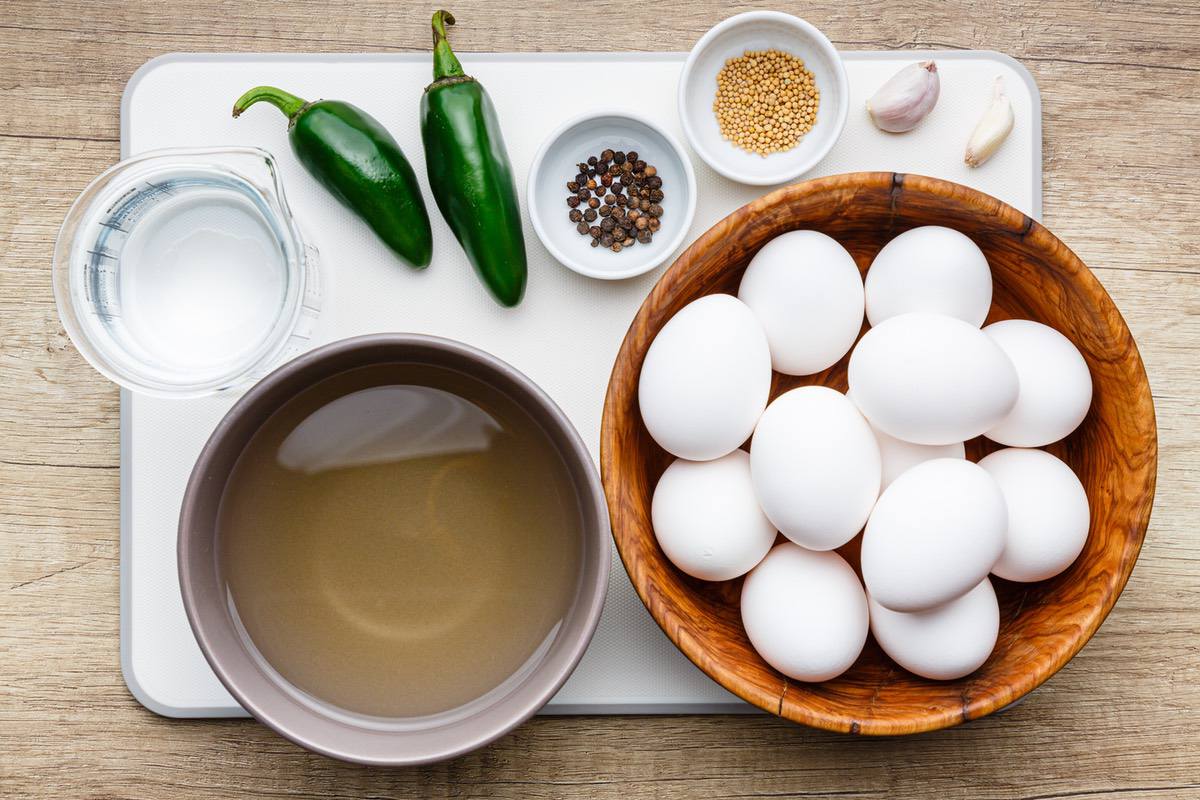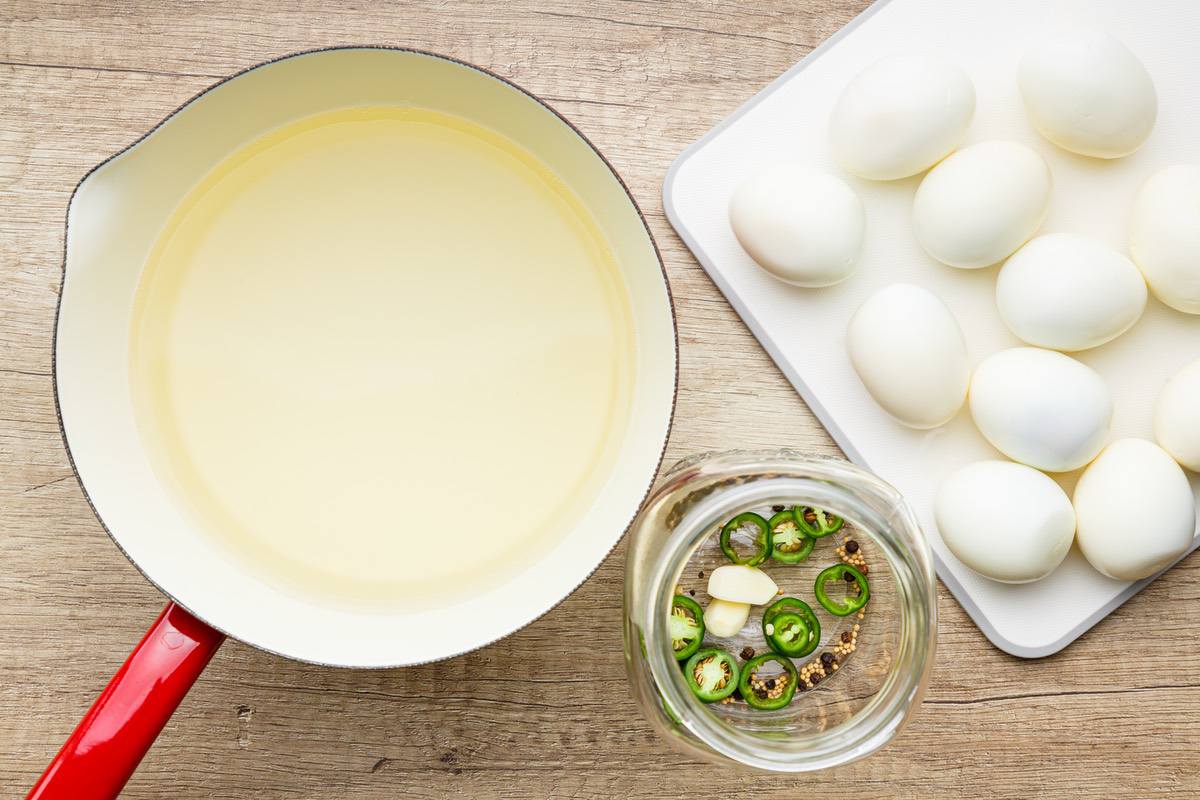 How Spicy Are These Pickled Eggs? (+How to Make Them Even Spicier)
One of the first things many people notice upon pickling eggs with jalapeno peppers (or even when pickling jalapeno peppers on their own) is just how spicy they can taste.
This is due to the capsaicin in the jalapeno mixing with the brine mixture; the brine helps to enhance the spiciness in a pretty big way.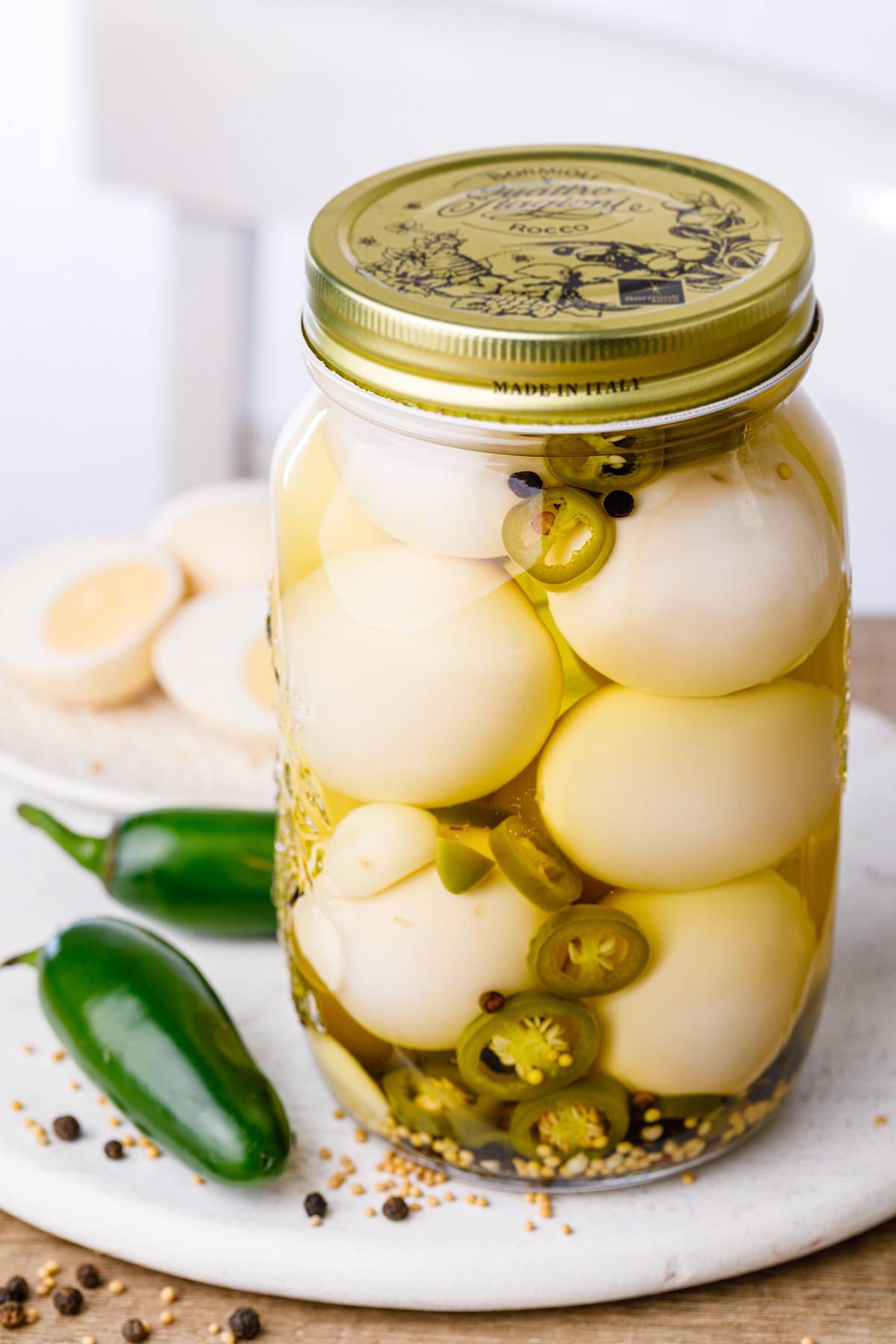 Anyone who loves spicy foods will surely appreciate this added benefit of pickling eggs and jalapenos together. But if you're looking to make your pickled eggs even spicier, then try adding any of the following:
Ground cumin
Smoked paprika
Red pepper flakes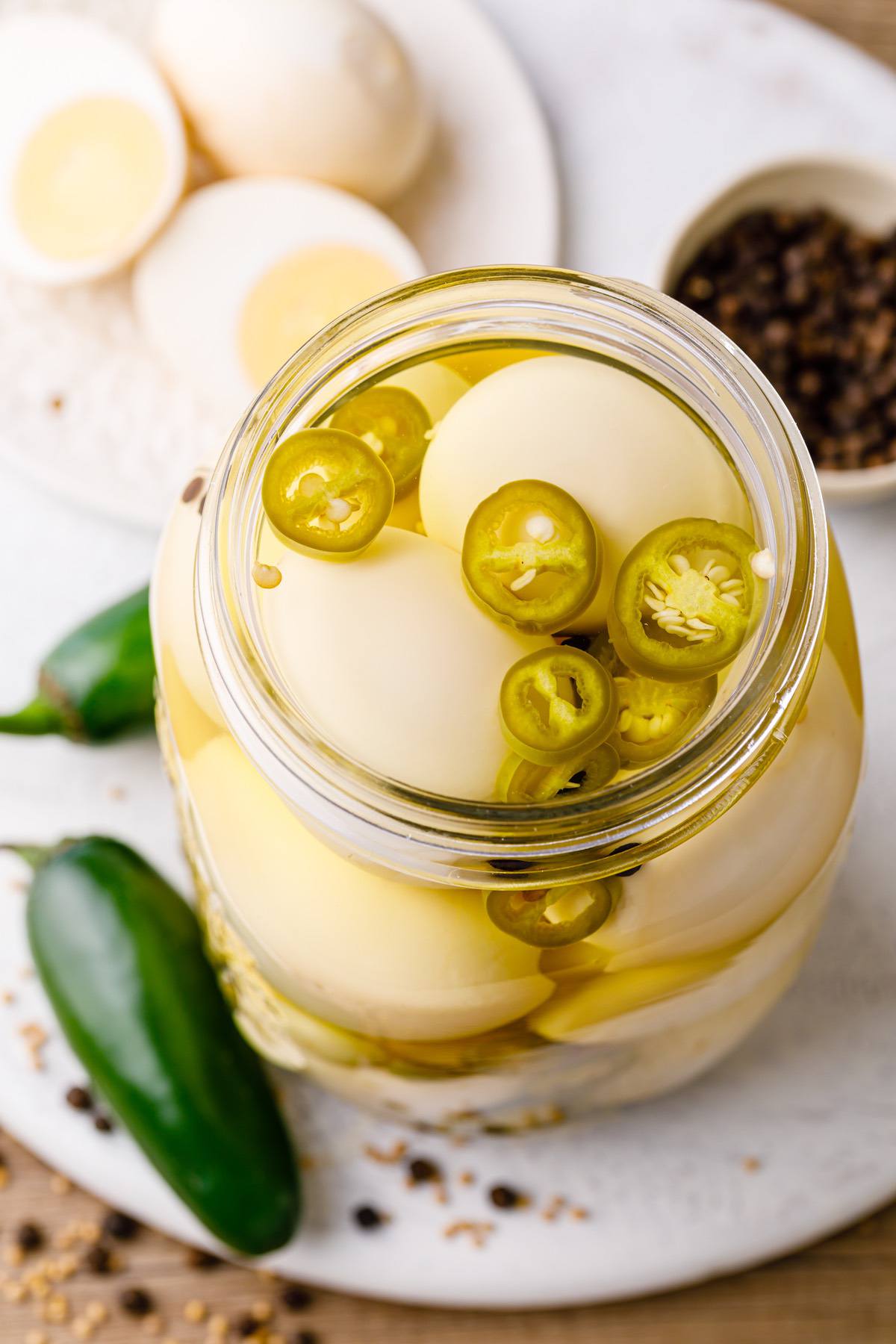 How to Store Pickled Eggs
The best way to store pickled eggs is to simply keep them in a jar in the fridge. The pickled eggs you'll get by following this recipe will keep for up to one month when stored like this.
You can also freeze your pickled eggs; transfer them into a heavy duty freezer-safe bag along with about ¼ of the brine mixture (freeze the rest of the brine separately) and they'll keep for up to 12 months.
Can I Make A Large Batch of Pickled Eggs for Later?
Depending on how often you're planning on eating your pickled eggs, it may be a good idea to make one or two large batches at a time.
As a matter of fact, that's exactly what I do whenever I make pickled eggs. I'll make two big batches and keep one in the fridge while freezing the others; I should add that I regularly go through 3-4 pickled eggs per week though.
If you'll be going through your eggs at a similar rate, it's definitely worth your while to prepare them in bulk like this.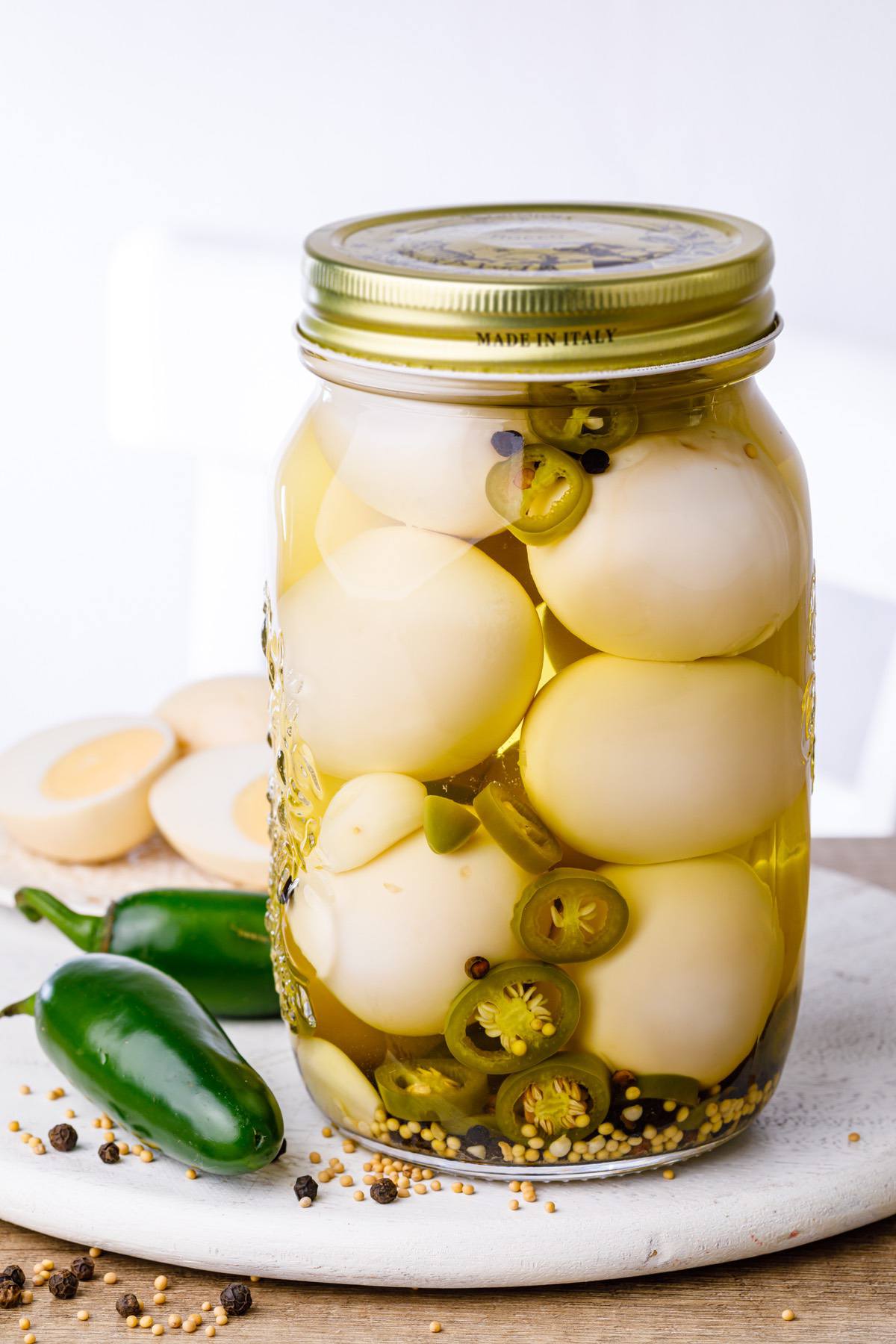 (Also try: Spicy Pickled Radishes)
Print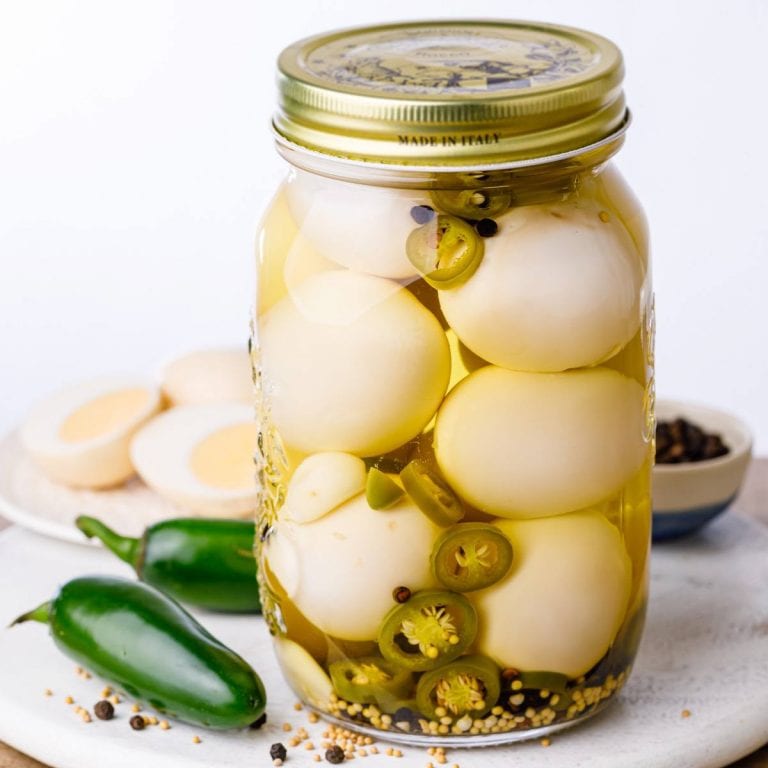 Spicy Jalapeno Pickled Eggs (These Are So Addictive!)
Scale
12

hard-boiled eggs, peeled

1 ½ cup

apple cider vinegar

1 ½ cup

water 

1 ½ tsp

salt

2

garlic cloves, peeled 

2

jalapenos, sliced

½ tsp

black peppercorns 

½ tsp

mustard seeds
In a saucepan combine the water, vinegar and salt. 

Bring to a boil over high heat. 

In a jar, pack the eggs, sliced jalapeno, peppercorns, mustard seeds and garlic. 

Pour the hot vinegar mixture over the eggs. 

Put the lid on and leave to cool.

Refrigerate for seven days before serving.

Store in the fridge for up to 1 month.
More Good Pickled Egg Recipes: