Recipes
Incredibly Easy Oven Roasted Garlic (Whole Roasted Cloves)
This recipe will teach you how to make incredible easy oven roasted garlic using whole roasted cloves which will drastically cut down your prep time and clean-up, too. The recipe is super easy to follow and there are a ton of different things that you can do with your roasted garlic afterwards.
How to Make Easy Oven Roasted Garlic
It couldn't be easier to prepare this oven roasted garlic; just follow these simple directions and you'll have perfectly roasted garlic ready to go in no time at all:
Preheat the oven. Preheat your oven to 400℉.
Prepare the garlic. Discard the papery outer layer of the whole head of garlic. Cut the top off of the head.
Drizzle. Drizzle the garlic with extra virgin olive oil.
Wrap. Warm the garlic in aluminum foil.
Bake. Bake the garlic in the preheated oven for 40 to 45 minutes (or until tender).
Serve. Remove from the oven and serve warm.
2 Easy to Remember Tips for Roasting Garlic
If you've been struggling with your roasted garlic turning out bitter (or maybe even burning), then these 2 easy to remember tips are for you:
Make sure you're using whole cloves. Since you're baking the garlic along with olive oil, it's easiest to just use whole cloves since you can stick with a consistent baking time of between 40 to 45 minutes.
Be sure not to overcook. Even when using whole cloves, you'll definitely want to avoid overcooking the garlic. Overcooked garlic tends to produce a bitter taste; to avoid this, make sure you keep an eye on the garlic and remove it from the oven once it begins to turn tender.
How to Store Oven Roasted Garlic
When storing oven roasted garlic in the fridge, I would recommend storing the cloves in an airtight container and then covering them with olive oil. The oil will help to prevent the garlic from spoiling too quickly; when stored like this in the fridge, the garlic should keep for up to one week.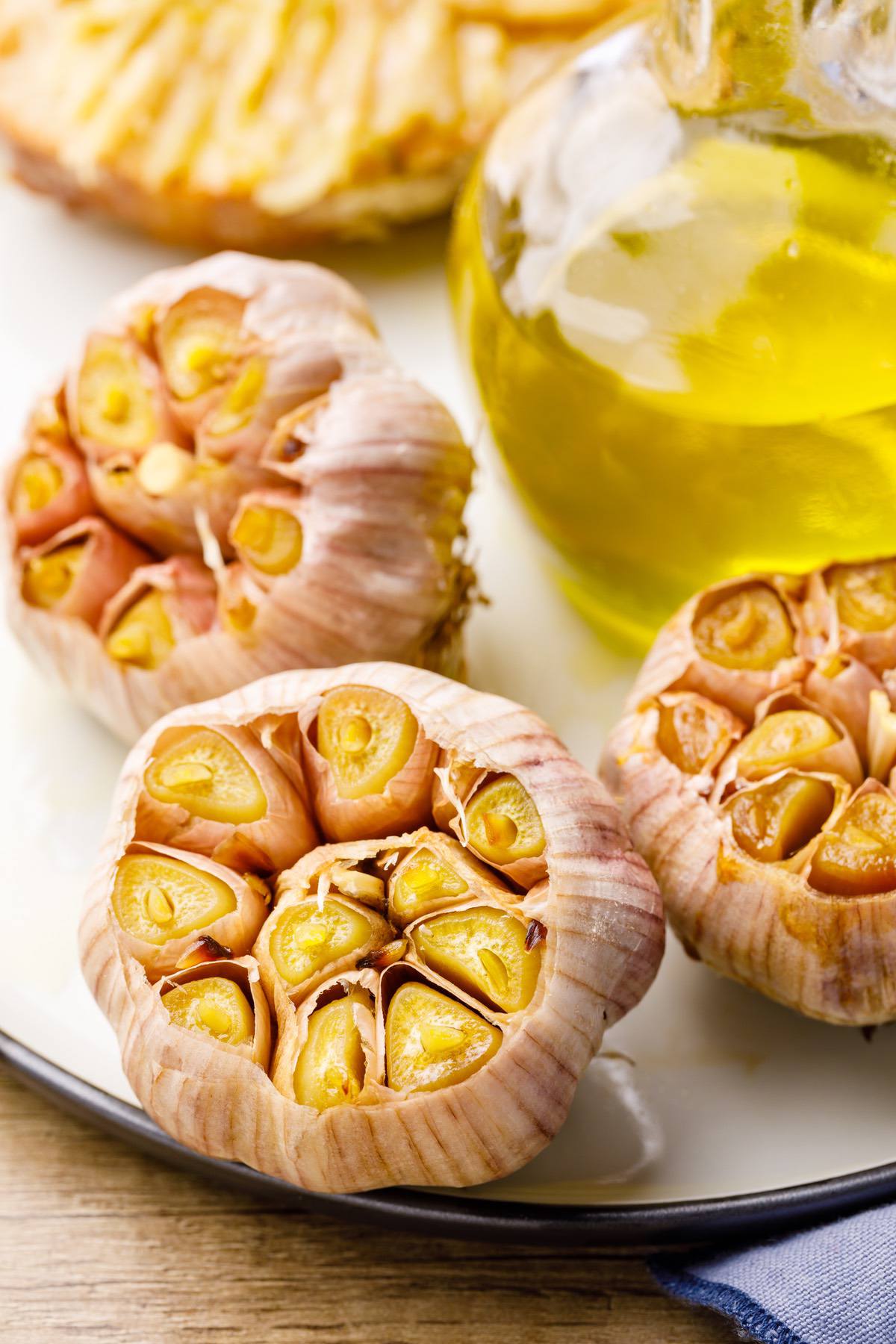 (Also try: Crave-worthy Pickled Garlic)
Print
Easy Oven Roasted Garlic (Whole Roasted Cloves)
Scale
one

or more whole heads of garlic

olive oil 
Preheat oven to 400ºF.

Discard the papery outer layer of the whole head of garlic. 

Cut the top off head.

Drizzle with olive oil.

Wrap the garlic in aluminum foil.

Bake in preheated oven for 40-45 minutes or until tender.