Recipes
Garlic Roasted Eggplant (Easy Oven Roasted Recipe!)
Sheet pan garlic roasted eggplant is a nice and satisfying oven roasted meal that you can easily whip up quickly for dinner. Here's exactly how you can make it perfectly every time.
This also works great with Oven Roasted Garlic, Garlic Roasted Green Beans and Oven Roasted Tomatoes.
How to Make Sheet Pan Roasted Eggplant
Preheat the oven. Preheat your oven to 400℉.
Prepare the eggplant slices. Slice the eggplants lengthwise into 1 inch thick slices. This recipe calls for thicker eggplant slices because we want a firmer end result.
Prepare the baking sheet. Lightly grease a baking sheet with olive oil. Arrange the eggplant slices in an even layer on the sheet.
Brush. Brush the eggplant with olive oil and soy sauce.
Sprinkle. Sprinkle minced garlic and smoked paprika over top of the eggplant.
Season. Season with salt to taste. Make sure to taste it first because we already added soy sauce before this.
Bake. Bake the eggplant for 20 minutes or until tender (but not mushy).
Serve. Serve warm.
How to Prep the Eggplant for Baking
I highly recommend taking a bit of extra time beforehand to properly prep your eggplant for baking. Here are some handy guidelines to keep in mind:
Trim any leaves and stems from your eggplant.
Cut the tops and bottoms off.
Remove any soft spots or better yet only use eggplant that are completely firm to the touch for baking. When you slice your eggplant lengthwise, look at the center for rotten spots.
Add a generous amount of salt to your eggplant slices and leave them to sit for 10-15 minutes before using them in this recipe; this will help to draw excess moisture out before baking them.
Can I Make Roasted Eggplant Ahead?
You can definitely make this roasted eggplant recipe ahead of time.
Bake your eggplant as normally and then allow it to cool completely once it comes out of the oven. Once cool, flash freeze the eggplant by transferring each slice into a heavy duty freezer-safe bag before storing them in the freezer.
You can keep roasted eggplant frozen for up to 8 months like this.
Whenever you're ready to enjoy them, simply thaw the eggplant out in the fridge overnight and then reheat them in the oven at 350℉.
Garlic + eggplant is a match made in food heaven! If you like this recipe, you'll also love my Chinese Eggplant with Garlic Sauce and Garlic Grilled Eggplant.
Can I Roast Vegetables Without an Oven?
No oven to roast your veggies? No problem. It's super easy to roast pretty much any type of veggie without having to use an oven.
Roasting your veggies in a frying pan is a good alternative option. Just add a bit of olive oil to the pan, heat over medium high heat, and then add your veggies. Reduce the heat to medium and cook until the veggies caramelize.
My second favorite method is to just grill my veggies using either a BBQ or cooking grill. While not as convenient as just tossing a sheet pan into the oven, both of the options above will work still amazingly well in a pinch.
(Also try: Parmesan Crusted Fried Eggplant Slices with Garlic Aioli Dipping Sauce)
Print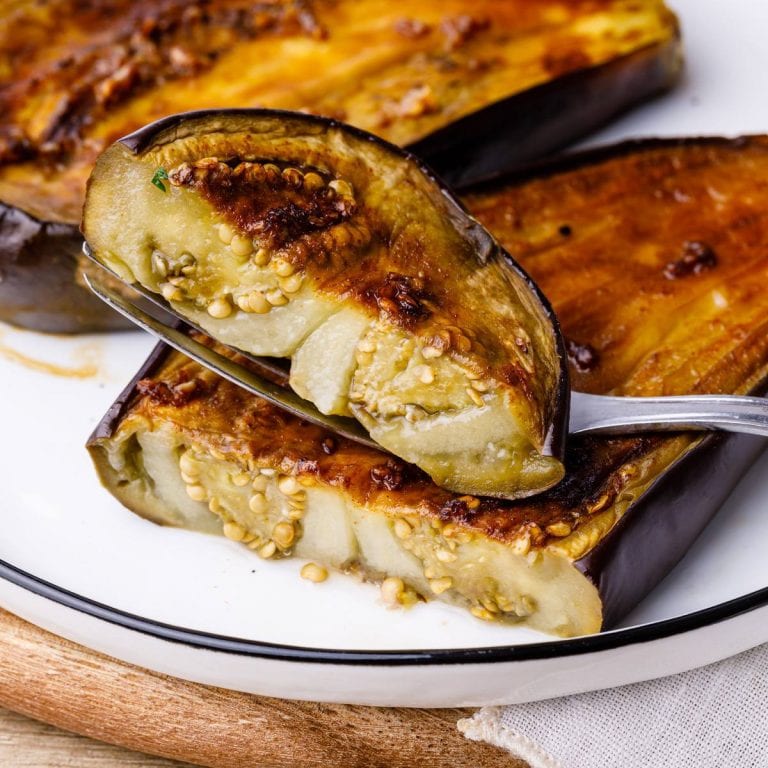 Garlic Roasted Eggplant (Easy Oven Roasted Recipe!)
Scale
1 ½

pounds eggplant

3 tbsp

olive oil

2 tbsp

soy sauce

1 tsp

smoked paprika

3

garlic cloves, minced 

salt to taste
Preheat oven to 400°F. 

Slice the eggplants lengthwise into 1-inch-thick slices. 

Arrange the slices on a lightly greased baking sheet. 

Brush with olive oil and soy sauce. 

Sprinkle with mince garlic and smoked paprika. 

Season with salt to taste. 

Bake in preheated oven for 20 minutes or until tender.
More Good Roasted Eggplant Dishes to Try