Recipes
Quick Refrigerator Pickled Cucumber Slices (Good with Everything!)
Ever since I started pickling my own cucumber slices, I've totally stopped buying pickles from the grocery store because trust me when I say that homemade beats the store-bought variety, any day. This recipe will show you exactly how to make ridiculously tasty pickled cucumber slices using a small number of secret spices and ingredients.
How to Make Refrigerator Pickled Cucumber Slices
Prepare the cucumber and garlic. Cut the Kirby cucumbers into thin slices. Peel the garlic cloves. I like Kirby cucumbers because of the texture.
Prepare the brine mixture. Combine the water, white vinegar, and salt in a measuring cup.
Pack. Pack the cucumber, fresh dill sprigs, garlic cloves, black peppercorns, bay leaf, and red pepper flakes into a jar.
Pour. Pour the vinegar mixture over top of the cucumber slices and then put the lid on the jar.
Refrigerate. Refrigerate for a minimum of 2 days before eating.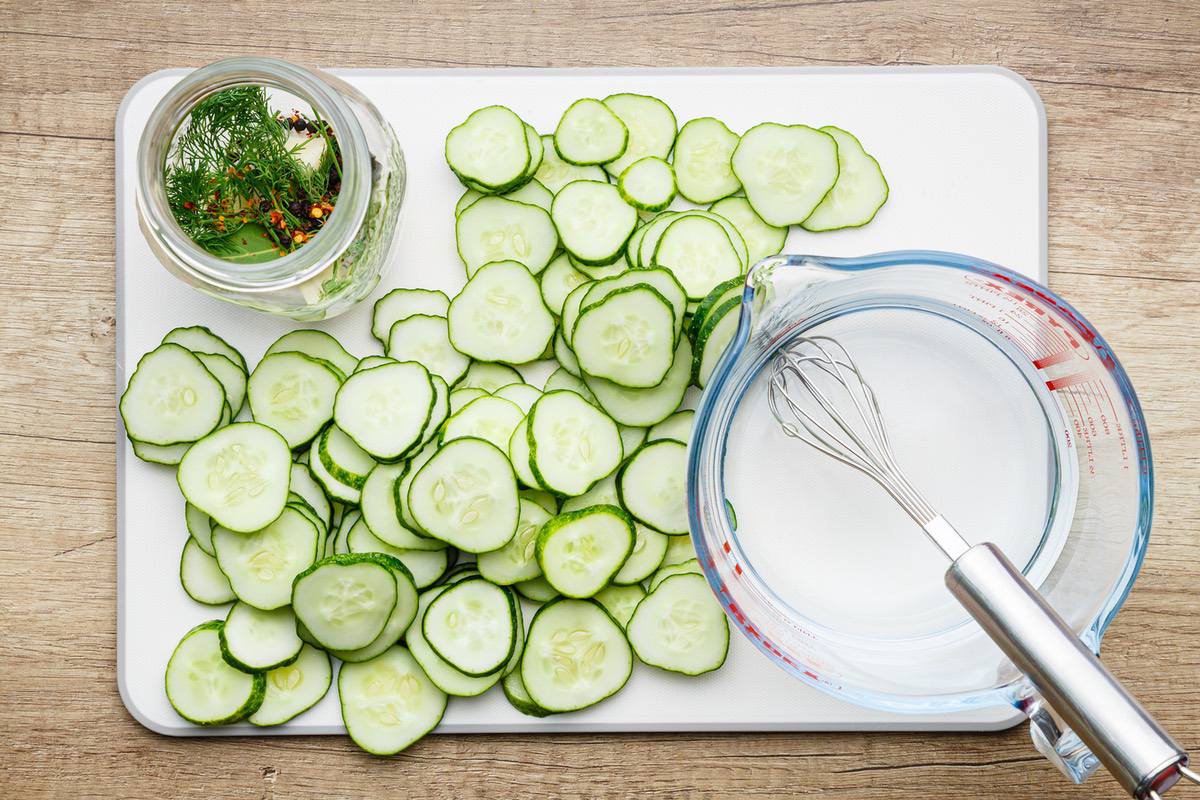 Can I Pickle the Cucumbers For Longer Than 2 Days?
You can definitely keep your pickled cucumbers in the fridge for longer than 2 days; I wouldn't advise leaving them in the fridge for any longer than a week though (see below).
If you do decide to leave them to pickle for a bit longer, you can expect to end up with cucumber slices that are even tangier and crispier. If I'm being totally honest though, as soon as you find out how tasty these cucumber slices truly are, you're probably not going to want to wait any longer than 2 days to dive into them!
Best Way to Store Pickled Cucumbers
The best way to store these pickled cucumber slices is to simply keep them in their pickling jar in the fridge. They'll stay good for up to 7 days when stored in the fridge like this.
Freezing your cucumber slices is also an option, but you'll still want to leave the cucumber slices in the fridge for the first 2 days after making them before you can freeze them.
After the 2 days, transfer the cucumber slices into an airtight freezer-safe container with about ¼ of the brine mixture (you can freeze the rest of the pickling brine in a separate container to reuse as well).
You can safely freeze the cucumber slices for up to 6 months like this.
What Other Vegetables Would Work Well with This Pickling Recipe?
I'm a huge fan of the blend of peppercorns, garlic, red pepper flakes, dill, and bay leaf used in this pickling recipe. It offers an incredibly potent flavor with just the right amount of spiciness. That same blend works amazingly well with quite a few other veggie options as well; here are some of my top picks:
Beets
Onions
Carrots
Bell peppers
Cauliflower
Print
Quick Refrigerator Pickled Cucumber Slices (Good with Everything!)
Scale
1

pound Kirby cucumbers, sliced 

2 tsp

black peppercorns

5

garlic cloves, peeled

6

large sprigs fresh dill

1

bay leaf

½ tsp

red pepper flakes

1 cups

water

1 cup

white vinegar 

1 ½ tbsp

salt
In a measuring cup combine the water, vinegar and salt. 

In a jar pack the cucumber, dill, garlic, black peppercorns, bay leaf and red pepper flakes. 

Pour the vinegar mixture over the cucumbers. 

Put the lid on. 

Refrigerate for at least 2 days before eating. 

Store in the fridge for up to 1 week.
More Good Homemade Refrigerator Pickle Recipes: