Recipes
Vitamin-Rich Raspberry Orange Smoothie for a Quick Boost
Try this vitamin-rich raspberry orange smoothie as a midday pick-me-up because it has everything you need for that quick boost of all-natural energy. This smoothie is made with nothing but healthy, nourishing ingredients to ensure that it's both delicious and completely nutritious.
How to Make a Raspberry Orange Smoothie
This is exactly how easy it is to make this raspberry orange smoothie; I like to make it as a quick healthy liquid breakfast on those hectic mornings where I can't find the time to cook anything.
Blend. Add the vanilla Greek yogurt, frozen raspberries, chopped pieces of sweet oranges, ice cubes, and honey to taste to a blender and blend until smooth.
Serve. Serve immediately.
3 Fantastic Health Benefits Offered By This Raspberry Orange Smoothie
This raspberry orange smoothie is a fantastic drink to make when it comes to your health. As a matter of fact, here are 3 proven health benefits that you can gain by making this recipe:
Protein-packed source of probiotics. Adding Greek yogurt into your smoothie is a great way to make sure you're getting both protein and gut health boosting probiotics. Studies have shown that probiotics may help to restore and maintain a healthy balance of bacteria in the gut. (1)
Loaded with disease-fighting antioxidants. As with just about all types of berries, raspberries are absolutely loaded with antioxidants and a variety of other essential vitamins and minerals. One particular study found that red raspberries in particular were a fantastic source of polyphenols that provide both cardiovascular and neuroprotective benefits. (2)
May help to keep cardiovascular disease at bay. On top of being an excellent source of vitamin C, sweet oranges are also a great source of the essential mineral potassium. There is evidence that shows potassium can help to relieve hypertension, which can help to reduce your risk of heart disease and stroke. (3)
How Often Can I Drink This Raspberry Orange Smoothie?
This raspberry orange smoothie is perfectly fine to drink on a daily basis as long as you don't have any type of allergies to any of the ingredients used in the recipe.
Print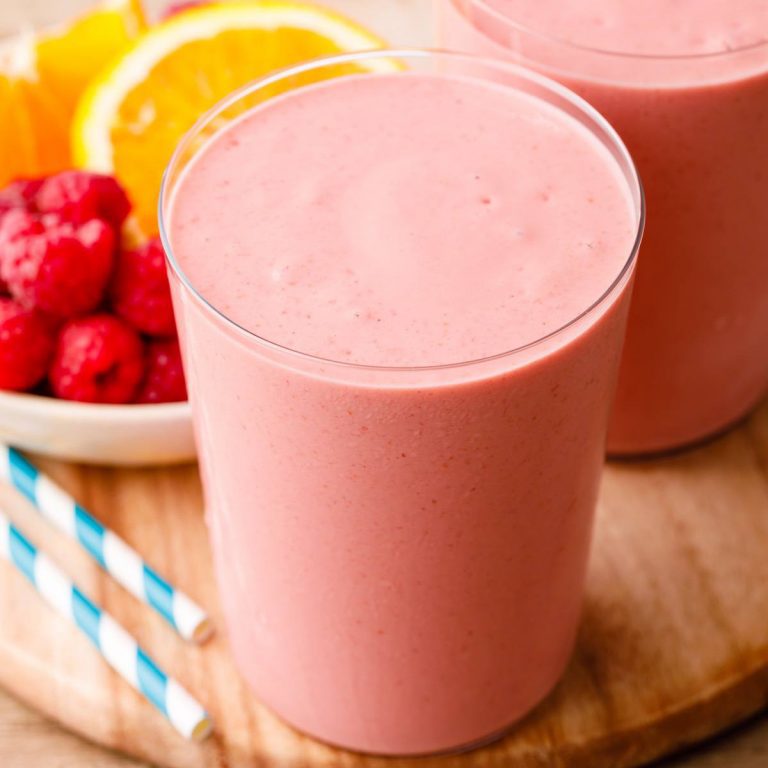 Vitamin-Rich Raspberry Orange Smoothie for a Quick Boost
Scale
1 ¼ cup

vanilla Greek yogurt 

2 cups

frozen raspberries 

3

large sweet oranges, peeled and chopped 

1 ¼ cup

ice cubes 

2 tbsp

honey or to taste    
Add all the ingredients to a blender and blend until smooth. 

Serve immediately.