Recipes
Quick Pickled Red Onions (with Apple Cider Vinegar!)
It's incredible how many different foods go amazingly well with pickled onions. Everything from toast to tacos can get a big boost in flavor by adding them in. That's especially true when you follow this recipe to make the best pickled red onions with apple cider vinegar and garlic.
While quick pickled red onions are probably one of my favorite refrigerator pickles to make, 4 of my other favorites are Pickled Garlic (eat in lettuce wraps and in grilled cheese sandwiches), Pickled Carrots (incredible in salads), Pickled Beets (I eat these straight out of the jar, yum) and Spicy Jalapeno Pickled Eggs (so addictive!).
How to Make Quick Pickled Red Onions
Learning to make pickled red onions couldn't be easier. There are very few steps and ingredients, but they turn out so, sooo good.
Prepare the onions. Slice the red onion as thinly as possible. Take your time doing this!
Peel the garlic cloves.
For the brine: You'll need water, apple cider vinegar, honey, red pepper flakes, and salt. Bring to a boil in a saucepan.
Mix well. Make sure it doesn't burn because it contains honey.
Pack. Pack the red onion slices and garlic cloves into a jar.
Pour while hot. Pour the hot vinegar mixture over top of the onions.
Wait. Put the lid on the jar and wait for it to cool completely. About 30 minutes should do the trick.
Refrigerate. Refrigerate the pickled onions for a minimum of 2 days before eating.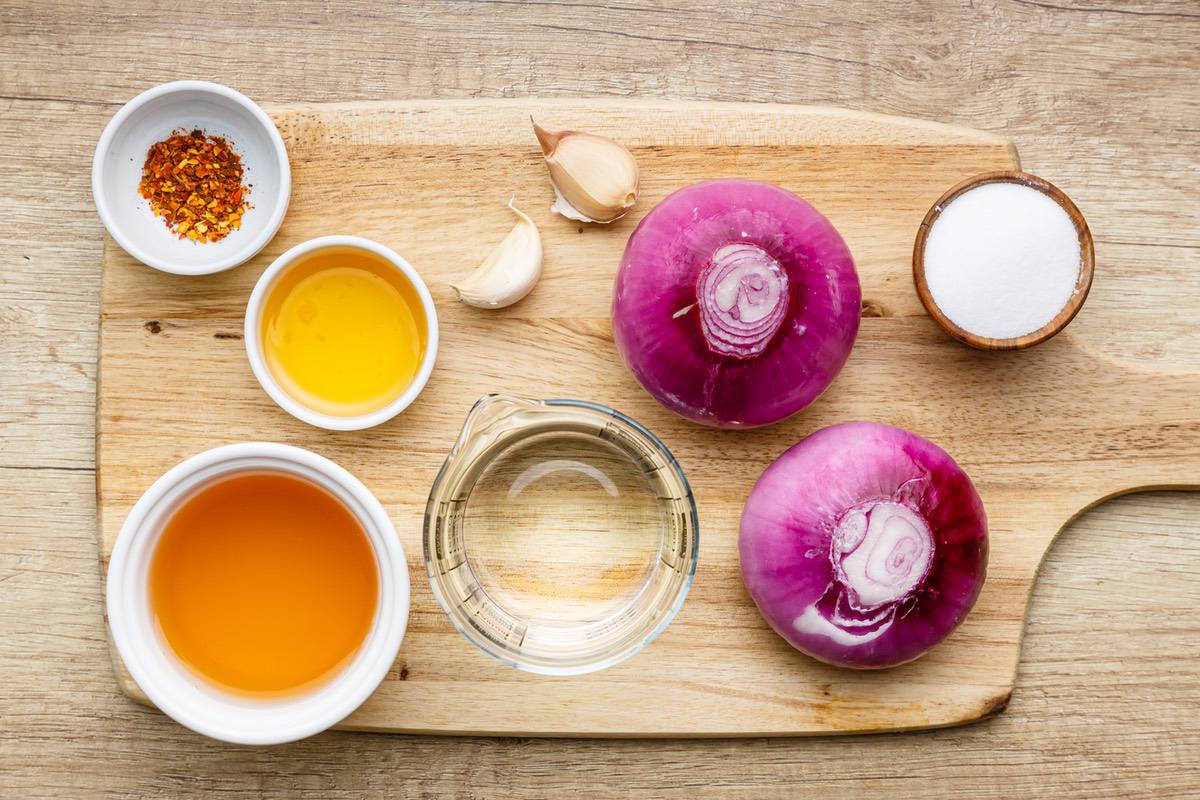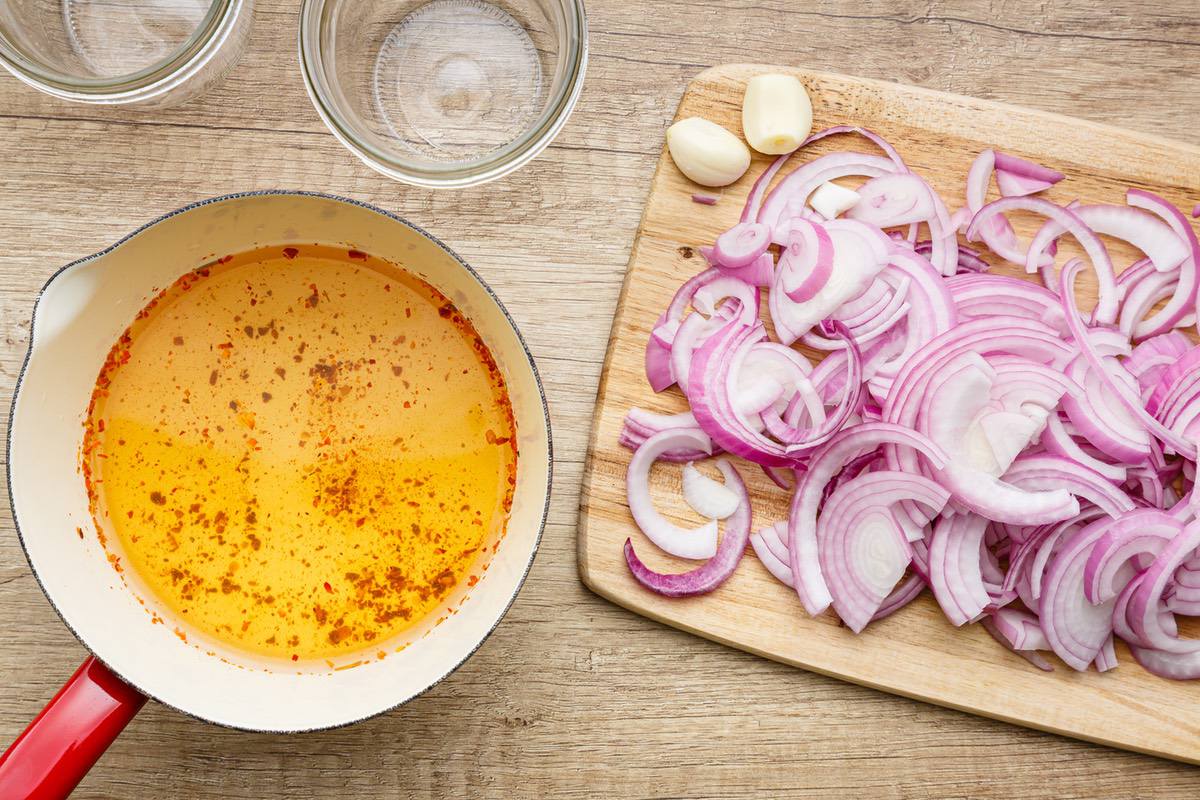 2 Impressive Health Benefits Offered By Pickled Red Onions
Pickled red onions provide the same great health benefits as eating red onions normally would. With that being said, here are 2 of the top benefits you can gain by pickling them along with apple cider vinegar and garlic.
Front line defense against diseases like cancer. The combination of garlic and onion has been used for centuries as a means to prevent disease. The potent combination of antioxidants and other biocompounds in both garlic and onion have been found to protect against certain types of cancer in numerous studies. (1)
Improved digestion. Vinegar is well known for providing several benefits for your digestive system, and apple cider vinegar is no exception. Many people consume apple cider vinegar before protein-heavy meals as its acidic content may help to produce more pepsin, an enzyme that helps to break down proteins. (2)
Can I Pickle White Onions Instead of Red Onions?
You can absolutely pickle white onions if you prefer them over red onions. However, if you're planning on doing so, you should be aware of one subtle but important difference between the two types of onions.
While both types of onion will crisp up perfectly when pickling them, red onions tend to be a bit 'meatier' and absorb the flavoring of the brine slightly easier. I would actually recommend giving white onions an additional day of pickling time before eating.
Aside from that though, both types of onions feature near identical nutritional profiles; they each offer an abundance of essential vitamins, minerals, and antioxidants.
More Good Homemade Pickle Recipes:
How to Store Quick Pickled Red Onions
You'll be able to store these pickled red onions for up to one month as long as you keep them in the jar and store them in the fridge.
Freezing your pickled red onions is an option as well if you want to extend their shelf life even longer.
If you're planning on freezing them, I would recommend first chopping up your onions before transferring them into a heavy duty freezer-safe bag. Add a bit of the brine mixture into the bag (about ¼ worth) and transfer the rest into a separate airtight and freezer-safe container.
Pickled red onions can be frozen for months, so stock up!
Print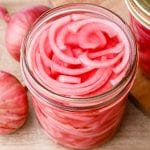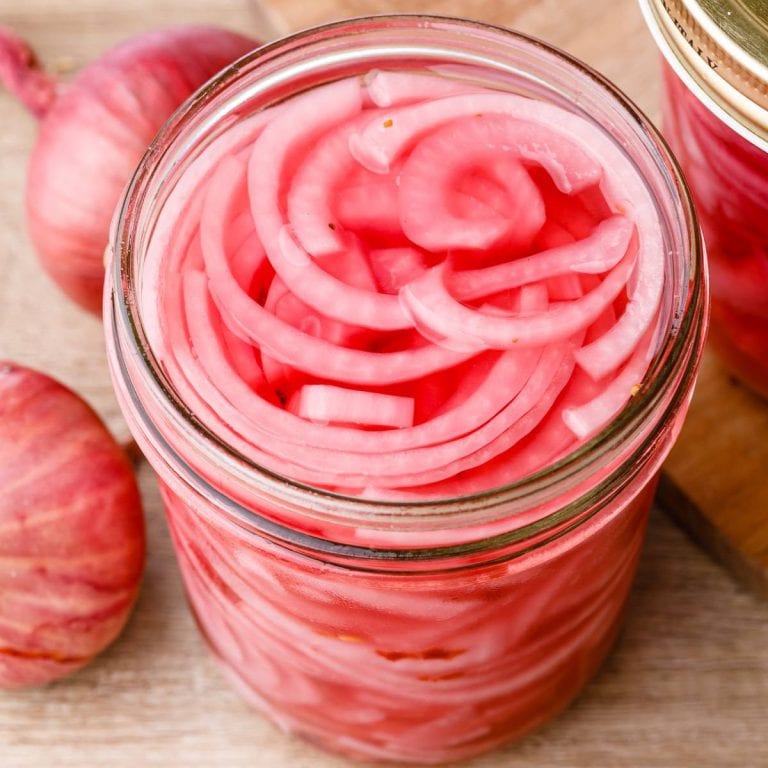 Quick Pickled Red Onions
Scale
2

large red onions, sliced 

2

garlic cloves, peeled

½ cup

water

½ cup

apple cider vinegar 

1 ½ tbsp

honey

1 ½ tsp

salt

¼ tsp

red pepper flakes
In a saucepan combine the water, vinegar, honey, red pepper flakes and salt. 

Bring to a boil over high heat. 

In a jar pack the onion and garlic. 

Pour the hot vinegar mixture over the onion. 

Put the lid on and leave to cool. 

Refrigerate for at least 2 days before eating. 

Store in the fridge for up to 1 month.
More Good Quick Pickled Onion Recipes