Recipes
Easy (And Spicy) Pickled Radishes for Tacos, Toast and Salads
I'm a huge fan of making my own pickled radishes to use with everything from tacos to Korean style fried chicken (so good). You can easily make your own spicy pickled radishes with only 15 minutes of prep time by following this super simple recipe.
How to Make Pickled Radishes
Prepare the radish. Radishes have a thick, woody skin. Thoroughly wash them then trim them.
Slice thinly using a mandoline slicer. Trust me, you're just better off with the mandoline slicer with this.
Pack. Pack the radish slices, mustard seeds, red pepper flakes, and black peppercorns into a jar.
Prepare the brine mixture. Combine the water, white vinegar, honey, and salt in a saucepan.
Bring the brine mixture to a boil.
Pour over the radish. Once the brine mixture is ready and everything has dissolved and combined nicely, carefully pour the mixture over the radish slices.
Wait for about 30 minutes. Put the lid on the jar and wait for it to cool completely.
Refrigerate. Refrigerate for a minimum of one day before eating.
What Goes Well with Pickled Radishes?
Pickled radishes go phenomenally well with a wide variety of tasty dishes. Here are just a few of my favorite foods to serve with this recipe:
Tacos, fajitas, and quesadillas
Toast and sandwiches
Salads and coleslaws
Ramen or rice noodles
Korean fried chicken
Are Pickled Radishes Low in Carbs?
Radish is a vegetable that's naturally low in carbs to begin with. A 100 gram serving of radish only has about 3.5 grams of carbohydrates; with 1.6 grams coming from dietary fiber and 1.9 grams from sugar.
However, when adding in ingredients like honey, mustard seeds, and black peppercorns into the mix, it's important to remember that they all contain trace amounts of carbs as well.
It doesn't take very long at all for those carb totals to start adding up. Keep this in mind if you're following a low carb diet like the ketogenic diet, where carbs are commonly restricted to between 10-50 grams max per day.
2 Proven Health Benefits of Pickled Radishes
Radishes are already a pretty healthy root vegetable to begin with and that doesn't change a bit after pickling them. In fact, here are x great health benefits you can gain by pickling your radish:
Replenish electrolytes. Pickling radishes will up their sodium content, which can be incredibly beneficial in particular for people on the keto diet. In the early stages of cutting out carbs, many people end up losing quite a lot of water weight, which can lead to dehydration; the sodium in the pickling brine can help to replenish lost electrolytes. (1)
Probiotics for gut health. Another added benefit of pickling your radishes is that the pickling process encourages probiotics to develop, along with other types of gut-beneficial bacteria. The acidity in the vinegar solution also prevents the growth of harmful types of bacteria. (2)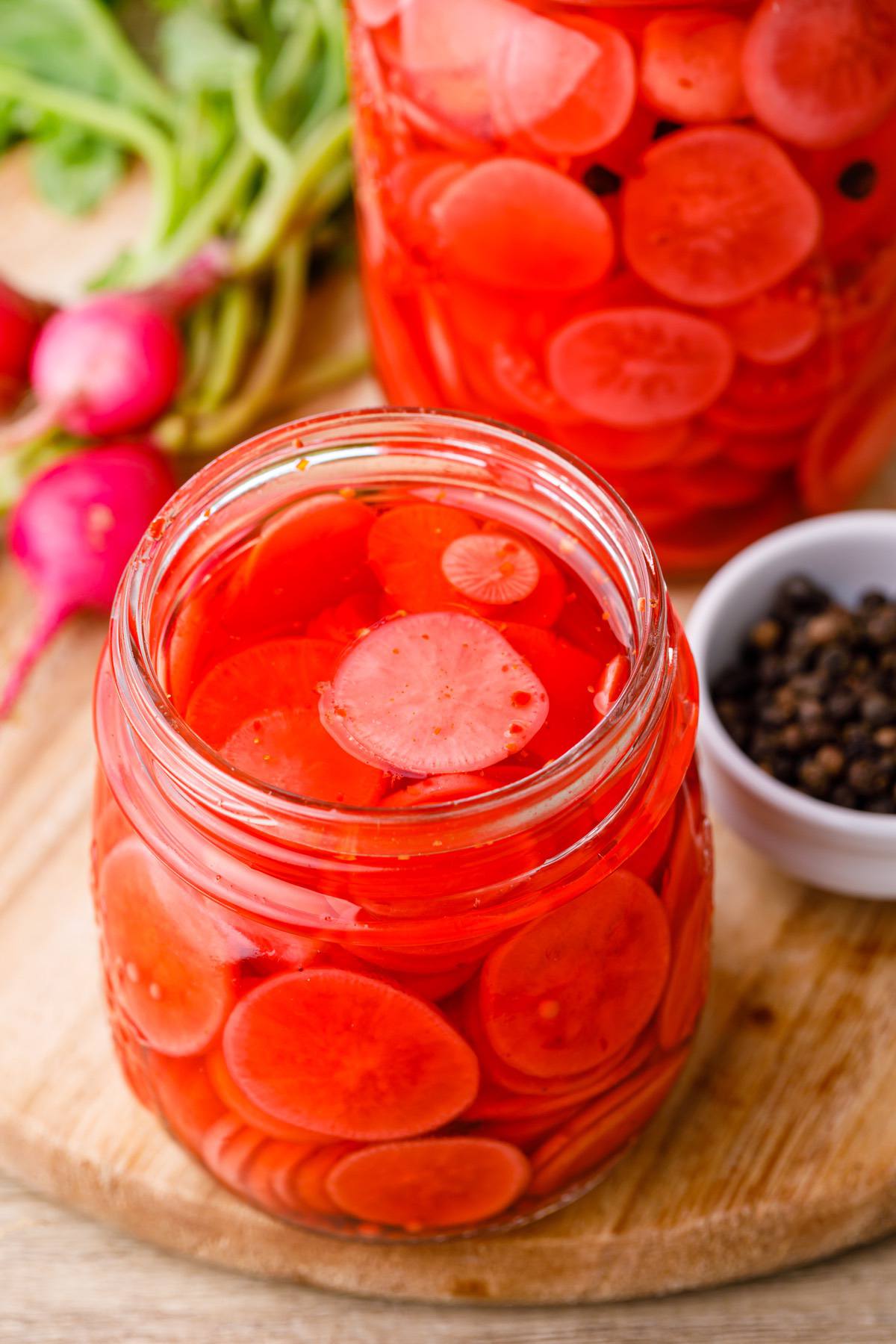 Print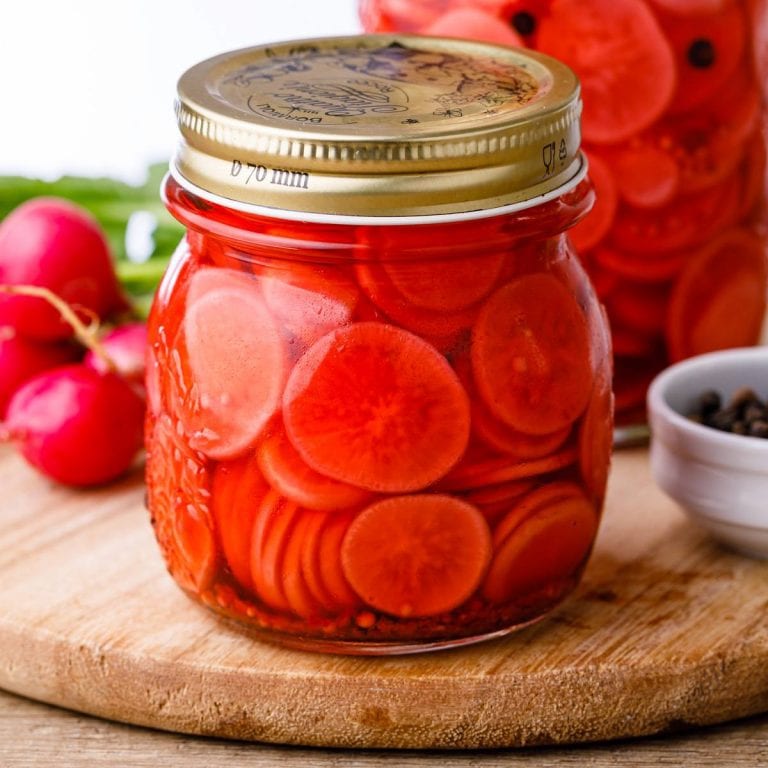 Easy (And Spicy) Pickled Radishes for Tacos, Toast and Salads
Scale
¾

pound radishes, thoroughly washed and trimmed

¾ cup

white vinegar 

¾ cup

water

3 tbsp

honey

2 tsp

salt

1 tsp

red pepper flakes 

½ tsp

mustard seeds 

½ tsp

black peppercorns
Thinly slice the radish using a mandoline slicer. 

In a jar pack the radishes, mustard seeds, red pepper flakes and black peppercorns. 

In a saucepan combine the water, vinegar, honey and salt. 

Bring to a boil over high heat. 

Pour the hot vinegar mixture over the radishes.

Put the lid on and leave to cool.

Refrigerate for at least 1 day before eating. 

Store in the fridge for up to 1 month.
More Good Homemade Pickle Recipes: