Recipes
Pickled Okra Recipe (Easy Refrigerator Pickles!)
Okra is an incredibly nutrient-dense vegetable that can be made into a tasty snack with this simple recipe. I like how easy it is to make, and pickling helps my vegetables keep for longer. If you love okra, give this incredible pickled okra recipe a try.
How to Make Pickled Okra
Prepare the brine mixture. Add the water, white vinegar, sugar (or honey), and salt to a saucepan.
Boil over high heat. Be careful not to let it burn because it contains sugar/honey.
Pack. Pack the okra, chili peppers, garlic, bay leaves, mustard seeds, fennel seeds, and black peppercorns into a jar.
Pour. Pour the hot vinegar mixture over the okra. Wait for it to cool completely.
Put the lid on the jar.
Refrigerate. Refrigerate the pickled okra for a minimum of 2 days before eating.
More Good Pickle Recipes:
3 Health Benefits of Okra
I mentioned above about what a nutrient-dense food okra is and I wasn't joking; here are 3 amazing health benefits that you can gain by including okra in your diet:
Rich source of dietary fiber. Okra is a good source of dietary fiber, which provides numerous benefits for your gut health and overall digestion. There's even evidence that fiber may help to protect against certain types of cancer, like colon cancer. (1)
Provides disease-fighting antioxidants. It's also rich in antioxidants and other polyphenols that can help to protect against a variety of diseases. The polyphenols found in okra have been shown to relieve chronic inflammation, which in turns helps to reduce your risk of developing chronic inflammatory diseases. (2)
Helps to prevent blood sugar spikes. Okra could be an especially beneficial food for people with type 2 diabetes. There's mounting evidence that okra can help to reduce blood sugar spikes, in both liquified and purified forms. (3)
3 Reasons to Pickle Your Vegetables
Wondering why anyone would go through all of this trouble to pickle their vegetables in the first place? Here are 3 of the biggest reasons why if you aren't already pickling your veggies, you should start now:
Super easy to do. Pickling vegetables is incredibly easy to do; this particular recipe alone only requires about 10 minutes of prep time. No matter what type of veggie you're pickling, it's a straightforward and easy to do procedure that offers an immense pay off.
Makes your veggies last way longer. Like I mentioned earlier, pickling is a great way to extend the shelf life of your veggies. Certain foods that would spoil within days in the fridge can last for weeks (and in some cases, even longer) once pickled.
Makes them incredibly flavorful. This recipe is yet again another great example of how pickling certain foods can make them way more flavorful thanks to the blend of spices and aromatics that you can use.
(Also try: Crispy Refrigerator Dill Pickles)
Print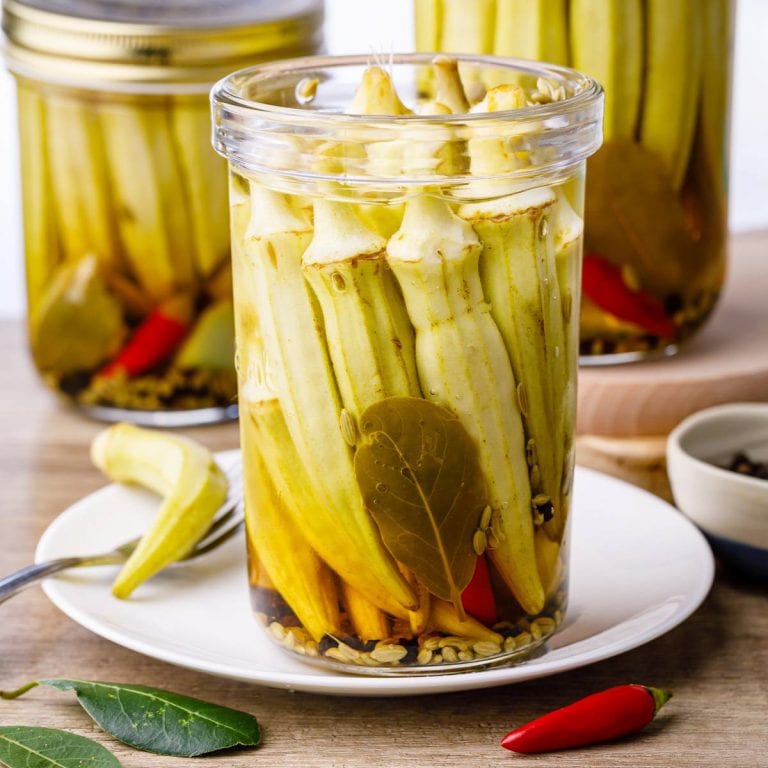 Pickled Okra Recipe (Easy Refrigerator Pickles!)
Scale
32

okra pods, trimmed 

2

–

3

garlic cloves, peeled and crushed 

2

fresh chili peppers 

2

bay leaves 

½ tsp

fennel seeds (optional)

1 tsp

black peppercorns 

½ tsp

mustard seeds 

1 ½ tbsp

salt 

4 tbsp

white sugar or honey 

2 cups

water 

1 cup

white vinegar
In a saucepan combine the water, vinegar, sugar and salt. 

Bring to a boil over high heat. 

In a jars pack the okra, chili peppers, garlic, bay leaves, mustard seeds, fennel seeds and black peppercorns. 

Pour the hot vinegar mixture over the okra. 

Put the lids on and leave to cool.

Refrigerate for at least 2 days before eating. 

Store in the fridge for up to 2 months.
More Good Ways to Make Okra