Recipes
Quick 4-Ingredient Pickled Jalapenos (Ready in Under 10 Minutes!)
Pickling jalapeno peppers is a great way to help bring out their natural spiciness even further and preserve your harvest if you grew a lot of garden-fresh peppers. Here's my go to recipe for quickly and easily pickling jalapenos, using only 4 simple ingredients.
How to Make Pickled Jalapenos
Wash and prepare your ingredients. Wash the jalapeno peppers thoroughly before slicing. Peel and mash the garlic cloves.
Prepare your brine mixture.
Pack the jalapeno and garlic into a jar. Make sure you leave some room over the top to pour the brine mixture over.
Pour the brine. Pour the prepared hot vinegar mixture over top of the jalapeno and garlic.
Wait. Put the lid on the jar and wait for it to cool completely. Do not put on the lid when it's still hot. Tip: If it fogs up the side of your jar when you put the lid on, it's still too warm to be sealed.
Refrigerate. Refrigerate for a minimum of 5 days before eating.
How to Make a Simple Pickle Brine Mixture
To make a simple brine, you'll need some water, white vinegar, honey, and salt.
Bring to a boil in a saucepan. You can use high heat, just make sure it won't burn.
3 Amazing Benefits of Pickling Your Vegetables
If you've never pickled vegetables before, then you may be wondering why exactly anyone would go through all of this trouble in the first place? With that in mind, here are 3 great benefits you can gain from pickling your veggies:
Improved digestion. Pickling your vegetables and soaking them in brine mixtures will cause them to ferment over time. Fermented vegetables are full of healthy bacteria known as probiotics, which provide you with several important digestive benefits. (1)
Reduces the pain caused by muscle cramps. Brining mixtures like those used to make these pickled jalapenos can actually help with relieving the pain caused by muscle cramps. One study found that as little as ⅓ cup of brine mixture was all that was necessary to have a beneficial effect on muscle soreness. (2)
Enhanced flavor. For this particular recipe, the capsaicin from the peppers actually ends up mixing with the brine mixture, which brings out the inherent spiciness of the peppers in a big way. The brine mixture also greatly enhances the garlic flavoring as well.
Other Vegetables You Can Pickle with This Recipe
The very same 4-ingredients that you use to pickle jalapenos can also be used to pickle a few other tasty veggie options as well. Here are some of our top picks for pickling candidates:
Cucumbers
Beets
Cauliflower
Carrots
Tomatoes
Parsnip
Squash
Green beans
Fennel
Cabbage
What Kinds of Foods Go Well with Pickled Jalapenos?
One of the best things about pickled jalapenos is that you'll have plenty of delicious recipe options to enjoy them with. Here are just a handful of our favorites:
Roast them and serve them as a spicy side.
Add them to tacos, fajitas, and quesadillas.
Make homemade salsa mixtures with them.
Of course, you can always just snack on the jalapenos alone for a nice and crunchy spicy snack.
Best Way to Store Pickled Jalapenos
The best way to store your pickled jalapenos is to leave them in the jar and then keep them in the fridge. They will last for up to 2 months when stored like this.
(You may also like: Quick and Easy Cucumber Kimchi)
Print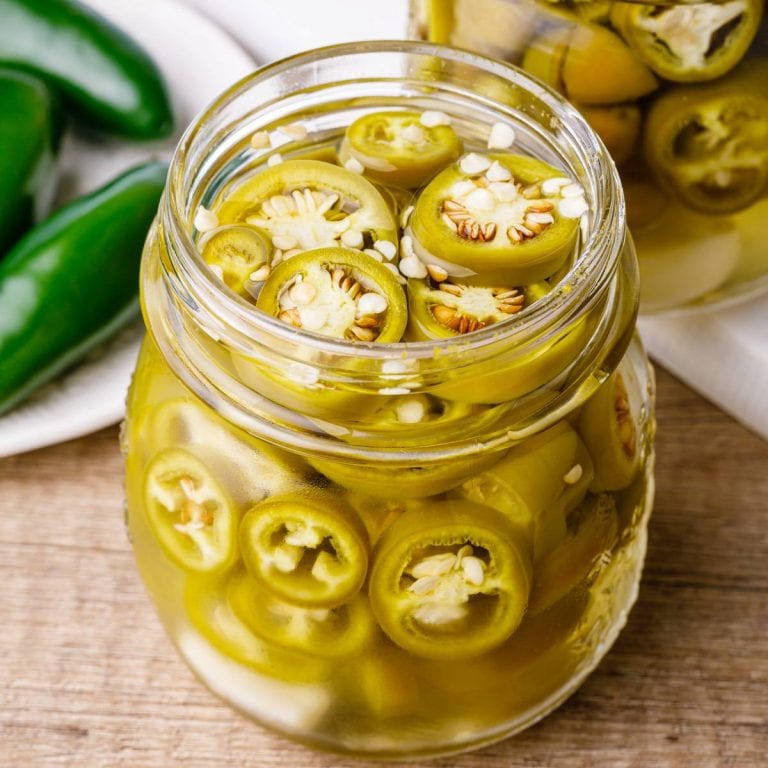 Quick 4-Ingredient Pickled Jalapenos (Ready in Under 10 Minutes!)
Scale
8

jalapeno peppers, sliced

1 cup

white vinegar

2 tbsp

honey

1 tbsp

salt

1 cup

water

2

cloves garlic, peeled and smashed
In a saucepan combine the water, vinegar, honey and salt. 

Bring to a boil over high heat. 

In a jar pack the jalapeno and garlic. 

Pour the hot vinegar mixture over the jalapeno. 

Put the lid on and leave to cool.

Refrigerate for at least 5 days before eating.  

Store in the fridge for up to 2 months.