Recipes
The Best Pickled Garlic (Goes Well with Everything!)
Garlic goes well with everything, and pickled garlic is no exception. My family and friends are OBSESSED with this pickled garlic recipe. I always make a huge batch of this because I run out so fast! Here's how to make it.
I have an addiction, and it involves making and eating pickles, lol. A couple of my other obsessions are Pickled Carrots (especially good in salads and on asian sandwiches), Pickled Onions (incredible in fish tacos) and Pickled Beets (good on everything and when eaten by themselves).
How to Make Pickled Garlic
Prepare the garlic. Peel one cup of fresh garlic cloves. The fresher, the better. Fresh garlic is always more pungent and flavorful.
Pack. Pack the peeled garlic, bay leaf, dried chili pepper, and black peppercorns into a jar.
Prepare the brine mixture. Add the water, white vinegar, honey, and salt to a saucepan and mix to combine.
Boil. Bring the brine to a boil over high heat. Pour the hot vinegar mixture over top of the garlic. Put the lid on once it has cooled completely.
Refrigerate. Refrigerate the pickled garlic for a minimum of 5 days before eating.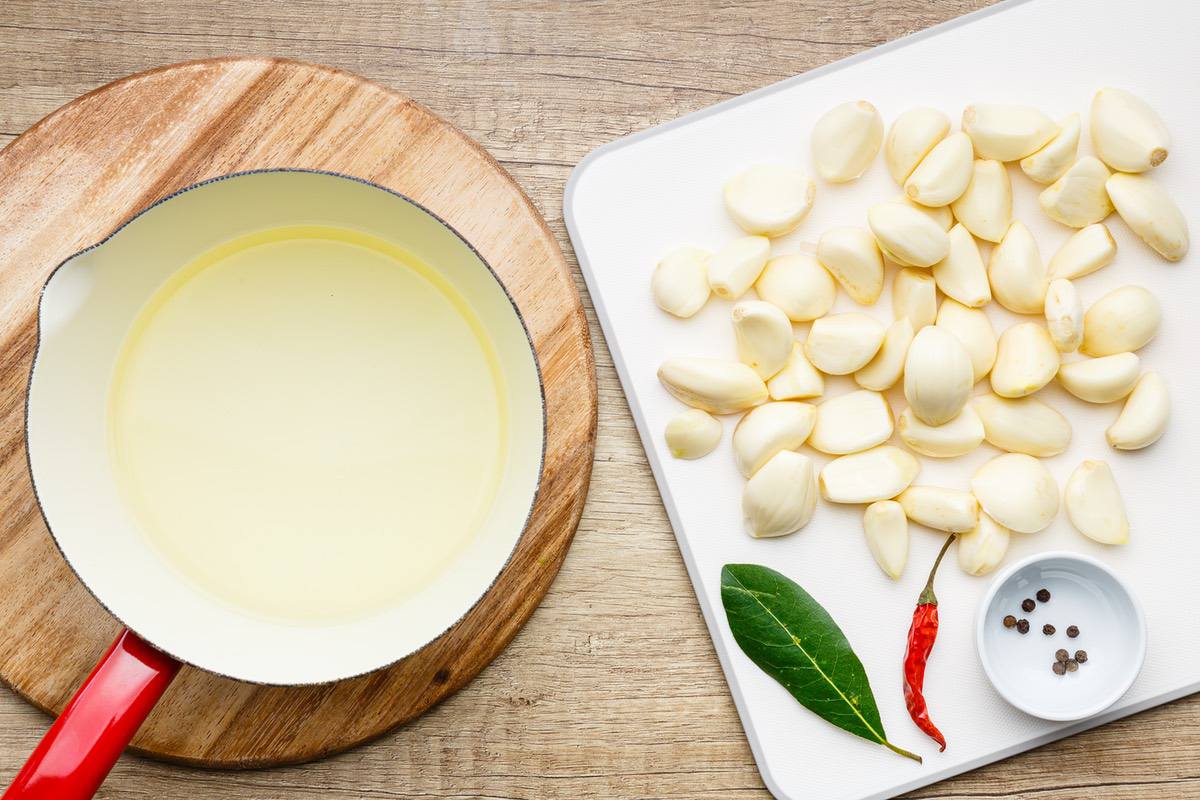 Is Pickled Garlic Healthier than Raw Garlic?
Raw garlic is considered to be one of nature's genuine superfoods due to how incredibly nutrient-dense it is.
But would you believe that pickling your garlic actually makes it even healthier? It's true!
Studies have shown that pickled garlic exhibits enhanced bioactivity compared to eating raw garlic, which basically means that your body is absorbing more of those nutrients mentioned above. (1)
It should be mentioned as well that in order to increase the bioavailability of your garlic, you should pickle it with a saltwater brine as opposed to a vinegar brine (like the one in this recipe).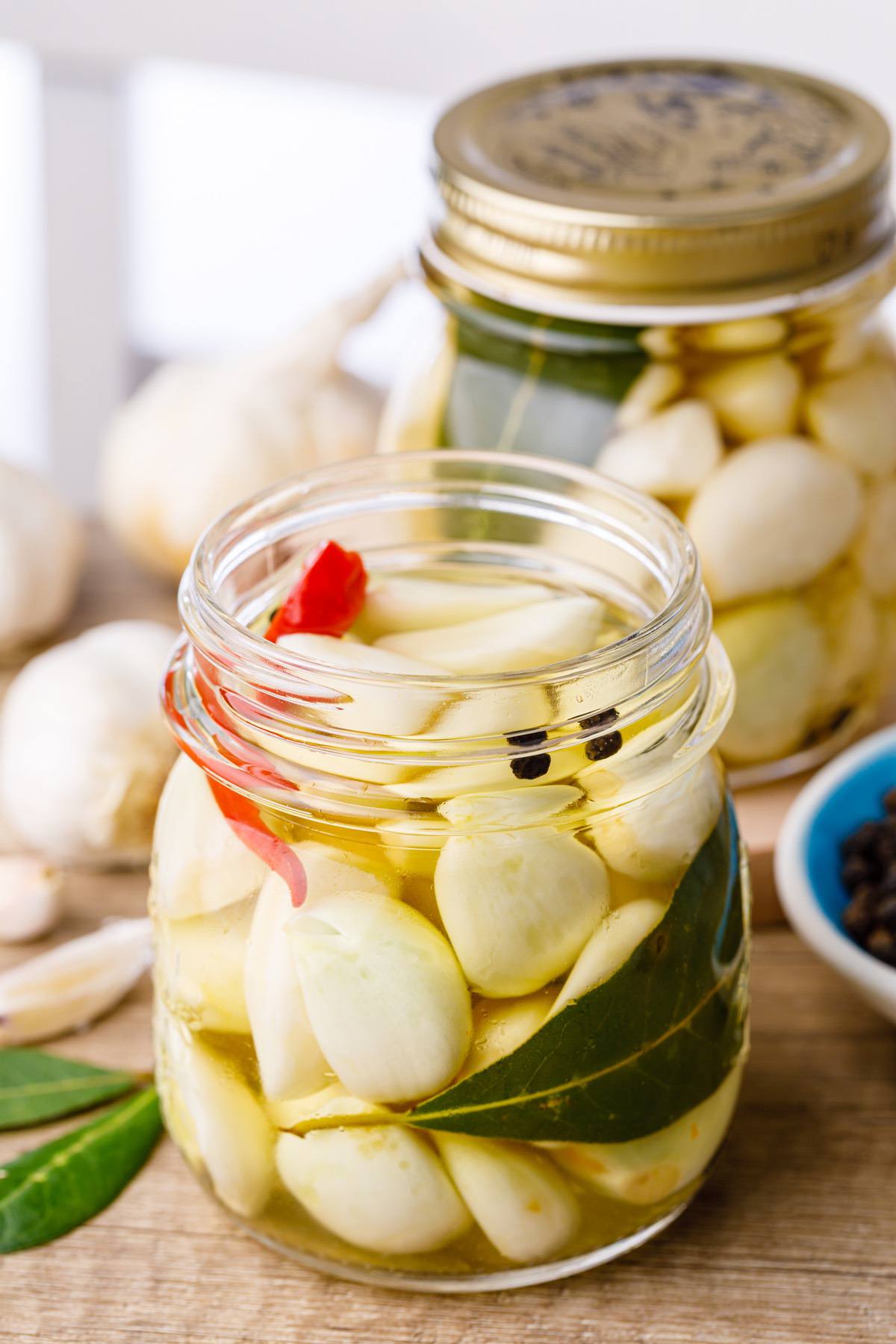 Does Pickling Keep Garlic Fresh for a Longer Period?
Garlic is actually one of the rare foods that doesn't really gain much in terms of shelf life by pickling it.
A whole head of unpeeled garlic already lasts for up to 6 months (though not as potent in flavor); the same amount of time as this particular pickled garlic recipe will keep in the fridge.
With that being said, in general, pickling your vegetables does make them last significantly longer. Garlic is just a rare exception.
More Good Homemade Pickle Recipes:
How to Store Pickled Garlic for Maximum Freshness
The best way to preserve the freshness of your pickled garlic is to first make sure that you're waiting the recommended 5 days before you crack them open and start eating them.
It's vital that you give the vinegar mixture the proper amount of time for the pickling process; opening it too soon will result in a bunch of wasted effort.
Aside from that, simply keep your pickled garlic in the jar, submerged in the pickling juices, and you can easily store it in the fridge for up to 6 months.
(Also try: Spicy Pickled Eggs)
Print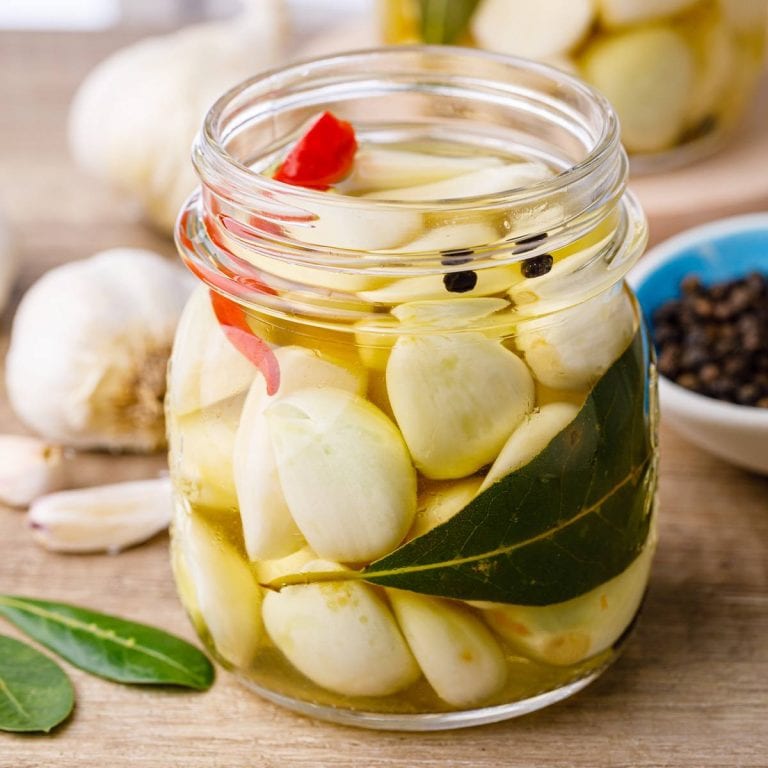 Crave-worthy Pickled Garlic (So Tasty and Goes Well with Everything!)
Scale
1 cup

peeled fresh garlic cloves

½ cup

white vinegar

½ cup

water 

2 tsp

honey

½ tsp

salt

1

small dried chile pepper

1

bay leaf

5

–

10

black peppercorns
In a jar pack the garlic, bay leaf, chili pepper and black peppercorns. 

In a saucepan combine the water, vinegar, honey and salt. 

Bring to a boil over high heat. 

Pour the hot vinegar mixture over the garlic.

Put the lids on and leave to cool.

Refrigerate for at least 5 day before eating. 

Store in the fridge for up to 6 month.