Recipes
Easy Refrigerator Pickled Eggs with Fresh Dill, Garlic and Peppercorns
There are so many different ways to pickle eggs that it was hard to narrow down my favorite method. After giving it a lot of consideration, this recipe for making easy pickled eggs with fresh dill, garlic, and peppercorns came away as the hands down winner. It's just so tasty this way!
How to Make the Best Pickled Eggs
Boil a dozen eggs over high heat. You'll want to boil them for about 11-12 minutes.
Peel the eggs. Allow the eggs to cool completely first!
Peel the garlic cloves.
Prepare the saucepan. Combine the water, white vinegar, and salt in a saucepan. Bring to a boil.
Add the hard boiled eggs, fresh dill, black peppercorns, and garlic into a jar. Make sure there's space for the liquid you'll add later on.
(Optional) Add more spices. You can optionally also pack in more pickling spices and crushed red peppers with the ingredients above if you would like. Make sure to add a little at a time because it will soak, so the spice could end up being too much. A little goes a long way!
Pour. Pour the hot vinegar mixture over top of the eggs.
Let cool before you put the lid on. Leave it for about 30 minutes at least.
Refrigerate. Refrigerate the pickled eggs for a minimum of 7 days before eating.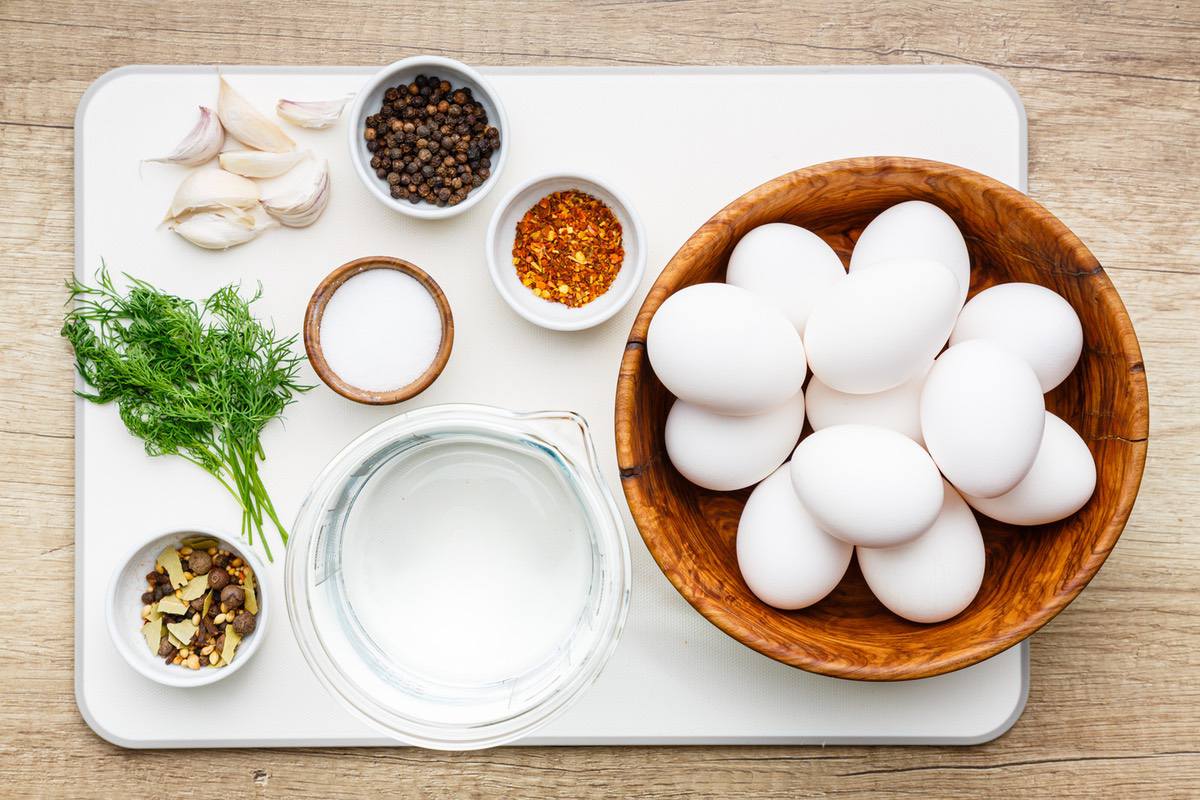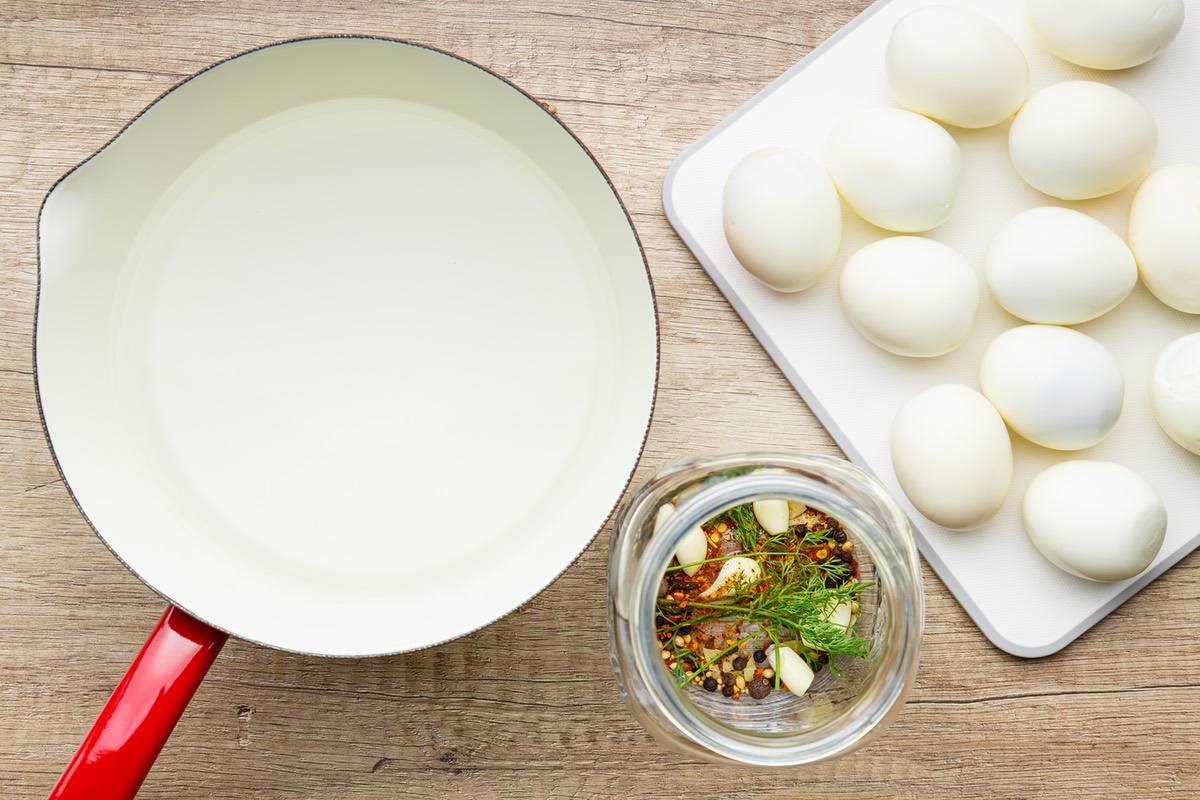 2 Great Reasons Why You Should Be Pickling Your Eggs
Wondering why anyone would bother pickling eggs to begin with? Here are 2 great reasons why:
Greatly extends their shelf life. Preserving hard boiled eggs in pickling brines can significantly boost their shelf life. Left in the fridge, they will keep for up to one month and that can be extended up to one full year if you decide to freeze them instead.
Reduced sulfur taste. A lot of people are turned off by hard boiled eggs because they give off such a strong sulfur taste. By pickling your eggs, they'll end up with quite a different flavor indeed (see below).
What Do Pickled Eggs Taste Like?
Typically pickled eggs will give off a flavor that is a mixture of sweet, salty, and vinegary. Try to imagine the taste of a hard boiled egg mixed with a mouthful of pickle juice and you wouldn't be too far off.
However, as you can see with this particular recipe, you can alter the flavor of your pickled eggs by adding in additional ingredients (fresh dill, garlic, and black peppercorns in this case).
Don't be afraid to experiment with different ways of pickling eggs until you find the flavor combination that you like the best!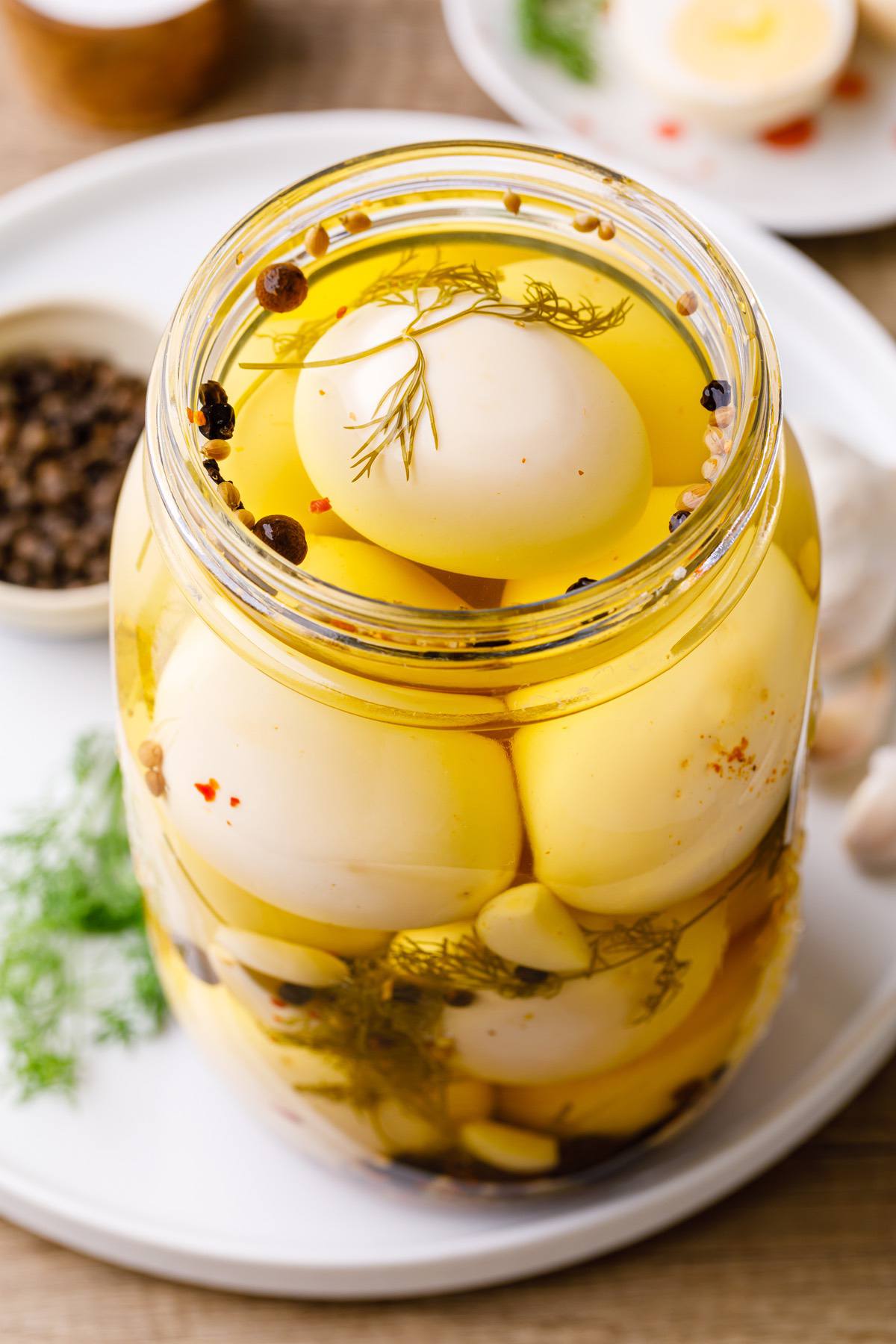 Can I Freeze Pickled Eggs? (+The Best Way to Store Them)
You'll be able to keep these pickled eggs in your fridge for up to one month before they go bad. If you want to extend their shelf life even longer, then freezing them is also an option.
Before we explain the best way to freeze them though, there's one important thing that you should keep in mind. It's not recommended to freeze hard boiled eggs with the shell still on; you should only ever freeze hard boiled eggs that have been peeled, like in this recipe.
With that out of the way, to freeze them, you'll want to scoop out each egg from the brine mixture and transfer them into a heavy-duty freezer safe bag. Add about ¼ of the in with the eggs and then place them in the freezer; they will keep for a full 12 months when frozen.
Take the remaining brine mixture and transfer it into a freezer-safe airtight container to freeze separately from the eggs.
More Good Pickled Egg Recipes
Print
Easy Refrigerator Pickled Eggs with Fresh Dill, Garlic and Peppercorns
Author:
Prep Time:

5 minutes

Cook Time:

5 minutes

Total Time:

10 minutes

Yield:

1

2

1

x
Scale
12

hard-boiled eggs, peeled 

1 ½ cup

white vinegar 

1 ½ cup

water 

1 ½ tsp

salt 

4

–

6

garlic cloves, peeled 

1 tbsp

whole peppercorns

6

–

8

springs fresh dill 

1 tbsp

pickling spices (optional) 

1 tsp

crushed red peppers (optional)
In a saucepan combine the water, vinegar and salt. 

Bring to a boil over high heat. 

In a jar, pack the eggs, fresh dill, black peppercorns, garlic and pickling spices and crushed red pepper (if using).

Pour the hot vinegar mixture over the eggs. 

Put the lid on and leave to cool.

Refrigerate for seven days before eating.

Store in the fridge for up to 1 month.