Recipes
Quick Oven Roasted Tomatoes and Garlic (These are incredible on toast!)
There are so many ways that you can use oven roasted tomatoes and garlic to make some truly yummy meals and snacks. If you've been growing your own tomatoes and garlic or just have some leftover from another recipe, this is a really good way to use them.
How to Make Oven Roasted Tomatoes and Garlic
Preheat the oven and prepare the baking sheet. Preheat the oven and line a baking sheet with aluminum foil.
Prepare the veggies. Use ripe tomatoes and cut them into halves. For the garlic, use whole cloves that have been peeled. Do not chop up the garlic.
Arrange on the baking sheet. Place the tomatoes in a single layer on the baking sheet with the cut sides facing up. Add the garlic cloves and thyme leaves before drizzling everything with extra virgin olive oil.
Season. Season with salt and black pepper to taste.
Roast. Roast for about 30 to 40 minutes, just long enough for the tomato skins to start to soften and burst.
Oven Roasting vs. Grilling Tomatoes – Which Method Works Better?
I used to always grill my vegetables for cooking but lately I've become a full on believer in oven roasting as well. Here are just a few reasons why oven roasting vegetables works so well.
Less burned edges. Roasting your tomatoes in the oven tends to result in less burned edges due to overcooking.
Keep it simple. Using a single sheet pan to oven roast your tomatoes and garlic is incredibly convenient when it comes to making a delicious meal in a hurry.
It's convenient. You'll always be able to use your oven to roast a batch of veggies no matter what the weather outside looks like, unlike with outdoor grilling.
Can I Store These Roasted Tomatoes and Garlic to Enjoy Later?
You can absolutely store roasted tomatoes and garlic to enjoy them later on. As a matter of fact, I usually keep a batch of frozen roasted tomatoes from my own garden that I can thaw out and enjoy during the winter months when tomatoes aren't in season.
After roasting the tomatoes and garlic, you can either place them in freezer safe bags or airtight containers as is, or you can opt to mash them into a paste to preserve as well. I usually split mine up 50/50 whenever I freeze my roasted tomatoes.
Oven roasted tomatoes and garlic that have been frozen can usually last for anywhere from 4 to 6 months.
5 More Tasty Ways to Use These Roasted Tomatoes and Garlic
Wondering what else you can do with oven roasted tomatoes and garlic? Here are 5 more of my favorite ways to put this recipe to good use.
Serve on top of toast (this recipe is SO good like this)
Mash them up and serve as a side along with your favorite meals
Make homemade salad or pasta dishes with them
Make stews or vegetable lentil soups with them
Make hummus, salsa, or another type of dip with them
As you can see, you've got quite a few options for making some exceptionally yummy meals using these oven roasted tomatoes and garlic as a base!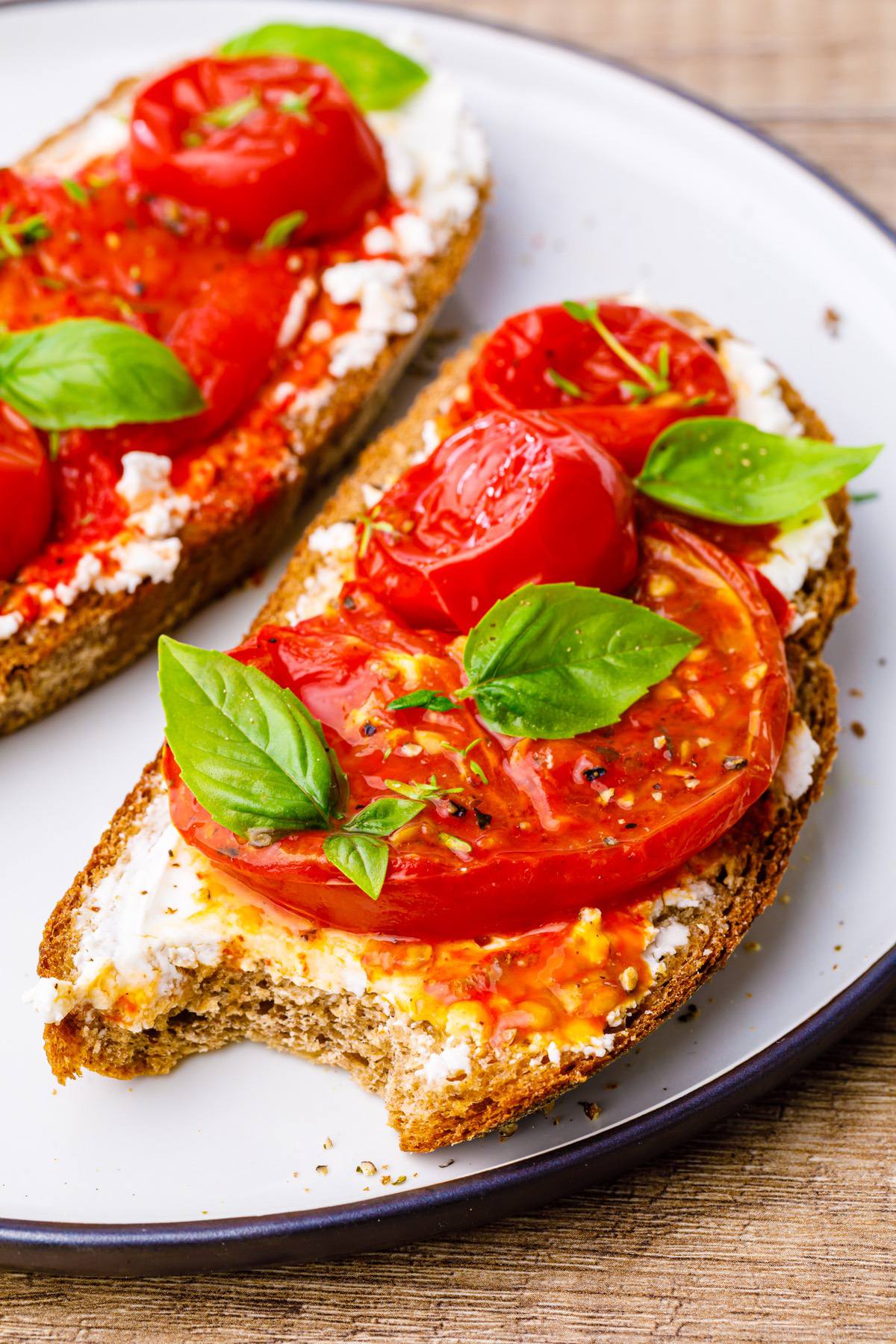 More Good Roasted Vegetable Recipes:
Print
Quick Oven Roasted Tomatoes and Garlic (These are incredible on toast!)
Author:
Prep Time:

5 minutes

Cook Time:

40 minutes

Total Time:

45 minutes

Yield:

4

1

x
Scale
2

pounds ripe tomatoes, halved

2 tbsp

extra virgin olive oil

4

–

8

whole garlic cloves (or to taste), peeled 

a few thyme sprigs 

salt and black pepper, to taste
Preheat the oven to 400°F. 

Line a baking sheet with aluminum foil. 

Arrange the tomatoes on a sheet pan, cut sides up, in a single layer.

Add the garlic and thyme leaves. 

Drizzle with olive oil. 

Season to taste with salt and black pepper. 

Roast the tomatoes in preheated oven for 30-40 minutes or until the skin softens and begins to burst.
Check Out These Fabulous Tomato Recipes (They're Simple and Easy!)
More Good Oven Roasted Tomato Recipes