Recipes
Onion Tomato Chutney (Tangy, Creamy and Spicy)
I love to make my own tomato and onion chutney using freshly picked produce when possible (or if I have some leftover from another recipe). Here's my absolute favorite recipe for making ridiculously tasty onion tomato chutney.
How to Make Onion Tomato Chutney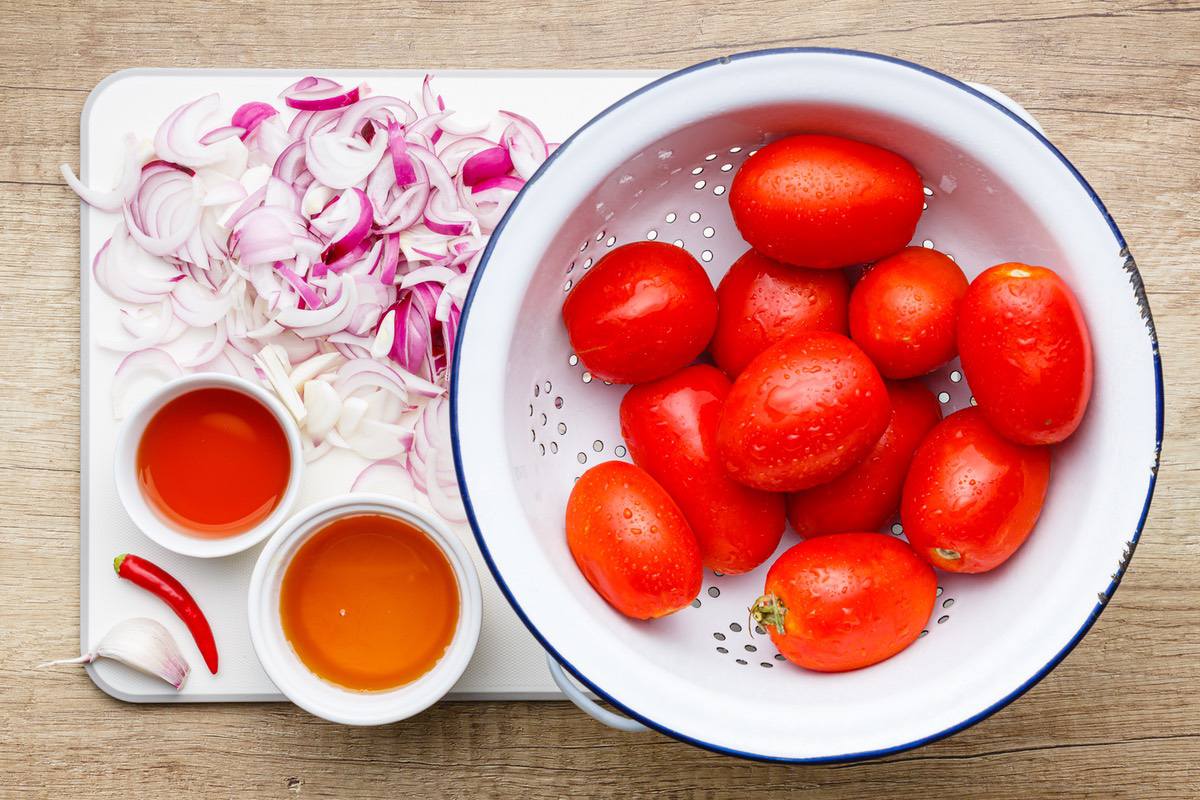 Chutney vs. Jam — What's the Difference?
Chutney and jam are actually a lot more similar than many people realize. They're both prepared in much the same way, with the only real difference being the ingredients used.
Jam is typically made from chopped or pureed fruit that has been cooked with sugar or a similar type of sweetener. It typically tastes very sweet and is most often made from berries – although you can also make your own mean tomato jam from scratch as well.
On the other hand, chutney is also made with chopped or pureed fruit and some type of sweetener, but it also contains vinegar and is usually described as savory rather than sweet. It's also pretty common to add a variety of other ingredients in when making chutney in order to give it more variations in flavor.
What is the Best Way to Store Chutney?
While there's nothing stopping you from digging into your chutney as soon as it's finished cooking, I find that I usually get best results when I give it about one month in the fridge to allow the flavors to fully develop.
Simply keep the chutney in an airtight container (make sure that you pour it into your container while it's still hot) and allow it to cool completely before you refrigerate it until you're ready to open it up and use it.
How Long Will Chutney Keep in the Refrigerator?
This homemade tomato chutney will keep in the refrigerator for up to six months unopened. Once you do open it up, it will stay good for about two months.
Alternatively, you can freeze the chutney instead. When frozen, it will stay good for even longer.
As usual when freezing sauces or jams or anything similar, just make sure to leave about ½-inch of headspace in the jar that you freeze the chutney in. You want to make sure to leave enough space for the chutney to expand when it freezes.
What to Serve with Chutney
Once you're ready to dig into your chutney, you might be wondering about what type of foods it goes best with. Here are just a few of my favorite things to enjoy with this onion tomato chutney recipe:
(You may also like: OMG-worthy Homemade Ketchup Using Garden Fresh Tomatoes)
Print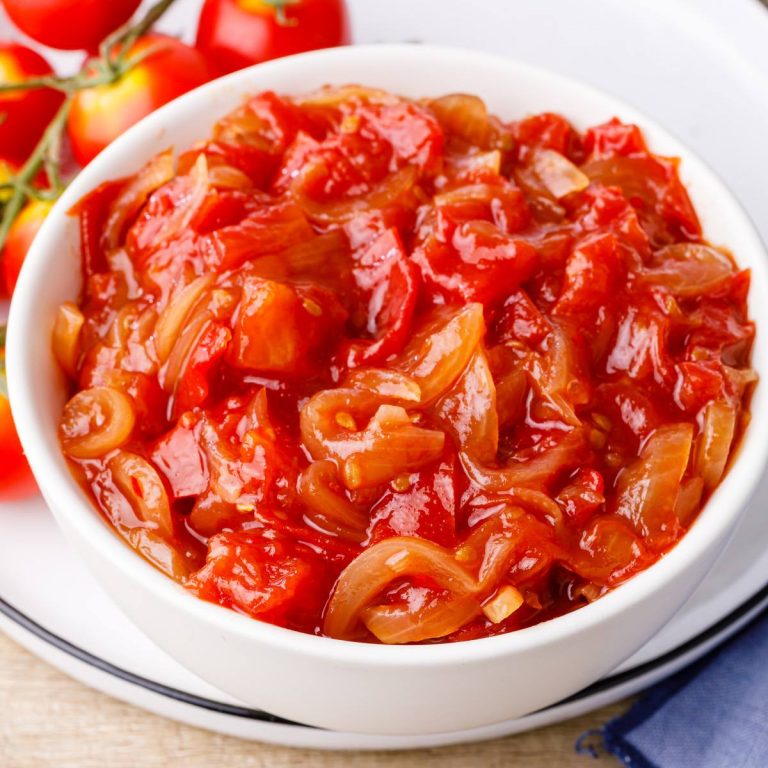 Onion Tomato Chutney (Tangy, Creamy and Spicy)
Scale
½

pound red onion, peeled and sliced 

 1 pound ripe tomatoes, chopped 

1

fresh red chili, seeded and minced 

1

garlic clove, minced 

¼ cup

red wine vinegar

½ cup

honey
Add all the ingredients to a large heavy bottom pot or saucepan. 

Stir to combine.

Simmer over medium heat, stirring occasionally, for 40-60 minutes or until jammy. 

Taste and adjust the seasoning if needed. 

Transfer to a jar. 

Allow to cool completely. 

Refrigerate until ready to use.
3 Must-Try Tomato Recipes You'll Love
If you have leftover tomatoes from the garden, why not try out one of these other must-try tomato recipes that I'm certain you'll love.
More Good Tomato Chutney Recipes