Drinks
Calming Lavender-Infused Water Recipe to Relax Your Mind
Lately I've been making all kinds of different recipes using both dried lavender flowers as well as lavender essential oils. I've been feeling a bit stressed out lately and I find that lavender works wonders for helping to help calm my mind down. Today I wanted to share one of my go-to lavender water recipes.
It's for a calming lavender-infused water recipe and it works amazingly well for helping to relax your mind. This is all thanks to adding a few other smart ingredients into the mix as well that help to add some great detox benefits to go along with the stress relief provided by the lavender.
I like to add fresh blueberries in with this water recipe for a few reasons. First, I love the taste of blueberries and they add a delightful hint of flavor to the water. More importantly, blueberries are an amazing source of disease fighting antioxidants that are packed full of essential vitamins and minerals, including vitamin C, vitamin B6, potassium, folate, and more. The type of antioxidants found in blueberries are also particularly beneficial for your eye health as well. (1)
Blueberries also contain an abundance of anti-inflammatory properties as well. This is important because chronic inflammation that's left unchecked is one of the leading causes of modern disease. Adding blueberries into your water is definitely a great way to both add some great tasting flavor to the mix while also boosting the health promoting properties of the drink.
Aside from the blueberries, you'll also be infusing your water with one organic lemon that has been thinly sliced. Much like blueberries, lemons are a great source of essential nutrients. They're extremely high in both vitamin C and dietary fiber. Numerous studies have found that diets that include plenty of citrus fruits like lemons have beneficial effects when it comes to anti-aging, reducing body fat, and helping to correct issues with insulin resistance. (2) (3)
To complete the trio of health promoting ingredients, you'll also be adding in about five or six sprigs of lavender. While the blueberries and lemon are both great sources of antioxidants and essential nutrients, the lavender is what will be providing you with the stress relief benefits of this recipe.
There have been numerous studies done on lavender in an effort to investigate it's anti-anxiety and stress relieving properties. The results have been very promising indeed. One particular study found that lavender is more effective than placebo in relieving stress and anxiety in patients with chronic anxiety issues. (4)
Lavender isn't just good for relieving stress though. It can also help to lower your risk of cardiovascular disease by reducing both blood pressure and heart rate, help you to get a better night sleep by relieving insomnia, lessen menopausal hot flashes, and more.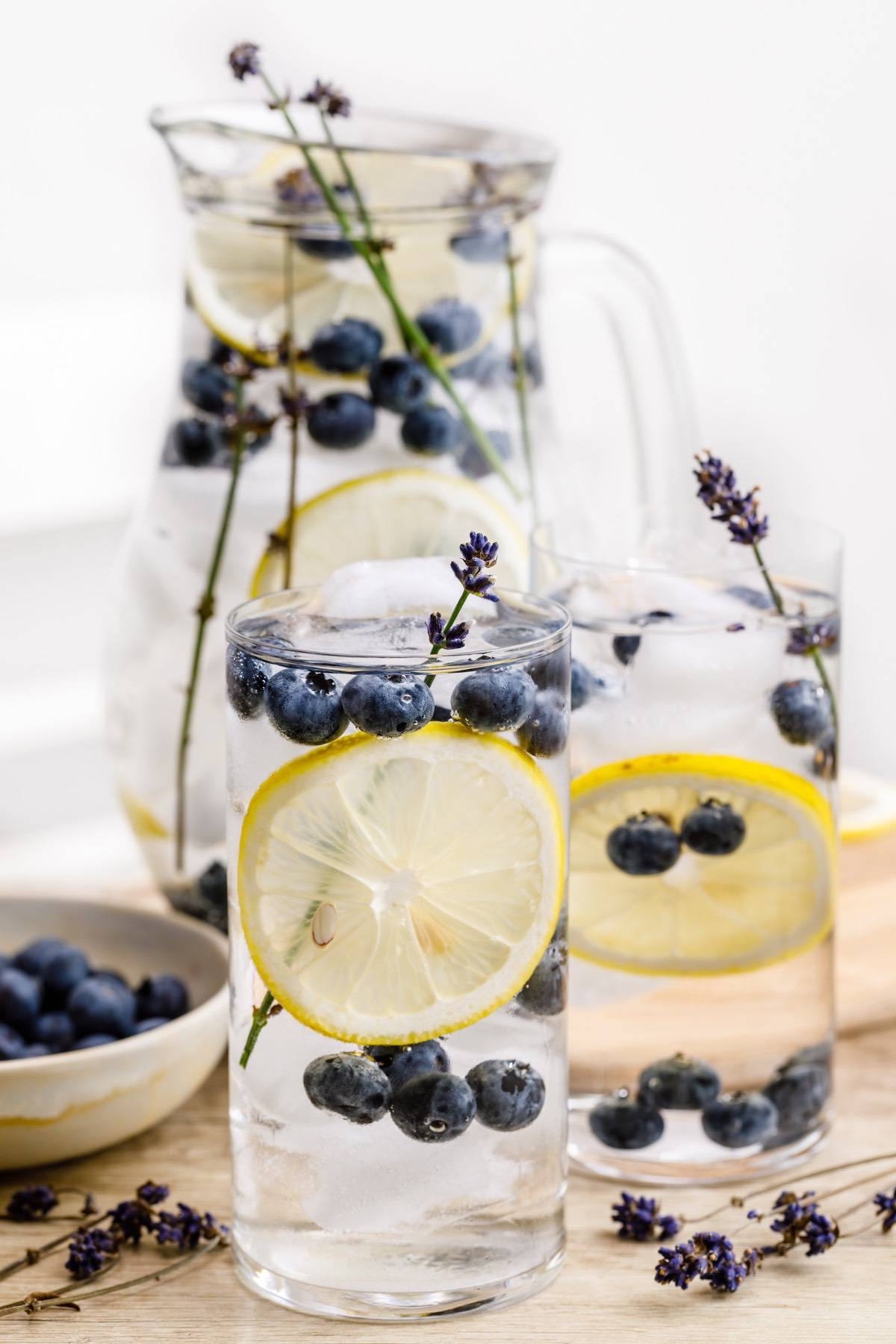 In fact, because lavender provides so many fantastic overall benefits, I thought it would be a good idea to share a few more of my favorite recipes from around the web that include lavender. Some of them use lavender essential oil for aromatherapy, while others yet are for making edible goods that use dried lavender flowers:
When it comes to actually preparing the lavender-infused water, it couldn't be any easier. Simply take the blueberries, lemon slices, and lavender sprigs and place them all into a pitcher. Add in eight cups of water before putting the pitcher in the refrigerator for a minimum of two hours; preferably overnight.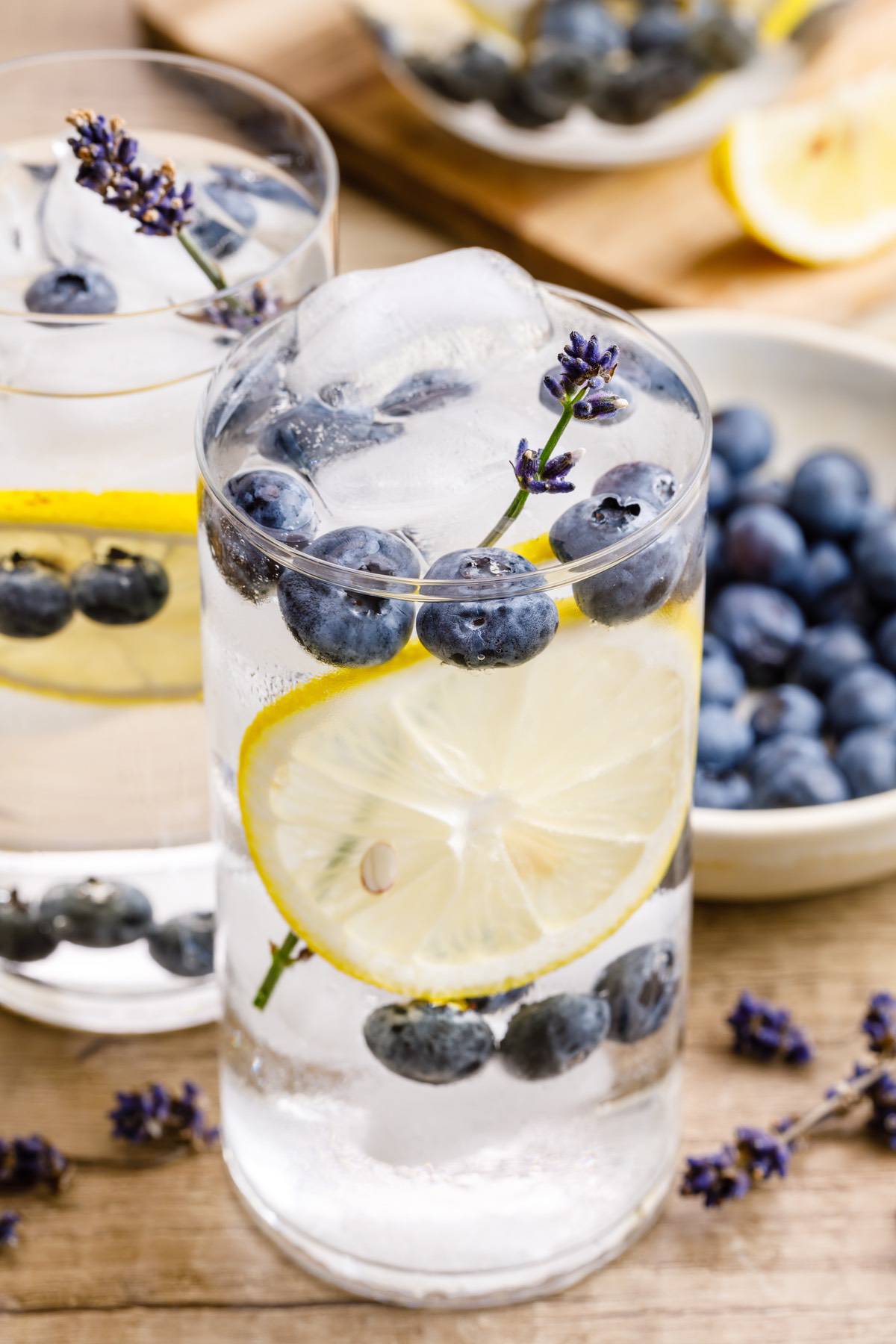 Before we wrap things up, I thought it might be helpful to spend a few moments going over some of the most frequently asked questions that pop up in regards to this particular recipe:
Can I Use Lavender Essential Oil Instead of Lavender Sprigs?
There are certainly lots of great things you can do with lavender essential oil, especially when it comes to aromatherapy. However, I would definitely not recommend ingesting lavender essential oil. Believe it or not, essential oils can actually become poisonous if misused, and lavender is no exception. It's better to be safe than sorry and just steer clear of ingesting essential oils.
With that in mind, the good news is that dried lavender flowers and lavender springs can most definitely be used safely when making a variety of different edible recipes.
What Are the Benefits to Infusing My Water With Recipes Like This?
Infused water has become incredibly popular in recent years as a reliable way to help naturally detox your body. Adding fruit and herbs into your water is a great tasting way to stay hydrated while keeping sugar and calories to a minimum.
There are a variety of different health benefits that can be gained depending on the ingredients that you use when infusing your water. For example, this particular recipe is obviously great for relieving stress because of the lavender sprigs.
However, using other popular infusion ingredients like strawberries, kiwis, blueberries, lemon, cucumber, and mint can provide different health benefits. Some of the more common benefits include:
Boosting your immune system
Helping with appetite control and weight management
Supporting healthy skin
Preventing heartburn
Improved digestion
Blood sugar regulation
(You may also like: Easy Lavender-Infused Raw Honey Recipe (So many uses!))
Print
Calming Lavender-Infused Water Recipe to Relax Your Mind
Scale
1 ½ cup

fresh blueberries

1

organic lemon, thinly sliced

5

–

6

sprigs lavender 

8 cups

water 

ice cubes
Place the blueberries, lemon slices and lavender to a pitcher. 

Add the water. 

Refrigerate overnight or for at least 2 hours.

Serve over ice.
Can You Recommend Any Other Infused Water Recipes?
Once you try out this lavender-infused water, there's a good chance that you'll want to see what other tasty infusion options are out there. In that case, you should check out some of these recipes from around the web — they are some of my personal favorites and come highly recommended: