Beauty
How to Make Soothing DIY Lavender Skin Oil (Try this!)
Growing up, I dealt with quite a few skin issues including extreme dryness, eczema, acne on my face. Monthly trips to the dermatologist certainly helped, but over time the costs were just too much for me to maintain. I started doing research on natural treatments that might help my skin conditions, and I came across essential oils. This lavender skin oil recipe in particular was one of my go-tos.
I love lavender because it's so readily available, not to mention affordable. Even if I didn't use it too often, it didn't break the bank, so I didn't have to worry about spending money on product that would just go to waste.
In terms of efficacy, I will say that lavender skin oil made a difference in my skin, but it didn't completely treat my skin conditions. But when combined with my dermatologist's prescribed treatments, it was even more noticeable.
Lavender Skin Oil for Acne
Acne is one of the most annoying skin ailments one can have simply because it's very visible. Individuals go to great lengths in order to reduce and cure acne. Treatments include trips to the dermatologist and purchasing different kinds of topical ointment and cream.
Lavender is an all natural alternative to medicated products and may help improve acne without causing further irritation. Some acne treatments are so harsh, they cause redness and tender skin when applied. Lavender oil is milder by comparison, so you can use it often without irritation.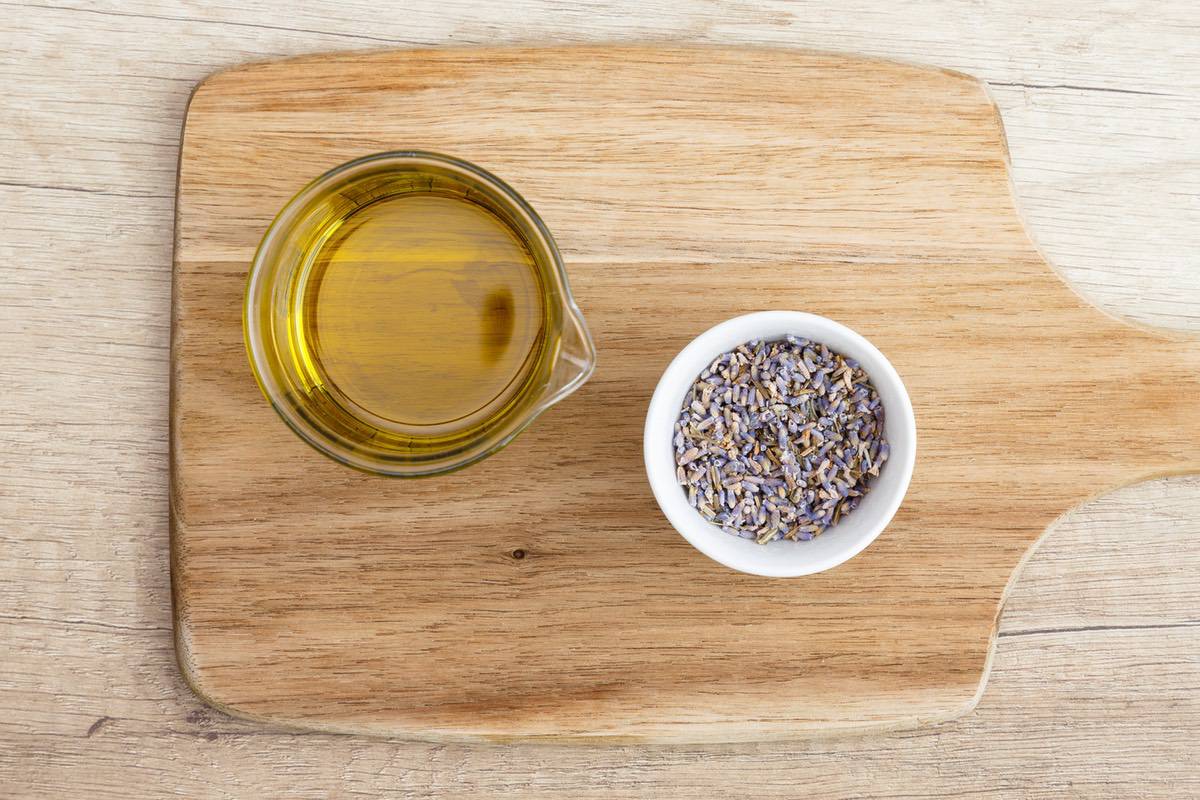 Some acne is caused by skin inflammation and clogged pores so make sure you're not skipping the cleansing phase of your skin care regimen. Lavender oil has some anti-inflammatory effects which could help reduce swelling and redness. After washing your face thoroughly, apply a thin layer of lavender oil on affected areas.
Lavender Skin Oil for Wounds
Never did I think that I would be adding lavender to my first aid kit, but here we are! I stumbled upon this by accident when I went camping. I brought my lavender skin oil with me for insect bites, but I ended up using it on a scrape as well. I later found out that lavender oil has been shown to help speed up the healing process of wounds in one study. (1)
Also, there have been studies that have shown lavender to promote collagen synthesis, so it's definitely worth considering if you have scarring or wounds.
Lavender Skin Oil for Eczema and Dry Skin
Eczema and dry skin are very common skin ailments that many people suffer from. Whether the eczema is mild or severe, it causes itchy red patches on the skin that gets worse when scratched. Lavender oil helps to reduce inflammation and also possesses antifungal effects, so it can help keep the eczema symptoms at bay. (2) Also, by using a hydrating carrier oil, your lavender skin oil can help mitigate the effects of extreme dryness.
Lavender Skin Oil for Headaches and Migraines
The pain caused by headaches and migraines can be absolutely debilitating, especially for those who are prone to getting them. Normally, strong medications are used to combat the pain, but some of these drugs may have some unwanted side effects. An all-natural alternative to these is lavender oil.
Lavender oil, when applied topically or inhaled, as been shown to have some pain management benefits, especially with acute headaches and tension headaches. (3)
Can I Use My Own Dried Lavender?
Feel free to make and use your own lavender for this recipe. It's no different from the dried flowers you would buy at a flower shop or specialty store.
Be sure to cut the flowers together with the stems but discard the thick, woody part of the stem near the base of the plant. Place the freshly cut stems with flowers in an area that's warm and dry, avoiding direct sunlight as it may break down the fragrant oil too fast.
It may take up to 2 weeks for your lavender to dry completely. Once the lavender is completely dry, crumble the flowers and stems to release the fragrance. Store in an airtight container until its intended use.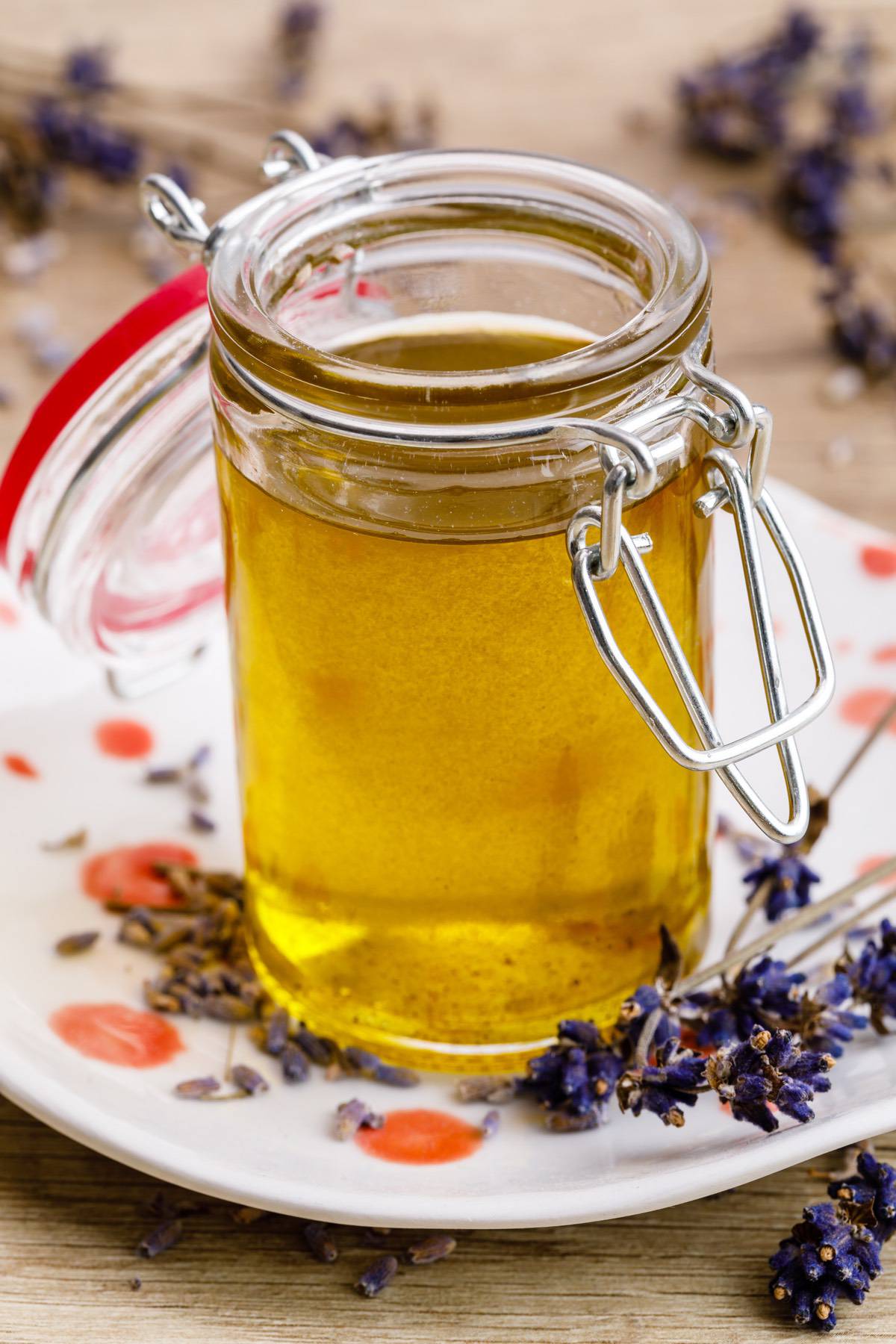 Is Lavender Oil Safe for Children and Pregnant Women?
As a safety precaution, make sure to consult with your doctor before using essential oils. Topical lavender oil is safe for pregnant women and children to use as a topical agent. To avoid any potential allergic reactions, do a patch test.
Wash the back of your hand with unscented soap.
Pat dry the area completely and rub a drop of lavender oil on the skin.
Leave it on for 24 hours.
If the skin looks normal after 24 hours, you can continue with your application. If the skin becomes irritated, red, or swollen, discontinue use and wash the area immediately with warm water and soap.
I'm Allergic to Lavender Oil. What Are the Possible Alternatives?
If in case you're allergic to lavender oil, we recommend using other floral scented oils such as jasmine, chamomile, and rose scented oils. These are great for relaxation, stress relief, and anxiety as well.
(You may also like: Lavender Hair Oil for Headache Pain and Migraine Relief)
Print
How to Make Soothing DIY Lavender Skin Oil (Try this!)
Scale
1 tbsp

dried lavender flowers 

 ¼ cup almond oil or lightly scented olive oil
Add the lavender flowers to a small jar. 

Pour the oil and cover with a lid. 

Give a little shake and place out of direct sunlight. 

Let sit for at least 4 weeks, giving it a little shake once in a while.

Strain through a sieve and place in a clean jar.