Beauty
Lavender Hair Oil for Headache Pain and Migraine Relief
Essential oils are derived from plants, and are commonly used to enhance physical and psychological well-being. The use of plant materials for healing actually dates back to medieval times, but "aromatherapy" was first used in the early 20th century. (1) So much has been explored since then, hence why aromatherapy has become quite popular all over the world. The most common essential oils include eucalyptus, peppermint, chamomile, lavender, and rosemary. For this lavender hair oil recipe, we'll be using lavender and peppermint essential oils.
Aromatherapy is typically applied topically by rubbing the oil into the skin. However, it can also be administered through inhalation. For topical administration, the oil is added to a carrier oil and massaged into the skin. For inhalation, the oil is placed in a humidifier or simply placed on a soaked cloth near the patient.
It has become more popular as an alternative form of treatment due to its low cost and minimal side effects such as allergic reactions and skin irritation.
Lavender Essential Oil Uses
Lavender essential oil has been used in a therapeutic capacity for centuries now. As a result, there is a wealth of anecdotal and scientific evidence pointing to its potential benefits. Among those claims are a wide range of healing and medicinal properties such as antifungal, antidepressive, anti-anxiety, antibacterial, carminative, and sedative effects. (2)
It is commonly used for muscle tension, insomnia, nausea, pain, sleep disturbance, anxiety, and depression. It has also been shown to have an effect on brain activity, skin temperature, blood pressure, and pulse.
Peppermint Essential Oil Uses
Peppermint essential oil is another popular essential oil and has been in use for hundreds of years by people all over the world. Like lavender essential oil, peppermint essential oil has many purported claims that have been substantiated with anecdotal and scientific evidence. Peppermint has antitumor, antioxidant, antiviral, antiallergenic, and antimicrobial properties.
It is commonly used for nausea, tension headaches, analgesic purposes, relaxation, relaxation of the GI tract, anaesthetic purposes, and irritable bowel syndrome (IBS). (3)
Lavender Hair Oil for Headaches and Migraines
Either lavender or peppermint essential oil alone can be used for headaches and migraines, but when combined, they can be a more effective treatment for pain relief.
Once you have both oils, all you need to do is mix the two in a small jar with some coconut oil. We'll be using more lavender oil than peppermint oil for this recipe with coconut oil as the carrier oil.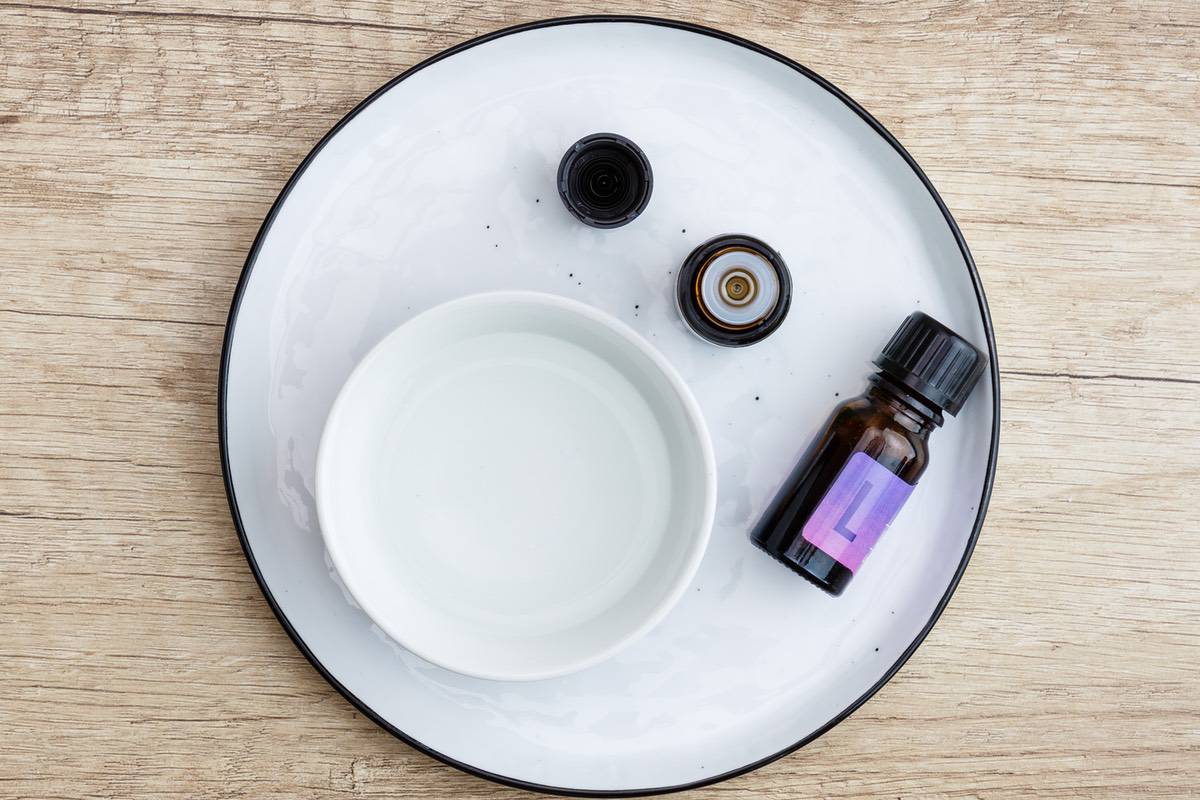 Can I Use Another Carrier Oil?
Carrier oils are used to dilute the essential oils and help carry the oil into your skin. Since essential oils are highly concentrated, they may irritate the skin when applied directly. By contrast, carrier oils are milder, not as concentrated, and can contribute some benefits of their own.
When choosing your carrier oil, consider its shelf life. All carrier oils will go rancid eventually, however some have a longer shelf life than others. They usually last for six months up to one year depending on a few factors such as the fatty acid content and method of extraction.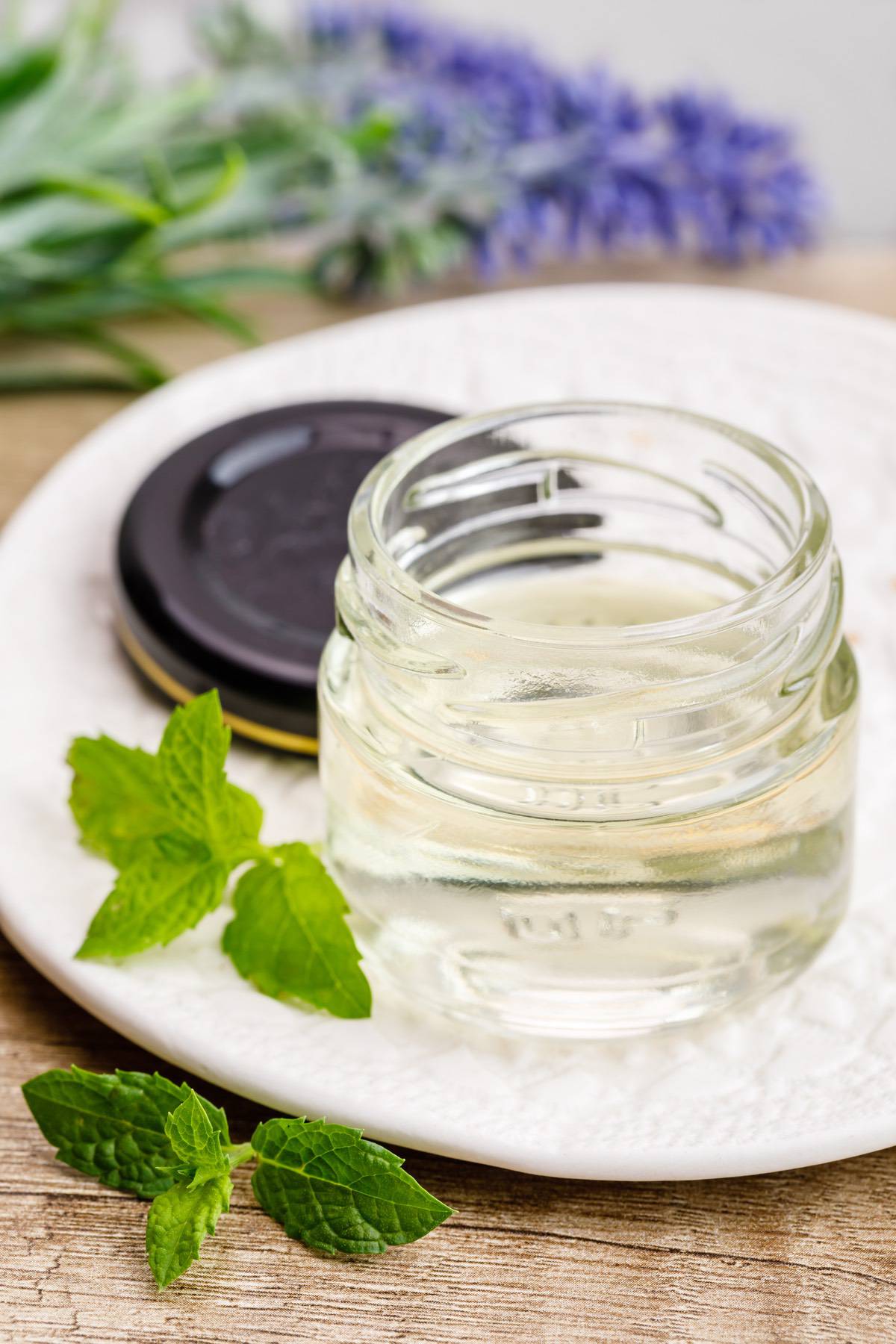 Also, the consistency of the oil will depend upon the intended purpose. Some carrier oils have a light, almost weightless consistency while there are also those that can feel very thick and greasy. A lighter oil that absorbs easily would be great for those with oily skin and scalp, while thick, deeply moisturizing oils can be good for extremely dry skin.
We recommend these fast-absorbing oils as a potential alternative to coconut oil as a carrier oil:
Cold-Pressed Hazelnut Oil
Extra Virgin Cold-Pressed Rosehip Oil
Grapeseed Oil
Is Lavender Hair Oil Safe for Children?
Lavender Hair Oil is safe for children, absolutely. However, if you would like to be sure, test the 1-2 drops of the formula out on a small area of the skin such as the back of the hand. This will help determine whether or not your child will have a reaction to it or not.
Since this recipe only requires 3 drops of peppermint essential oil and it is diluted with 2 tablespoons of coconut oil as well as 10 drops of lavender essential oil, the menthol content shouldn't be a problem. However, make sure you're not applying pure peppermint essential oil to the skin and the eyes especially, as the menthol content could cause a stinging sensation.
What is the Shelf Life of Lavender Hair Oil?
One serving of this recipe should last you up 3 to 5 applications. Remember, you won't need to apply a large amount in order to see some benefits. When making a large batch, the shelf life will depend upon the quality of the coconut oil you'll be using as your carrier oil.
With high quality coconut oil, this lavender hair oil can last anywhere between 1 to 2 years. If you're unsure, always inspect the color, clarity and odor of your hair oil before using.
Print
1074 – Lavender Hair Oil for Headache Pain and Migraine Relief
Scale
10

drops lavender essential oil 

3

drops peppermint essential oil 

2 tbsp

melted coconut oil
Add all the ingredients to a small jar and mix to combine. 

Massage the small amount of mixture into your scalp and hair thoroughly and let it rest for about 20 minutes. 

You can also apply the mixture to your temples and the back of your neck.