Dessert Recipes
Strawberry Hibiscus Bundt Cake with Lemon Glaze
I've made a dessert recipe or two in my day (as you can probably imagine), and this strawberry hibiscus bundt cake with a lemon glaze shot up to the very top of my all-time favorite list almost instantly. It's honestly that good of a homemade bundt cake recipe.
Every part of the cake is made entirely from scratch, from the bundt cake itself to the hibiscus strawberry swirl, to the delightfully decadent lemon glaze.
Simply follow all of the directions below to first prepare the strawberry swirl (the swirl is honestly the secret weapon of this recipe if you were to ask me) using a mix of dried hibiscus flowers, strawberry powder (or freeze dried strawberries), and sugar. From there, it's easy peasy to whip up the bundt cake and lemon glaze. When you put it all together, you end up with one hall of fame worthy cake indeed.
(You may also like: Quick and Easy Lemon Lavender Cupcakes (Try these!))
Print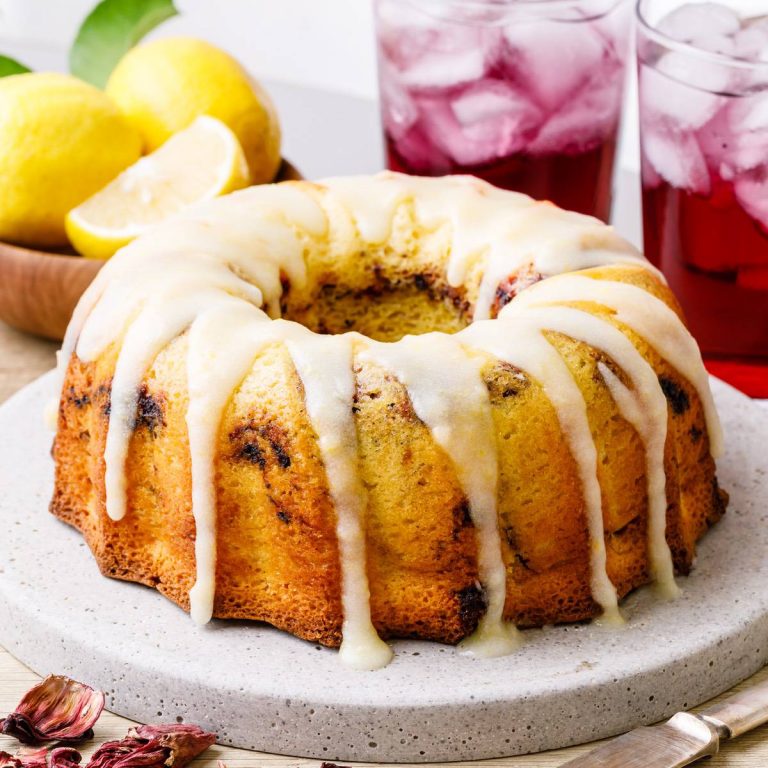 Strawberry Hibiscus Bundt Cake with Lemon Glaze
Scale
For the hibiscus strawberry sugar swirl: 
2 tbsp

strawberry powder or freeze-dried strawberries 

1 tbsp

dried hibiscus flowers 

4 tbsp

sugar 
For the bundt cake:
1 ¾ cup

all purpose flour 

1 tsp

baking powder 

¾ cup

  butter, softened at room temperature 

1 ¼ cup

sugar 

1/3 cup

cream cheese, softened at room temperature 

5

large eggs 

1 tsp

vanilla extract

¼ cup

milk 
For the lemon glaze: 
½ cup

powder sugar 

1 ½ tsp

butter, melted 

1 tbsp

lemon juice 

1 tsp

lemon zest 

1 tsp

milk
To make the hibiscus strawberry sugar, place all the in the ingredients in a coffee grinder and pulse until finely ground. Set aside. 

To make the bundt cake, preheat oven to 350°F. 

Spray a 10-cup bundt pan with cooking spray. Set aside. 

In a bowl combine the flour and baking powder. 

In the bowl of a stand mixer fitted with the paddle attachment cream the butter, cream cheese and sugar until smooth. 

Add the eggs and beat to combine. 

Add the vanilla extract and milk and beat until combined. 

Add the flour mixture and beat until incorporated. 

Pour ¼ of batter into the prepared bundt pan. 

Spread 1/3 of hibiscus strawberry sugar over batter. 

Repeat procedure twice, and top with remaining batter.

Bake in preheated oven for 45- 55 minutes or until a toothpick inserted into the center comes out clean. 

Remove from the oven. 

Cool in the pan for 10 minutes, then carefully invert onto rack and cool completely.

To make the glaze, stir all the ingredients in a small bowl. 

Pour the glaze onto cake. 

Let set for a few minutes before slicing and serving.
More Incredible Cake Recipes: