Recipes
Garlic and Chive Grilled Eggplant (Easy, Healthy and Addictive)
I discovered grilled eggplant some time ago by mistake, and it's been a staple in my rotation ever since. I love the charred flavor it gives, not to mention it's so healthy too! Here's how to grill your eggplant perfectly every time.
How to Make Grilled Eggplant
Prepare the eggplant. Prepare the eggplant for grilling by cutting it into ½ inch thick slices. See below for more detailed instructions on preparing the eggplant.
Prepare the herbs. Crush the garlic cloves. Chop up the fresh parsley and chives.
Prepare the olive oil mixture. Add the olive oil, parsley, chives, and garlic to a bowl and mix to combine.
Brush. Brush each of your eggplant slices with the olive oil mixture on both sides. Make sure each size has a generous coating. Season with salt as well.
Preheat the barbecue. Preheat your barbecue to medium heat.
Grill. Grill the eggplant slices for 6 minutes per side, until they turn out tender and lightly browned.
Drizzle. Drizzle each of the eggplant slices with the leftover olive oil.
(Optional) Sprinkle. Sprinkle with extra fresh parsley and chives if desired.
Serve. Serve immediately.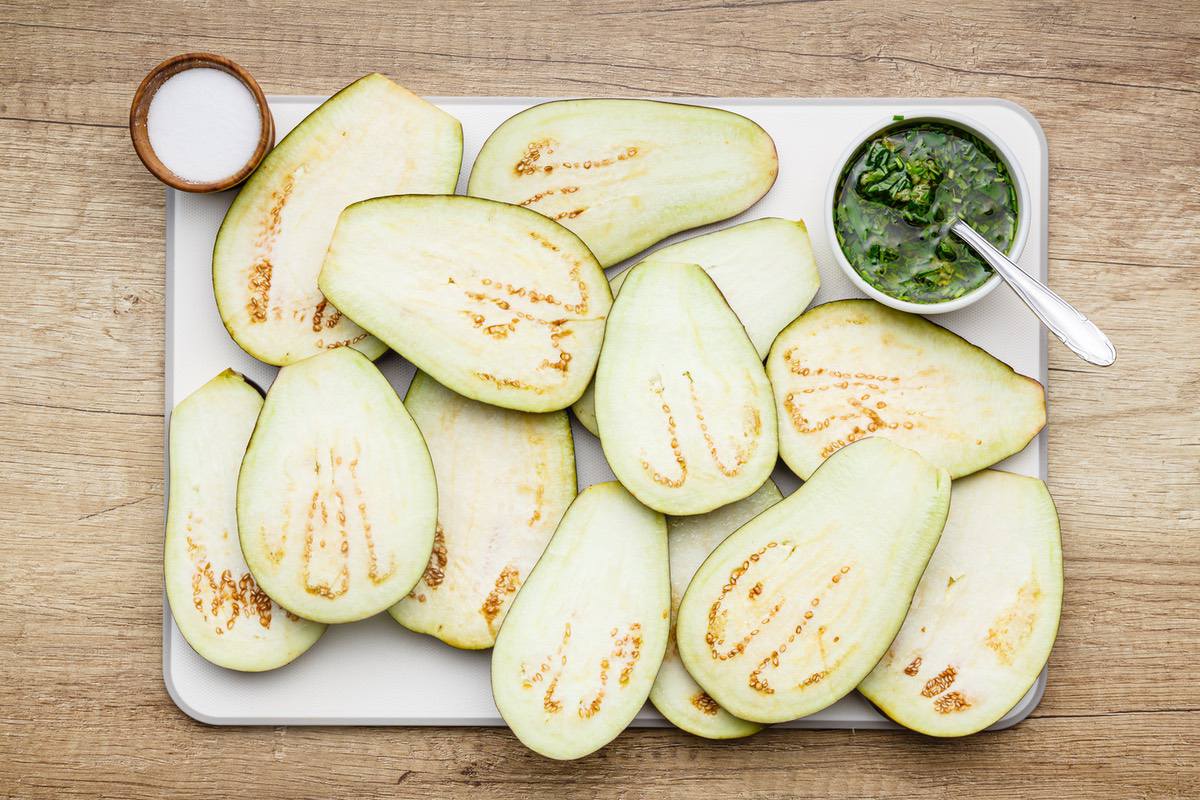 How to Prepare the Eggplant for Grilling
Getting your eggplant ready for grilling is quick and easy; just follow these simple steps:
Clean. Wash your eggplant thoroughly in the sink.
Pat the eggplant down with a paper towel to dry it.
Trim. Trim any stems or leaves from the eggplant.
Slice. Use a sharp knife to cut the eggplant into ½ inch thick slices.
(Optional) Soak. Soaking the eggplant in a dish of saltwater for about 20 minutes can help to draw out excess moisture.
(Optional) Drain. You'll want to make sure that you're properly draining the eggplant slices if you do decide to soak them.
3 Tips for Perfect Grilling Each and Every Time
Follow these 3 simple tips when you're grilling your food to end up with perfect results each and every time:
Keep an eye on the temperature. This tip applies equally to grilling both plant foods and meat. It's easier to monitor grilled meats thanks to instruments like meat thermometers. However for foods like eggplant you'll have to keep your eye on them more closely, watching for your slices to lightly brown.
Charcoal vs wood grilling. Whether or not you decide to grill with wood or charcoal will largely come down to personal preference; both options will work just fine for this recipe. However, many people find that grilling with wood tends to produce a better overall flavor; don't be afraid to try out both methods to see which one you like best.
Go easy on the flipping. You only have to flip your eggplant slices once; they should only be cooked for about 6 minutes per side. As a general rule of thumb, the less often that you flip your grilled foods (both veggies and meat), the better they will turn out.
3 Reasons to Grill Your Foods Instead of Frying
There are quite a few reasons why someone would want to grill their foods instead of frying them. Here are 3 major ones:
Lower calorie content. Frying your foods quite often ends up adding even more calories to them. Pretty much all cooking oils are calorie-dense, and while some are also nutrient-dense (olive oil and coconut oil come to mind), many vegetable seed oils commonly used in frying may also be increasing your risk of heart disease. (1)
Retains more nutritional value. Grilling your foods (both meat and veggies) will cause them to retain more of their nutritional content; frying foods can actually degrade their vitamin and mineral content. (2)
Combination of convenience and efficiency. Grilling your foods can also be far more convenient and efficient, especially if you're cooking outdoors and cooking in bulk. After all, there's a reason why barbecue cookouts are so popular for get-togethers!
(You may also like: 3-Ingredient Grilled Green Beans Wrapped in Foil)
Print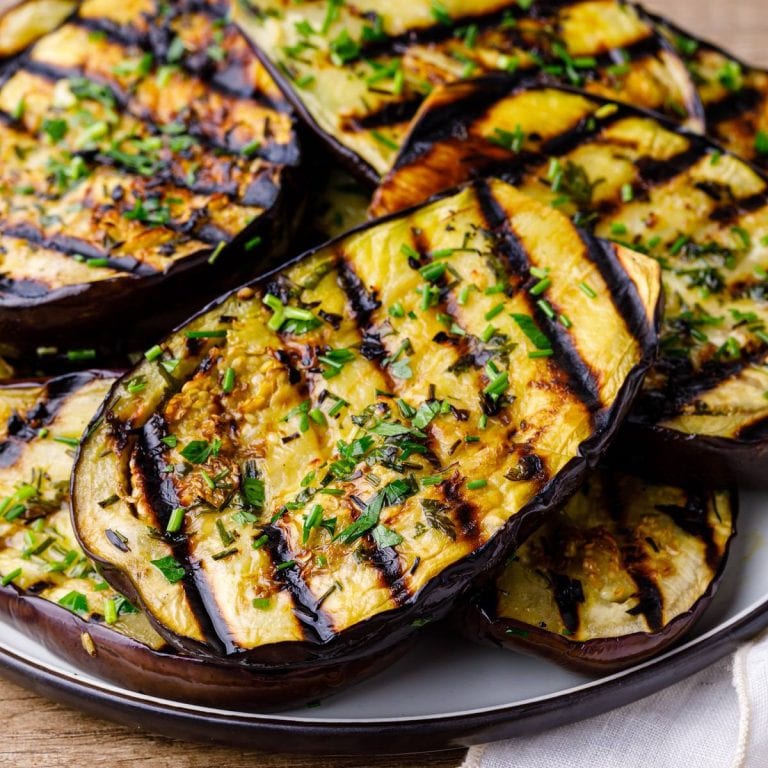 Garlic and Chive Grilled Eggplant (Easy, Healthy and Addictive)
Scale
1 ½

pounds eggplant, sliced length-wise into

½

inch thick slices 

½ cup

olive oil

3

cloves garlic crushed

2 tbsp

chopped fresh parsley plus extra for serving 

2 tbsp

chopped fresh chives plus extra for serving 

salt and black pepper to taste 
In a bowl combine the olive oil, parsley, chives and garlic. 

Brush each eggplant slice with olive oil mixture on both sides and season with salt.

Preheat the barbecue to medium heat.

Grill for approximately 6 minutes per side until tender and lightly browned. 

Drizzle with remaining olive oil mixture.  

Sprinkle with extra fresh chives and parsley (if using) and serve.