Recipes
Ginger Cucumber Juice Lemonade (Refreshing and Revitalizing!)
Making ginger cucumber lemonade is quick and easy and makes the best refreshing drink that you'll love, and is also great for you. Here's exactly how you can whip up your own batch of cucumber lemonade in 10 minutes or less (made with fresh cucumber juice).
How to Make Ginger Cucumber Juice Lemonade
Prepare the ingredients. Peel and chop your cucumber into slices. Squeeze one cup of fresh juice from the lemons.
Blend. Blend the cucumber slices and ginger until smooth.
Strain the mixture. Take the blended mixture and pour it through a fine mesh sieve. Use a spatula and press the pulp into the sieve in order to extract as much liquid as you can.
Combine the ingredients. Use a large pitcher and combine the honey, lemon juice, water, and the cucumber and ginger mixture.
Serve over ice.
(Also try: Homemade Strawberry Lemonade)
How Long Will This Cucumber Lemonade Keep in the Refrigerator?
Whenever you make your own lemonades or similar drinks using fresh fruit and vegetables, it's to be expected that they're going to have a shorter shelf life than drinks that are full of sugar and added preservatives.
With that in mind, you're going to want to drink this lemonade within three days of making it.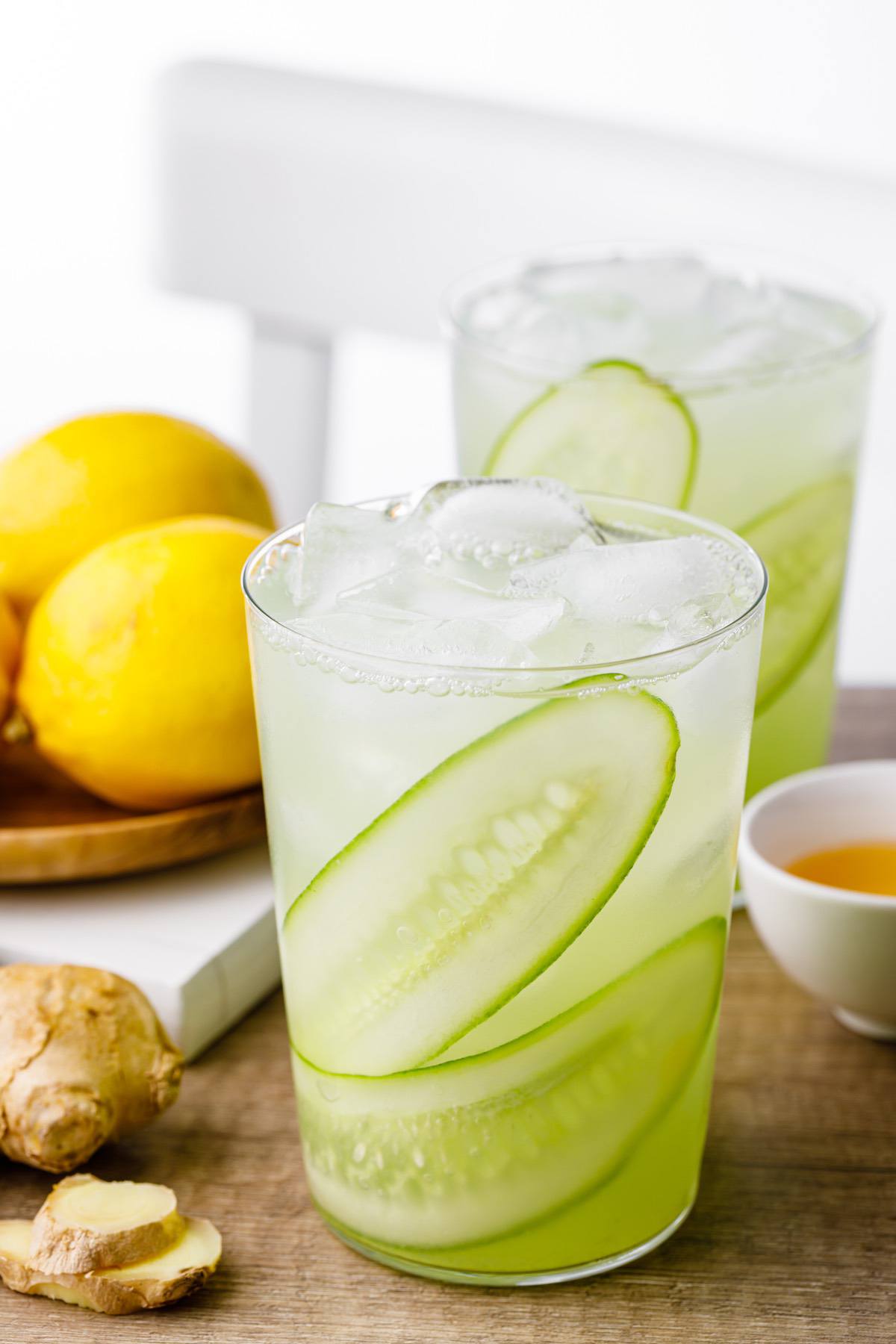 5 Great Health Benefits of Ginger Cucumber Juice
Fights off inflammation. Ginger is packed full of anti-inflammatory compounds that may help to reduce your risk of developing chronic inflammatory diseases. (1)
Excellent source of antioxidants. Every single one of the ingredients that goes into making this lemonade provides your body with disease fighting antioxidant goodness.
Rich in essential micronutrients. This lemonade recipe contains an abundance of essential vitamins, minerals, and other essential nutrients like dietary fiber.
Helps prevent heart disease. This recipe also supports heart health, whether it's the fiber from the cucumbers or the ginger helping to relieve hypertension and lower LDL cholesterol levels. (2)
Helps with hydration. There's nothing like a refreshing and hydrating drink recipe that you can make any time of the year.
(You may also like: Easy Raspberry Lemonade)
Print
Ginger Cucumber Juice Lemonade (Refreshing and Revitalizing!)
Scale
2 cups

water

1/3 cup

honey 

1

pound cucumber, peeled and chopped 

1 cup

fresh lemon juice

1

thin slice ginger, finely grated
Place the cucumber and ginger to a blender and blend until smooth. 

Pour the mixture through a fine mesh sieve, and using a spatula, press the pulp into the sieve to extract as much liquid as possible.

In a large pitcher combine the honey, ginger, lemon juice, water and cucumber juice. 

Serve over ice.
Try These Other Refreshing Drink Recipes
If you love to make healthy and refreshing recipes just like this one, then you should definitely check these out: