Recipes
Time-Tested Garlic Roasted Potato Recipe (Try these!)
Today's oven-baked recipe is an old favorite in our household: garlic roasted potatoes with the most amazing bits of crunchy Parmesan bits with every bite. Like the name suggests, it's a fairly straightforward recipe but it makes for a wonderful addition to any meal.
How to Make Garlic Roasted Potatoes
Garlic roasted potatoes are a perfect side dish to a wide variety of meals and they're super easy to make from scratch with this recipe:
Preheat the oven. Preheat your oven to 400℉.
Toss. Add the 1-inch white (or red) potato pieces, extra virgin olive oil, minced garlic cloves, dried oregano, ¼ cup of grated Parmesan cheese, salt and black pepper to a bowl and toss to coat.
Tip: Add in some bigger chunks of Parmesan cheese to get some crunch bits in each bite.
Prep the potatoes. Arrange the potatoes on a lightly greased baking sheet, leaving some space between each potato.
Sprinkle. Sprinkle the potatoes with the remaining ¼ cup of grated Parmesan cheese.
Bake. Bake in the preheated oven for 35 minutes.
Garnish. Remove from the oven and sprinkle with chopped fresh parsley.
Serve. Serve the potatoes warm.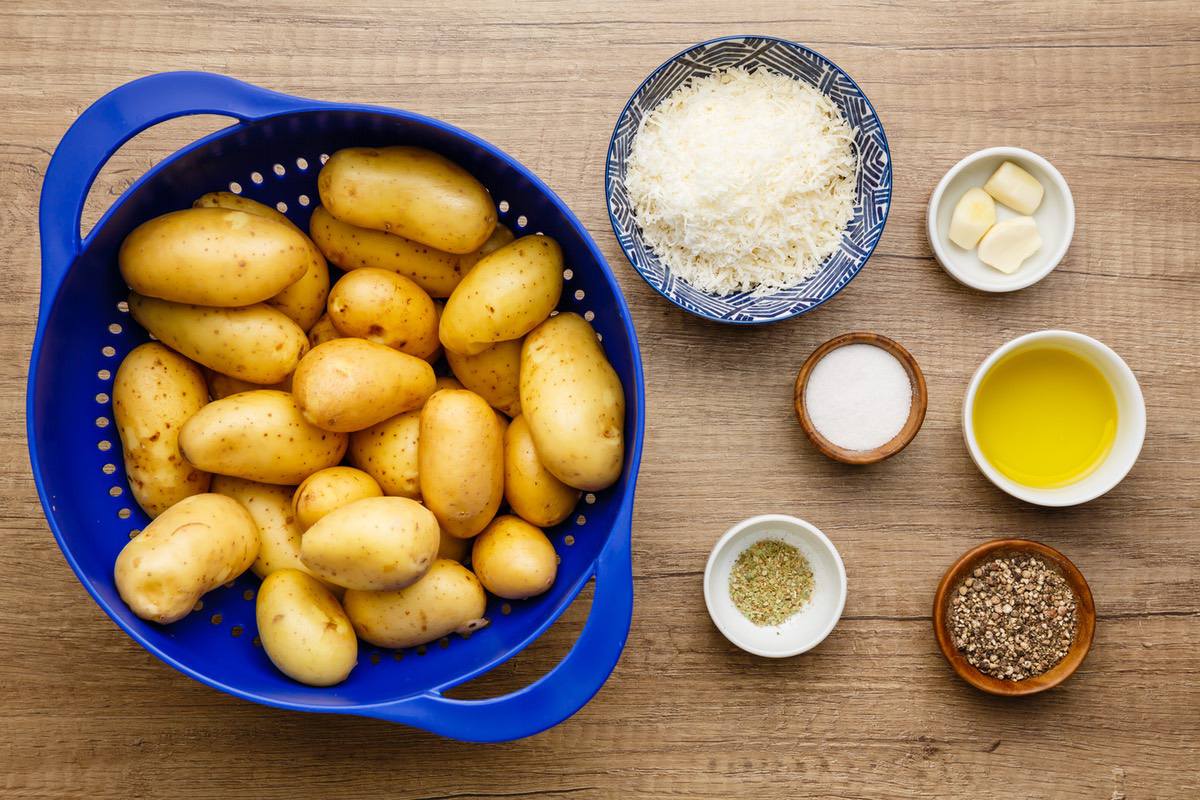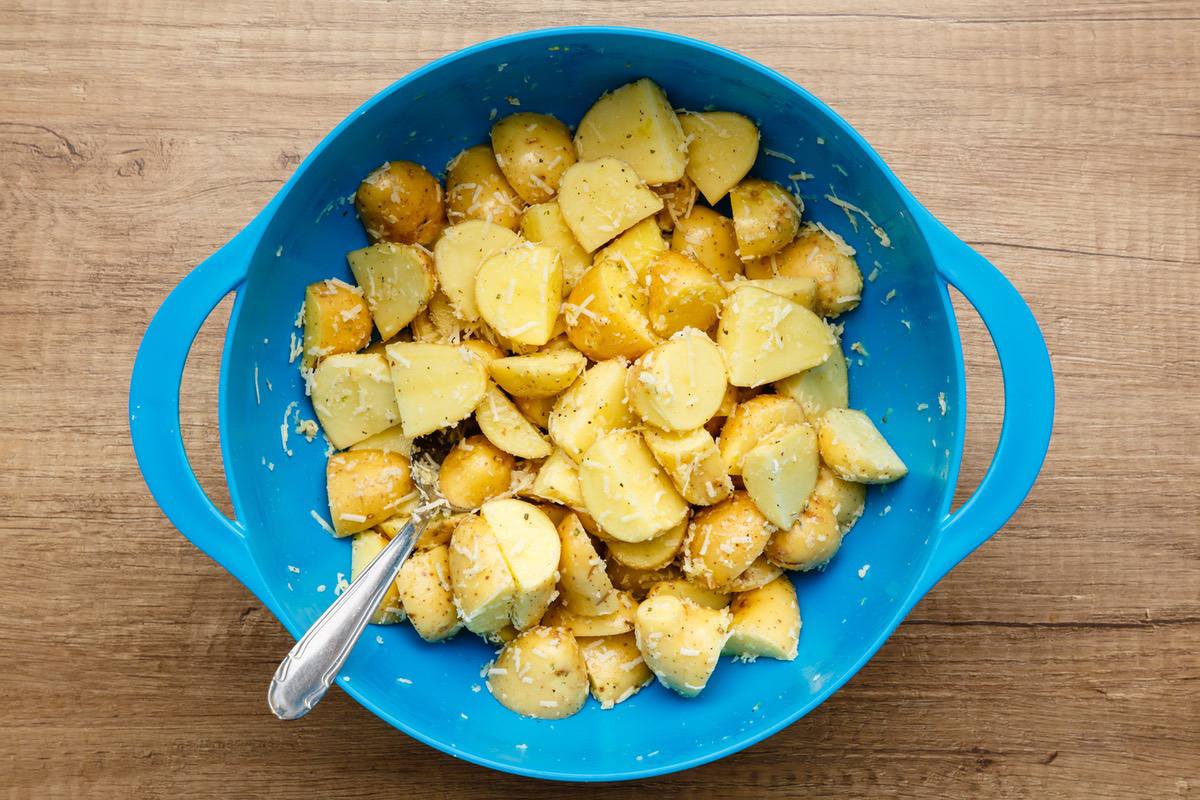 Can I Make This Garlic Roasted Potato Dish Ahead?
This garlic roasted potato dish is actually a fantastic make ahead meal.
You can do most of the prep work beforehand (tossing the potatoes along with the other ingredients) and then just store the potato pieces in an airtight container. Simply add in a bit of olive oil with the potatoes and they'll stay fresh in the fridge for a few days until you're ready to roast them.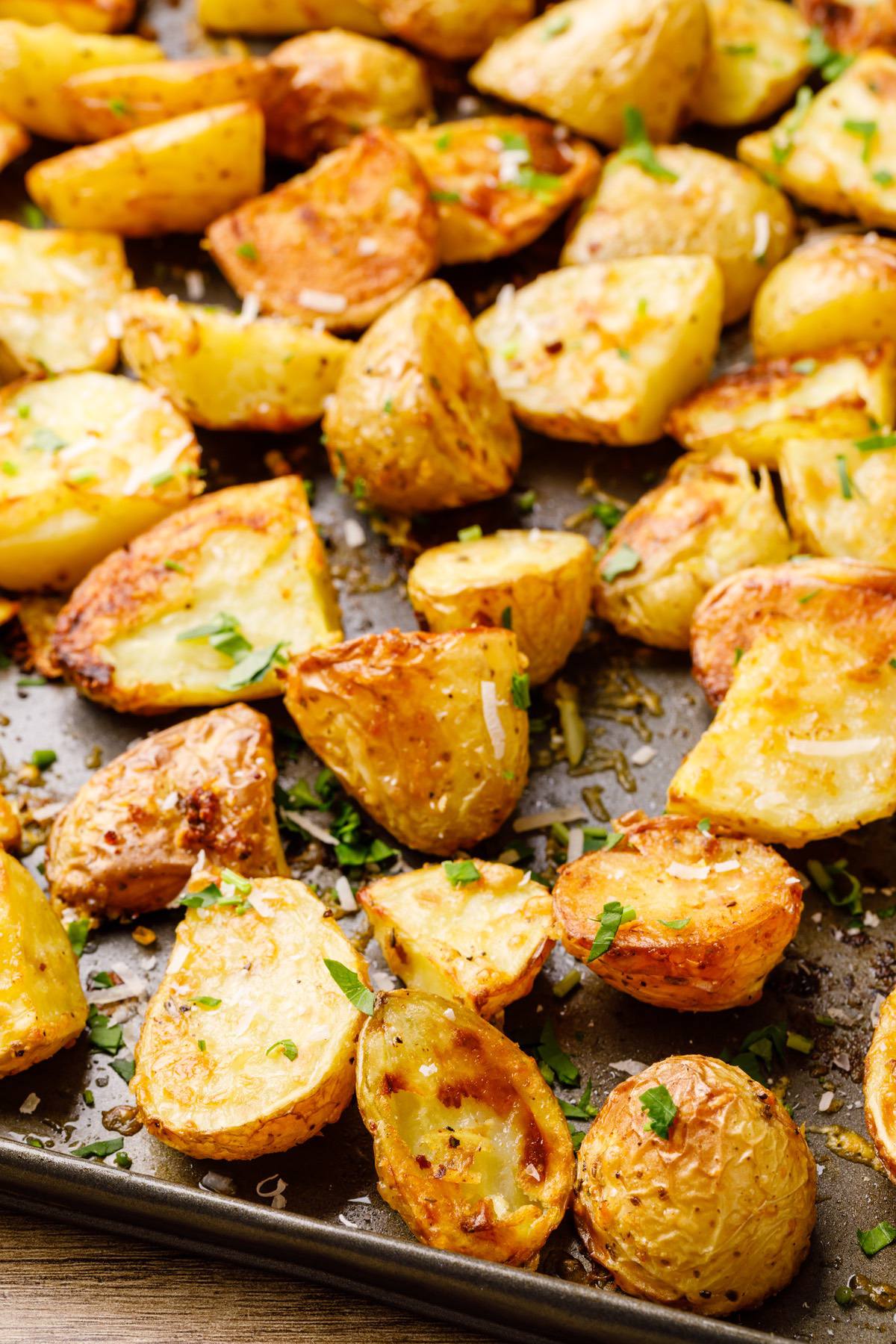 How to Store Leftover Garlic Roasted Potatoes
You'll first need to allow your leftover garlic roasted potatoes to cool completely if you're planning on storing them. Transfer the leftovers into an airtight container and seal them up tightly before storing in the fridge for up to 2 to 3 days.
You can also freeze the potatoes. Cool completely and then flash freeze on a baking sheet lined with parchment paper. Then transfer the potatoes into a freezer-safe ziploc bag and freeze for up to 3 months.
(Also try: Oven-Baked Garlic Parmesan Fries)
Print
Garlic Roasted Potatoes (Try these!)
Scale
2

pounds white or red potatoes cut into

1

inch pieces

2 tbsp

olive oil

½ cup

grated parmesan cheese

3

garlic cloves, minced

½ tsp

dried oregano

2 tsp

chopped fresh parsley 

salt and black pepper to taste
Preheat oven to 400ºF.

Add the potatoes, olive oil, garlic, oregano, half of grated Parmesan, salt and black pepper to a bowl and toss to coat. 

Arrange the potatoes on a lightly greased baking sheet. 

Leave some space between potatoes.

Sprinkle with remaining grated Parmesan. 

 Bake in preheated oven for 35 minutes. 

Sprinkle with parsley and serve.