Recipes
Fried Eggplant Slices (Crispy and Parmesan Crusted!)
Have you ever had fried eggplant? It's so good and it's even better when you dredge eggplant slices in a savory mix of Parmesan, paprika, Italian seasoning, and breadcrumbs. This recipe is an absolute must try!
Fried eggplant, roasted eggplant, baked. No matter how you make it, eggplant is one of the most tasty, umami vegetables you can eat and is so good. A couple more popular favorites are my Garlic Roasted Eggplant, Eggplant with Garlic Sauce and Baked Eggplant Parmesan.
How to Make Parmesan Crusted Fried Eggplant
Prep the eggplant. Take one pound of eggplant and cut it into slices. More on this below.
Prepare the egg mixture. Add the eggs and a pinch of salt to a small bowl and beat lightly.
Prepare the dredging mixture. Add the breadcrumbs, grated Parmesan, smoked paprika, and Italian seasoning to a separate bowl and mix to combine.
Dip. Dip each eggplant slice in the egg mixture before then coating them in the breadcrumb mixture; repeat until all slices are coated.
Prepare the skillet. Add 2-3 inches of olive oil to a deep heavy skillet and heat over medium heat.
Fry. Fry the eggplant slices in batches for 5-6 minutes or until golden brown, being sure to turn them occasionally. I like to fry in batches so I don't overcrowd the pan. Also, be sure to use the right temperature when frying.
Serve. Serve immediately with the homemade garlic aioli dipping sauce.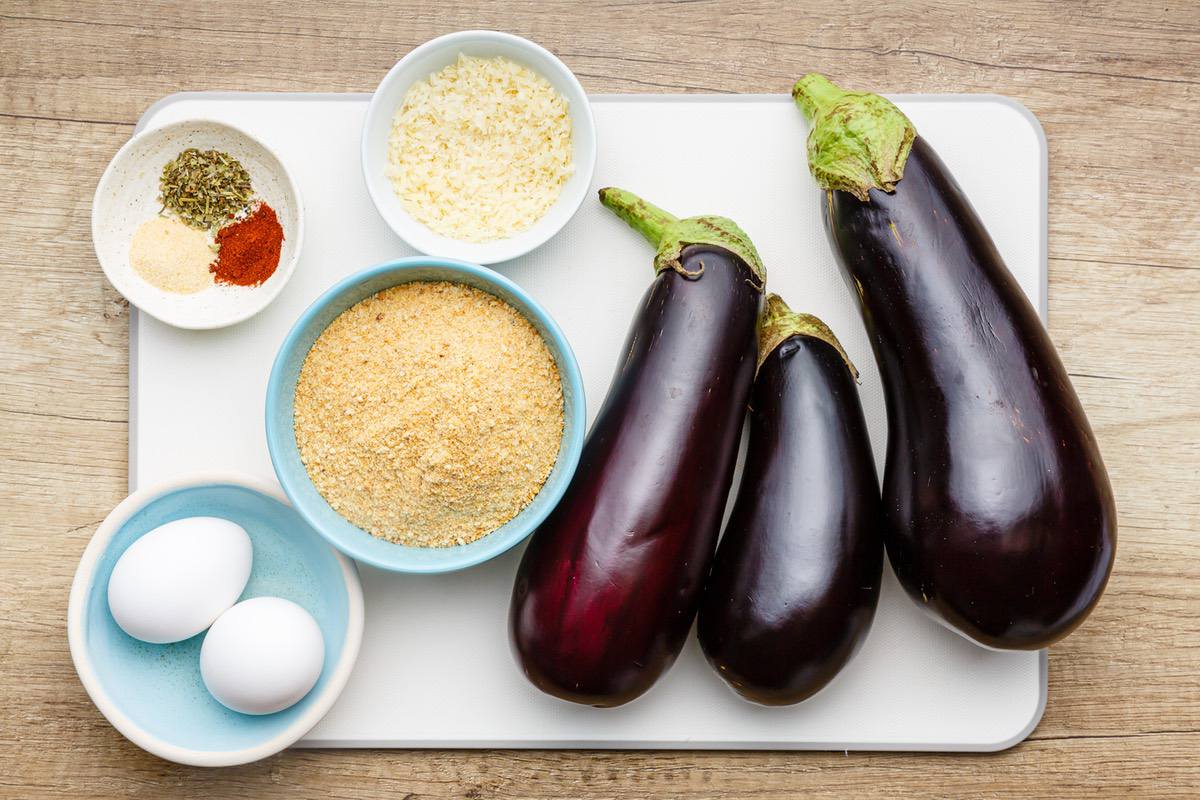 How to Prep the Eggplant
Prepping your eggplant properly is just as important as frying it properly. Here's exactly what you'll need to do in order to get your eggplant ready to make this recipe:
Wash your eggplant thoroughly.
Dry. Use paper towels to pat the eggplant dry especially since you're going to fry it.
Trim any stems or leaves from the eggplant.
Slice. Use a sharp knife to cut the eggplant into thick slices.
(Optional) Soak. You can soak your eggplant slices in a shallow dish of salt water for 15-20 minutes; this will help to draw out excess moisture.
(Optional) Drain. If you soaked your eggplant in saltwater, you'll need to properly drain each of the slices before frying them.
How to Make Garlic Aioli Dipping Sauce
Garlic aioli dipping sauce is the perfect sauce to serve along with your Parmesan crusted eggplant; here's a recipe that will teach you how to make your own from scratch:
Combine the ingredients. Add the mayonnaise, minced garlic cloves, lemon juice, salt, and black pepper to a bowl and mix to combine.
Cover. Cover the sauce with plastic wrap.
Refrigerate. Refrigerate until ready to serve with the fried eggplant slices.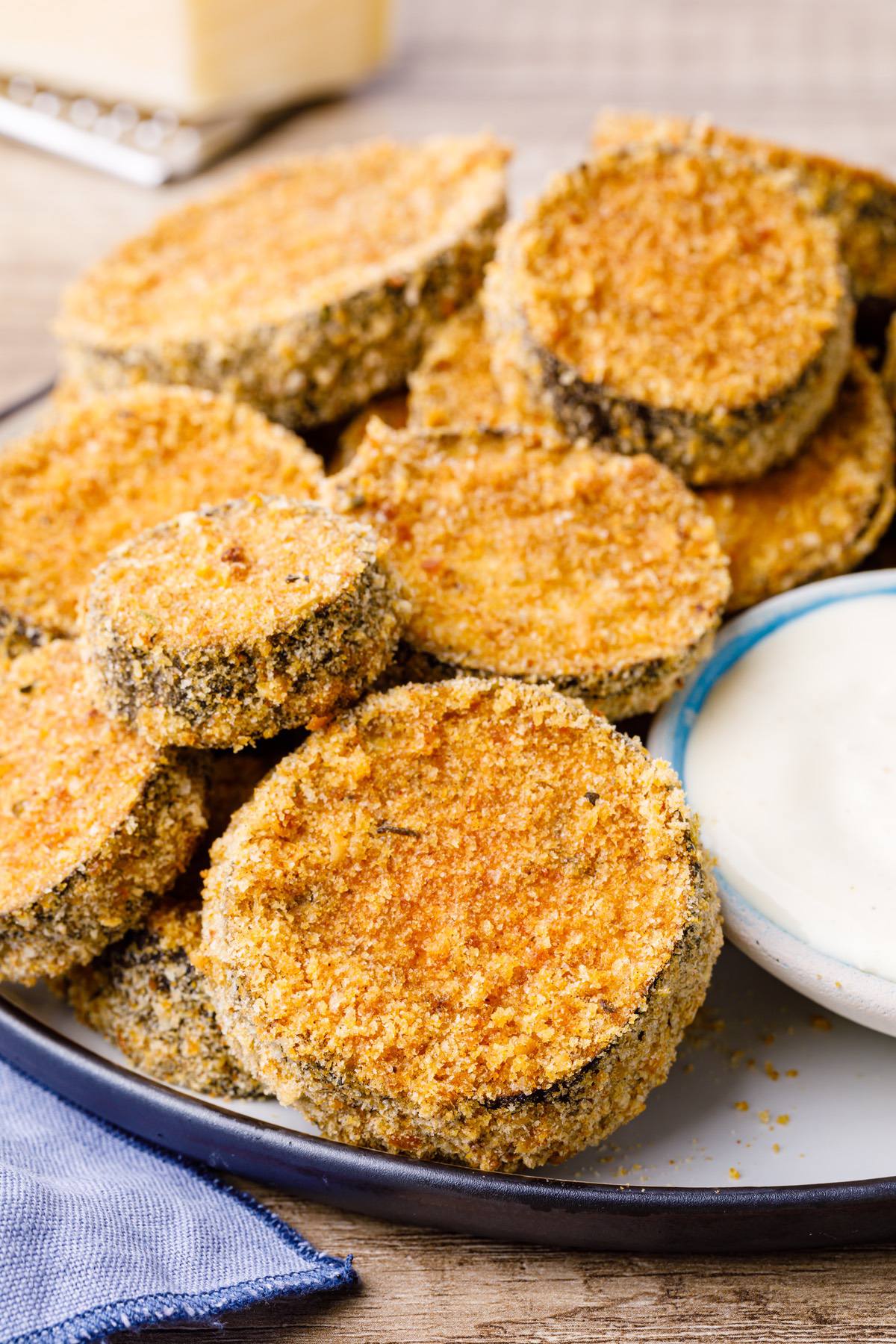 (Also try: Garlic and Chive Grilled Eggplant)
Can I Use Another Type of Cheese?
You can definitely use other types of cheese to make fried eggplant slices. I've personally made this exact recipe using both mozzarella and cheddar cheese as a replacement for the Parmesan and it turned out amazingly well both times.
Feel free to experiment with different types of cheese until you find your favorite!
Can I Make These Fried Eggplant Slices Ahead?
Fried eggplant slices can easily be made ahead of time and then kept in the refrigerator until you're ready to enjoy them.
Just make sure that you're keeping them stored inside of an airtight container and eating them within 5 days. To reheat them, you can just toss them in the oven on a sheet pan at 350℉ until they're warmed through.
More Good Fried Vegetable Recipes:
Print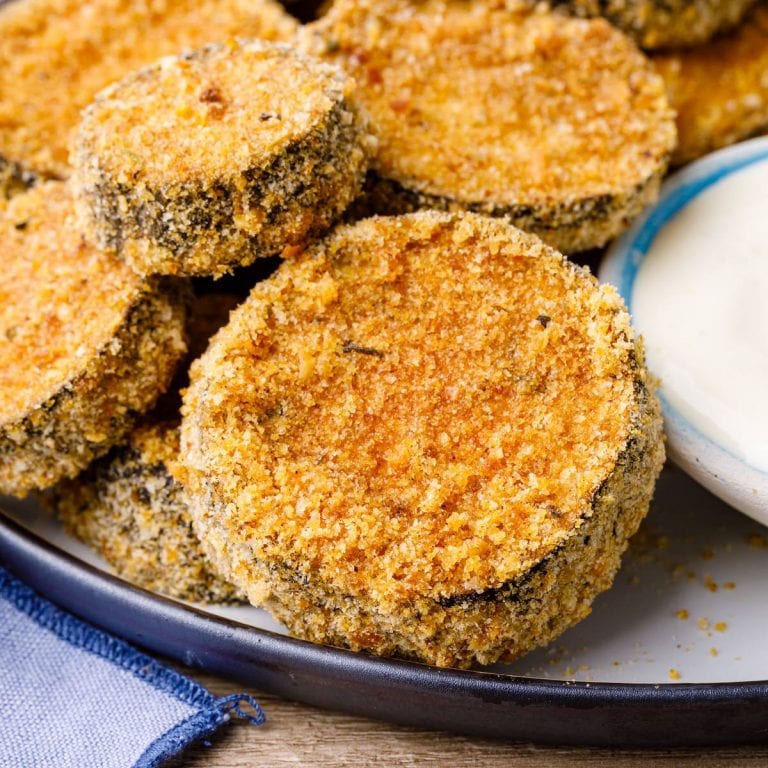 Fried Eggplant Slices (Crispy and Parmesan Crusted!)
Scale
1

pound eggplant

2

eggs 

1 cup

breadcrumbs

¼ cup

grated Parmesan cheese

¼ tsp

smoked paprika

½ tsp

garlic powder

½ tsp

Italian seasoning

salt to taste    

oil for frying 
For the garlic aioli dipping sauce:
½ cup

mayonnaise

2

garlic cloves, minced 

1 ½ tbsp

lemon juice 

salt and black pepper to taste
To make the sauce, combine all the ingredients to a bowl. 

Cover and refrigerate until ready to serve. 

Add the eggs and pinch of salt to bowl and beat lightly. 

Add the breadcrumbs, grated Parmesan, smoked paprika and Italian seasoning to another bowl and mix to combine. 

Dip the eggplant slices in eggs then coat in breadcrumbs. 

Repeat this for all the eggplant slices.

Heat 2 to 3 inches of oil in a deep heavy skillet over medium heat.

Fry the eggplant slices in batches for 5- 6 minutes or until golden brown, turning occasionally.

Serve immediately with sauce.