Recipes
Chunky Cucumber Tomato Salad with Avocado Vinegar Dressing
Salads (and especially cucumber and tomato salads) are one of my go to options when it comes to whipping up a light and tasty lunch in a hurry. Today I wanted to share my favorite recipe that will show you how to make a chunky cucumber tomato salad with the best homemade avocado vinegar dressing ever.
How to Make Cucumber Tomato Salad
Prepare the vegetables. Take your cucumber, halve it, and then cut into slices. Then chop up your tomatoes and red onion.
Combine the ingredients. Add your sliced cucumber, tomatoes, and onion to a bowl. Add the avocado vinegar dressing as well. Toss to coat.
Season. Season with salt and black pepper to taste.
How to Make Avocado Vinegar Dressing
What really makes this particular recipe shine is the homemade avocado vinegar dressing that goes with the salad. Here's how I make it:
Add ingredients to the blender. Add the avocado, white wine vinegar, and olive oil to the blender. Blend until smooth.
Season. Season with salt and black pepper to taste.
Pro tip: Be sure to use extra virgin olive oil for making your salads! Extra virgin oil has been shown to reduce your risk of developing cardiovascular diseases, chronic inflammation, bad cholesterol, and more. (1)
Top 5 Tips for Efficient Salad Prep
If you're looking to boost your efficiency in the kitchen, here are some of my top tips for more efficient salad prep:
Chop/slice a variety of ingredients in advance. Most salad ingredients (like cucumber, tomatoes, and onion) will remain fresh in the refrigerator for about 3 to 5 days. Leafy greens like spinach, lettuce, arugula and the like will also keep for 3 to 5 days if they're freshly picked.
Invest in proper storage containers. I used to store my salad ingredients uncovered in the refrigerator–bad habit! I switched over to proper containers and since they're tightly sealed, it increased their shelf life. I do this for all my veggies now.
Pay attention to where you store the veggies. Don't shove your salad ingredients all the way to the back of your refrigerator where they're easily forgotten. You also don't want to store them too close to the freezer where they could freeze or collect extra moisture.
Don't be afraid to add some protein. Don't be afraid to add some protein sources to your salad. Grilled chicken or steak, chopped nuts, or seafood sources like tuna are all tasty, protein-packed options that complement salads well.
3 Reasons Why This Cucumber and Tomato Salad is Such a Nutritional Powerhouse
Not only is this chunky cucumber tomato salad a light and tasty meal option, but it's also incredibly nutrient-dense as well.
Packed full of antioxidants. Cucumber and onions in particular are known as potent sources of these disease-fighting compounds. (1) (2)
Provides anti-inflammatory benefits. In addition to the antioxidant benefits, this salad also helps to protect against chronic inflammatory diseases thanks to its use of ingredients with proven anti-inflammatory benefits (like red onion).
Excellent source of essential micronutrients. It's a well known fact that vegetables like cucumber, tomatoes, and onion are all great sources of essential vitamins and minerals. This particular recipe is a good source of vitamins A, B6, C, and K, magnesium, potassium, manganese, fiber, and iron.
(You may also like: The Best Apple Cider Vinegar Cucumber Salad)
Print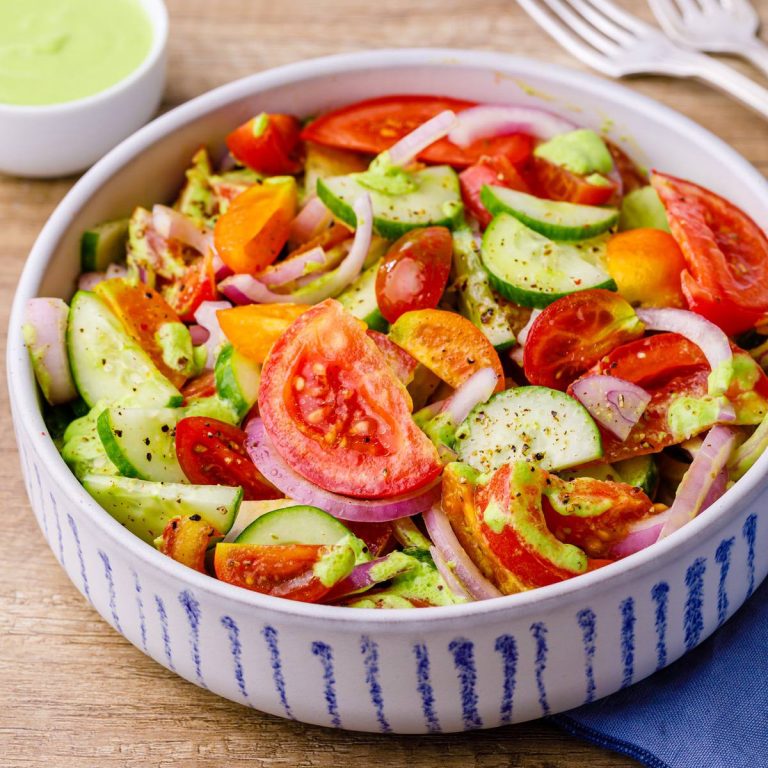 Chunky Cucumber Tomato Salad with Avocado Vinegar Dressing
Scale
For the salad: 
1

medium cucumber, halved and sliced 

1

pound ripe tomatoes, sliced 

1

medium red onion, peeled and sliced 
For the avocado vinegar dressing: 
½

avocado

2 tbsp

white wine vinegar 

4 tbsp

olive oil 

salt and black pepper to taste
To make the avocado vinegar dressing, add all the ingredients to a blender and blend until smooth. 

Season to taste with salt and black pepper. 

Add the tomato, cucumber and onion to a bowl. 

Add the avocado vinegar dressing and toss to coat. 

Season to taste with salt and black pepper and serve.
Other OMG-Good Tomato Recipes for You to Try
Sun Dried Tomato Pesto – If you have access to fresh herbs, say through your local farmer's market or your personal herb garden, then you're going to love this incredible pesto recipe made with homemade 'sun dried' tomatoes (that were actually roasted in the oven!).
Tomato Basil Soup – When it comes to fresh ingredients, you can't go wrong with this combination of tomatoes and basil leaves. I love how it can be easily adapted to make pasta sauce or dips, too!
Fried Green Tomatoes with Avocado Garlic Aioli – I've grown to love green tomatoes just as much as red tomatoes, and it's all thanks to this flavor bomb of a recipe.
More Good Cucumber Tomato Salad Recipes