Recipes
Creamy Dill Cucumber Salad with Sour Cream and Fresh Baby Dill
One of the best things about growing your own vegetables is being able to use the freshest ingredients possible when making salads. Today I wanted to share a recipe for making a dreamy and oh so creamy dill cucumber salad made with sour cream and fresh baby dill.
How to Make Creamy Cucumber Salad
Prep the vegetables. Slice the cucumber into thin slices. Peel the red onion and cut into slices (smaller side is better). Chop up the fresh dill.
Combine the ingredients. Add the sour cream, white vinegar (or lemon juice if you want), honey, garlic powder, and chopped dill into a bowl.
Mix to combine. You can then add in the sliced cucumber and red onion.
Season. Season with salt and black pepper to taste.
Toss to coat.
Refrigerate. Cover the salad with a plastic wrap or store it in an airtight container. Refrigerate for a minimum of two hours before serving.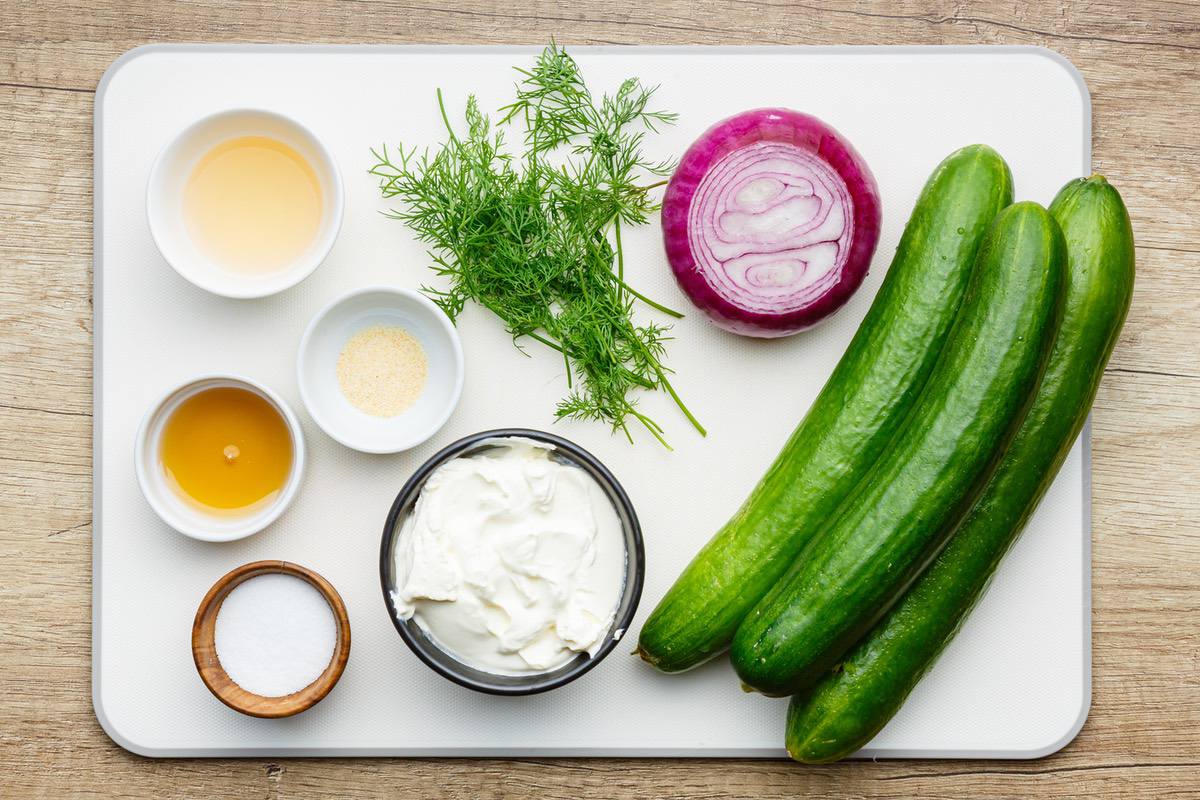 Can I Make Cucumber Salad Ahead?
Definitely! This salad is so easy to whip up and it makes for such a nutritious meal any time of the day.
Garden fresh cucumbers are full of essential micronutrients. They're an excellent source of vitamins, minerals, dietary fiber, and disease fighting antioxidants. (1) Adding fresh baby dill into the mix only makes the salad even more delicious and nutritious as well thanks to its anti-inflammatory compounds. (2)
Will My Cucumber Salad Get Soggy If I Refrigerate It?
Indeed, sliced cucumber will begin to get soggy once you refrigerate it for extended periods of time. There's a simple quick fix you can apply that works well.
All you have to do is add a pinch of salt and some lemon juice into the salad to help prevent the cucumber slices from turning soggy. Both items work in tandem to help the cucumber slices retain their crispness for longer.
With that being said though, it's also important to keep in mind that cucumbers won't last as long in the fridge as they usually do once you slice them up thinly. You're definitely going to want to eat your salad within 1-2 days or else it may begin to spoil.
(You may also like: Easy 4-Ingredient Caprese Salad with Basil Olive Oil Drizzle)
Print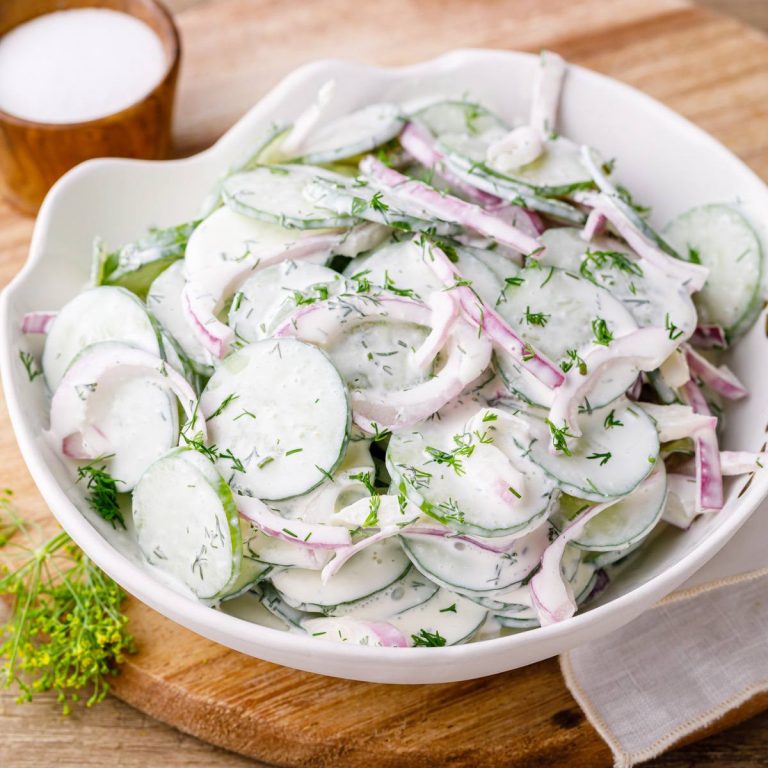 Creamy Dill Cucumber Salad with Sour Cream and Fresh Baby Dill
Scale
1

pound cucumber, thinly sliced 

1

medium red onion, peeled and sliced 

½ cup

sour cream

1 tbsp

white vinegar or lemon juice 

1 tbsp

chopped fresh dill 

1 tsp

honey 

½ tsp

garlic powder 

salt to taste
In a bowl combine the sour cream, vinegar, honey, garlic and dill. 

Add the cucumber and red onion.

Season to taste with salt and black pepper. 

Toss to coat. 

Cover and refrigerate for at least 2 hours before serving.
3 Garden Fresh Salad Recipes You Can Try Next
As much as I love growing cucumbers so I can make my own garden fresh salads, it's not the only veggie that I grow for that purpose. If you happen to grow tomatoes in your garden as well, then check out these three great tomato salad recipes next.
More Good Cucumber Salad Recipes