Recipes
Crave-worthy Cold Cucumber Soup with Dill, Garlic and Yogurt
You'll find me in my kitchen enjoying cold soup recipes like this one when I've just harvested some fresh vegetables from my garden (or have access to particularly tasty produce). This cold cucumber soup recipe is so simple, but so satisfying every time. Here's how to make it.
How to Make Cold Cucumber Soup
Prepare the ingredients. Chop up the cucumbers and onion.
Blend. Blend the chopped cucumber and onions, lemon juice, Greek yogurt, garlic clove, fresh dill, fresh parsley, olive oil, salt, and black pepper until smooth.
Refrigerate. Refrigerate the soup for a minimum of eight hours before serving.
Season. Stir the soup and give it a taste test. Season with salt and black pepper if necessary.
Finish it off. Drizzle with extra Greek yogurt and olive oil.
Sprinkle leftover chopped red onion and dill over top.
Can I Make This Into a Hot Soup?
While it's indeed possible to turn this cold cucumber soup into a hot soup recipe, you're probably better off to just make a dedicated hot soup recipe if that's what you're craving. With that in mind, if you want to switch this up into a hot recipe, there are a couple of minor tweaks you'll have to make.
First, you'll want to swap out the Greek yogurt. In its place, consider adding a bit of crème fraîche.
Instead of blending the ingredients together, simply heat up some vegetable stock (4 to 5 cups), add all of the ingredients, and let simmer until everything is tender. You can leave it here for a chunky finish, or blend it with an immersion blender if you prefer a smoother soup.
3 Reasons Why Cold Cucumber Soup Is So Good For You
This cold cucumber soup doesn't just taste great; it also provides you with a few stellar health benefits as well. Here are three reasons why this recipe is so good for you.
Covers all of your nutritional bases. The veggies and fresh herbs provide you with an abundance of essential vitamins, minerals, dietary fiber, and antioxidants, while the olive oil provides the soup with some added healthy fats.
Heart healthy meal. Monounsaturated fats like those found in olive oil have been found to help reduce your risk of developing cardiovascular disease. (1)
Improved gut health. Along with packing a bit of protein into the soup, using Greek yogurt in this recipe also means you'll be getting the gut healing benefits offered up by probiotics.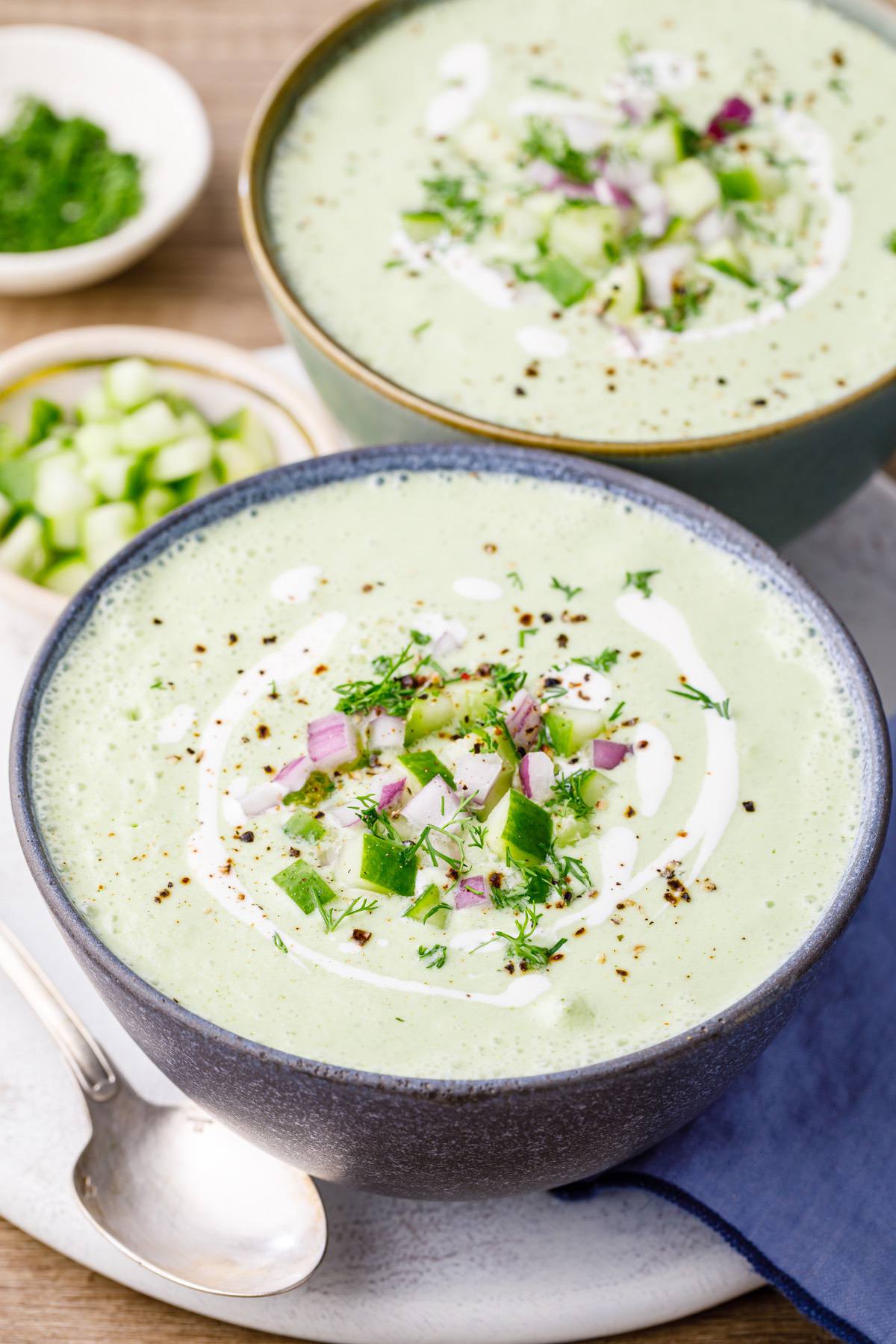 (You may also like: Creamy Tomato Basil Soup with Homemade Garlic Croutons)
Print
Crave-worthy Cold Cucumber Soup with Dill, Garlic and Yogurt
Scale
2

pounds cucumbers, chopped 

1 ½ cups

plain Greek yogurt plus extra for serving 

3 tbsp

lemon juice 

1

small red onion, chopped plus extra for serving 

1

garlic clove 

1/3 cup

fresh dill plus extra for serving

1/4 cup

fresh parsley 

1/4 cup

olive oil, plus more for serving

salt and black pepper to taste
Add all the ingredients to a blender and blend until smooth. 

Refrigerate for at least 8 hours before serving. 

Stir the soup before the serving. 

Taste and adjust the seasoning if needed. 

Pour the soup into bowls. 

Drizzle with extra Greek yogurt and olive oil.  

Sprinkle with extra chopped red onion and dill and serve.
More Fantastic Cucumber Recipes to Try
If you enjoyed this recipe, you're in luck because I have a lot more to share! Here are some of my favorite cucumber recipes:
More Good Cold Cucumber Soup Recipes