Recipes
Cherry Tomato Confit Pasta (Addictive, Healthy and Oh So Good)
Tomato confit is so easy to make and makes any pasta recipe incredibly yummy. It's so addictive, really healthy and can be stored in your refrigerator for a quick and easy meal on a busy weeknight.
What is a Confit?
Confit is a method of cooking that involves slowly cooking anything from meat, fruit, or vegetables in either oil or grease, at a lower temperature than you would normally fry them at, for an extended period of time as a method of preservation.
How to Make Tomato Confit Pasta
Best Type of Pasta to Go with Cherry Tomato Confit
Whenever I make this tomato confit pasta recipe, I usually switch it up and use a different pasta each time. I usually rotate between the following three types of pasta:
Tagliatelle – My go to pasta noodle has always been tagliatelle and it would also be my top pick to use in this recipe if I had to pick only one.
Spaghetti – A classic pasta noodle that needs no introduction, spaghetti noodles go perfectly with this cherry tomato confit.
Linguini – Linguini reminds many people of spaghetti noodles with its long and thin appearance but it actually has an elliptical shape to it.
Can I Use Another Type of Oil?
Olive oil is my go to cooking oil for a number of reasons, but mainly because it's a nutritional powerhouse. However, if you would prefer to use a different type of oil for making your own confit, here are three healthy substitutes you can use instead.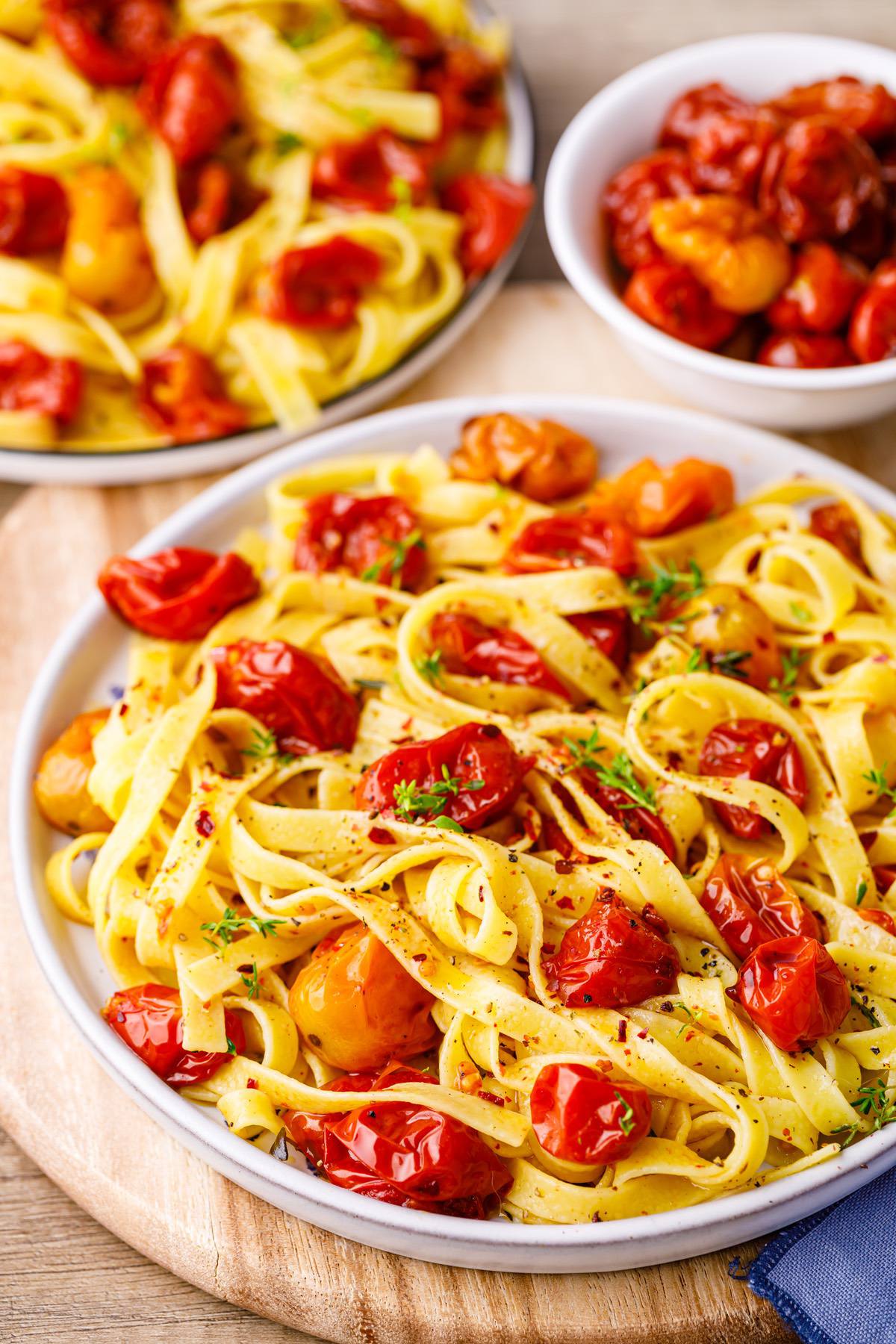 Can I Use Regular Tomatoes Instead of Cherry Tomatoes?
You can absolutely use regular tomatoes instead of cherry tomatoes. If you have regular tomatoes fresh and ready to go from your garden, you can definitely swap them in when making this recipe without issue.
(You may also like: Creamy Sun Dried Tomato Alfredo Pasta with Grilled Chicken Breast)
Print
Cherry Tomato Confit Pasta (Addictive, Healthy and Oh So Good)
Author: Emma - NurturedHomes.com
Prep Time:

10 minutes

Cook Time:

1 hour, 30 minutes

Total Time:

1 hour, 40 minutes

Yield:

4

1

x
Scale
10 ounces

pasta (tagliatelle, spaghetti or linguini)

1

pound cherry tomatoes

¼ cup

good quality olive oil

4

thyme springs plus extra for serving

4

garlic cloves 

¼ tsp

red pepper flakes (optional) 

salt and black pepper to taste
Preheat the oven to 275°F.

Line a baking sheet with aluminum foil. 

Arrange the cherry tomatoes on a sheet pan in a single layer.

Add the garlic and thyme leaves. 

Drizzle with olive oil. 

Toss to coat. 

Season to taste with salt and black pepper. 

Roast the tomatoes in preheated oven for 1 ½  to 2 hours or until the skin softens and begins to burst.

Cook the pasta according to the packet instructions.

Combine the pasta and tomato confit. 

Season to taste with salt and black pepper. 

Sprinkle with extra fresh thyme leaves and serve. 
3 More Tomato Recipes You'll Love
Variety is so important for me and my family, so I make it a point to try a lot of recipes and save only the absolutely fantastic ones. Fortunately for you, these three I'm about to share are exactly that!
More Good Tomato Confit Recipes